Cats and dogs have unique ways of communicating in our complex world. Of the two species, felines are far superior to dogs when it comes to hiding pain signs in cats when they hurt. That's why we're kicking off Animal Pain Awareness Month with a close up look at how cats hide pain and how to recognize it.
Cats are Masters at Hiding Pain
Before we talk about pain in cats, let's review how pain is defined. Pain in animals (and humans alike) comes in two distinct forms: acute and chronic.
Acute pain is the result of an accident, surgery or trauma of some sort. Recognizing it is pretty easy: vocal behavior, aggression and limping are all common clues. Acute pain actually serves a healthy purpose, by telling the body something hurts, and to slow down to healing can occur.
Chronic pain consists of aches and pains resulting from a long-term problem, like arthritis. Identifying chronic pain in cats and dogs is tricky, because the subtle effects happen over time. Symptoms can include withdrawing from the family, reluctance to move or initiate play, not stepping up inside the litter box and and hesitating to jump from furniture.
Many cats live quietly distressed lives with undiagnosed pain issues. As pet parents, we can do better than that! With animal pain management improving every year, we now have better tools to decode the signs of pain in our pets. So let's get started! This week we will talk about cats, and next week, dogs are the focus.
Signs of Pain in Cats
Cats are masters at hiding pain from other felines and people as well. Whether your cat has three legs or four, if you remember these pain signs in cats you'll be doing your part to help your cat enjoy a good quality of life into old age. The Pain Free Cats website video explains more:
Signs of Pain in Cats
Reduced activity
Loss of appetite
Quiet/loss of curiosity
Changes in urinary/defecation habits
Hiding
Hissing or spitting
Lack of agility/jumping
Excessive licking/grooming
Stiff posture/gait
Guarding behavior
Stops grooming/matted fur
Tail flicking
Weight loss
Lots of people mistake these pain signs in cats for behavior problems. Don't be one of them! If you notice your cat displaying any of these pain indicators, make an appointment with your veterinarian asap.
A good feline pain evaluation can reveal what's going on in your cat's body, and how to treat the pain with tools that are within your budget. A host of resources like gentle pharmaceutical medications, laser therapy, acupuncture and rehabilitation therapy are just some ways your vet can help your cat start living a pain-free life once again.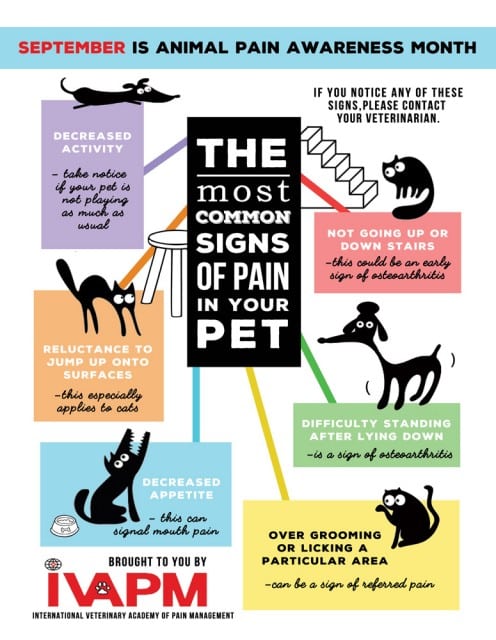 Recommended Reading
Tripawd Cats Pain Management Tips and Tricks
Cool Tips for Tripawd Cats