Five years ago a brave cat mom stepped into our dog-centric Tripawds community with Fang's Story about cat amputation. As our first feline Trikitty member, Fang started a new era of support for dog and cat amputees and their humans. Our newest book, "Cool Tips for Tripawd Cats," is now available thanks to this special kitty and the dozens more who have joined us since.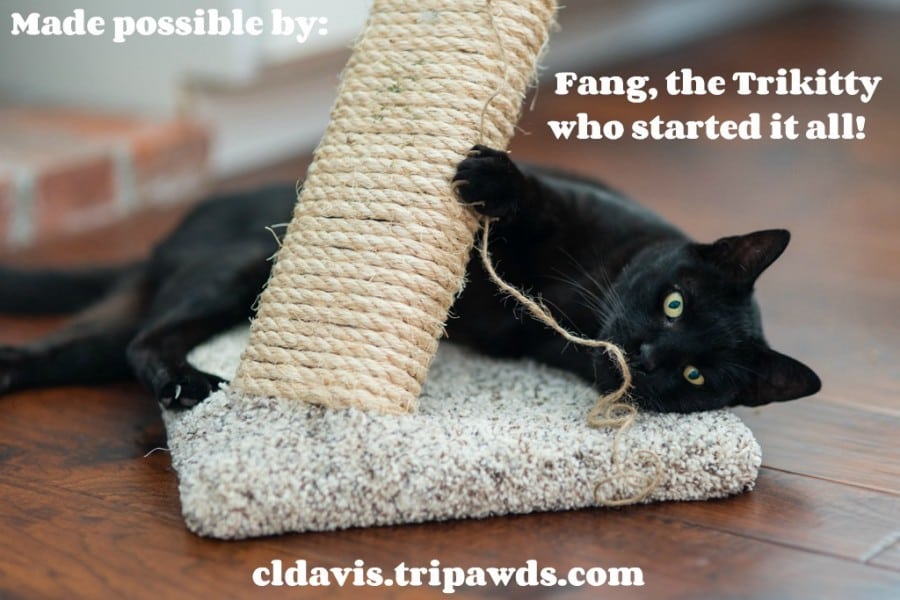 Cool Tips for Tripawd Cats Helps Feline Parents Cope with Life on Three Legs
Nobody ever expects their animal to lose a leg, but sometimes it's the only way to a better quality of life. When that happens, "Cool Tips for Tripawd Cats," can help worried cat parents feel more comfortable with the journey.
Made Possible by the Tri-kitty Members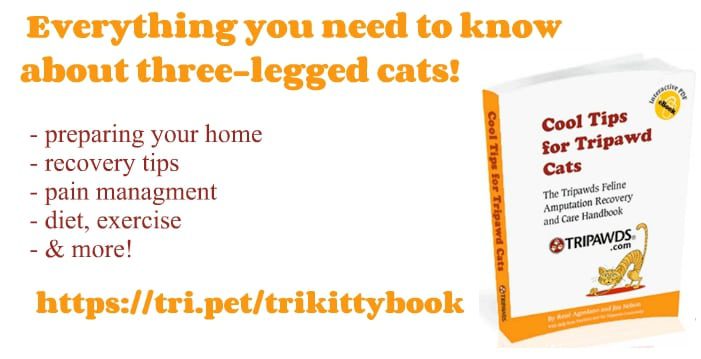 Feline parents have had little support to help them through the amputation ordeal. Today, they don't have to go through it alone. In addition to our Three Legged Cats Discussion Forum, this book is the first handbook for pet parents of three-legged cats (at least that we know about). And it happened thanks to the enthusiastic support, eagle-eye editorial development and cheerleading of Tripawds' beloved Purrkins and his incredible mom, Holly.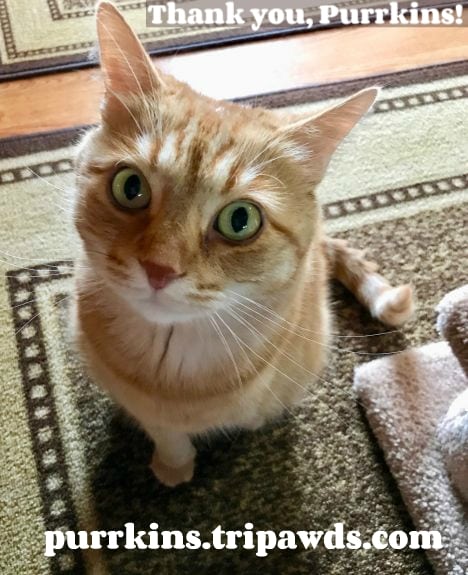 Because of Purrkins and Holly's major role in this project, we are now able to help three-legged cat parents with an all new way to get the knowledge they need. The downloadable PDF is a helpful interactive book packed with tips about:
How cats really cope on three legs
How to help a Tripawd cat recover smoothly
Pain management for post-op care and beyond
Litter box tips and ways to Tripawd-proof your home
Diet, nutrition and exercise ideas for staying fit
and real-life examples of Tripawd felines having a great life!
The book summarizes is a compilation of our community's most helpful tips and information about amputation, as shared by cat lovers from here and around the globe.
Readers will also learn about feline Tripawds from top veterinarians, rehabilitation experts and others in the veterinary community. Plus, as a thank you gift for readers,"Cool Tips for Tripawd Cats also includes special free bonus material such as:
Important questions to ask your veterinarian
Recovery diet and nutrition worksheet
A feline acute pain scale chart
and more!