Few things make us madder around here than a new Tripawd dog or cat amputee who gets sent home with nothing but a NSAID for pain control. That's like taking nothing but an ibuprophen after getting your leg cut off! OUCH.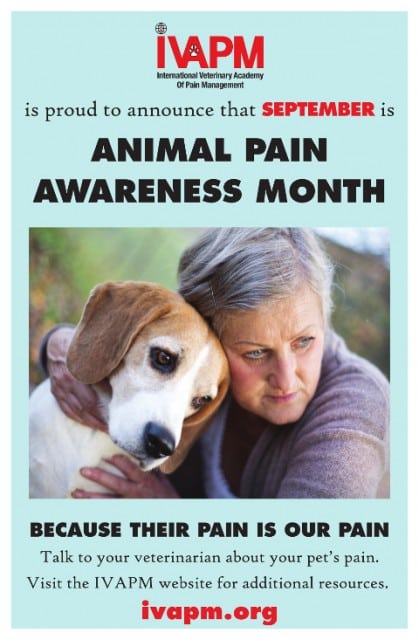 September is Animal Pain Awareness Month. As pet parents it's our responsibility make sure we are up on the latest veterinary pain management techniques.
Don't assume your vet knows everything about pain control. Odds are, if your vet graduated from school back in the 1980s or earlier, they were not taught modern pain control procedures. In fact, common thinking back then was that pain is good for animals because it keeps them quiet. Isn't that nuts?!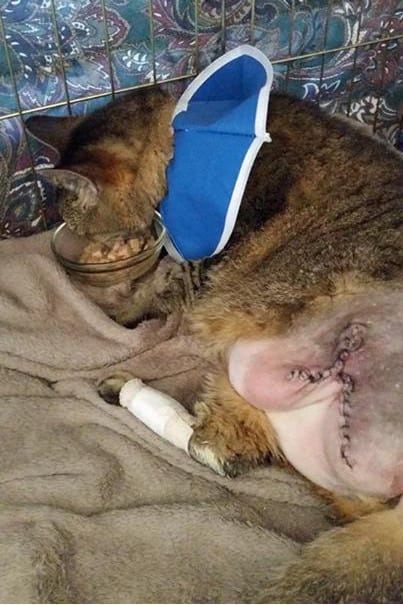 Great vets out there have taken the time to get current in veterinary pain control, but sadly, many have not. That's why we're so glad the IVAPM exists, to get the word out that we owe it to our animals to provide the pain relief they deserve no matter what their health or age.
Because Their Pain is Our Pain
Take a minute to learn a few things from the International Veterinary Association of Pain Management. Their website has information about Animals and Pain. For example, review the article: Common Signs of Pain in Dogs and Cats
Use the IVAPM Pet Pain Assessment charts below prepared courtesy of Colorado State University. Click the links below to view and download larger images.
How to Tell if Your Cat is in Pain
Take a look at the psychological and behavioral aspects of assessing your three-legged or four-legged cat: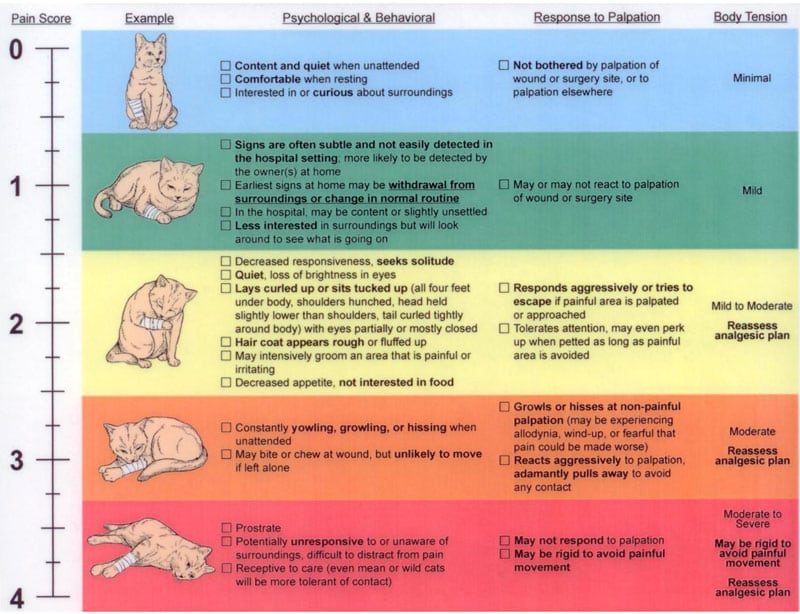 How to Tell if Your Dog is in Pain
Check out the different ways that dogs show (and don't show) when they're hurting: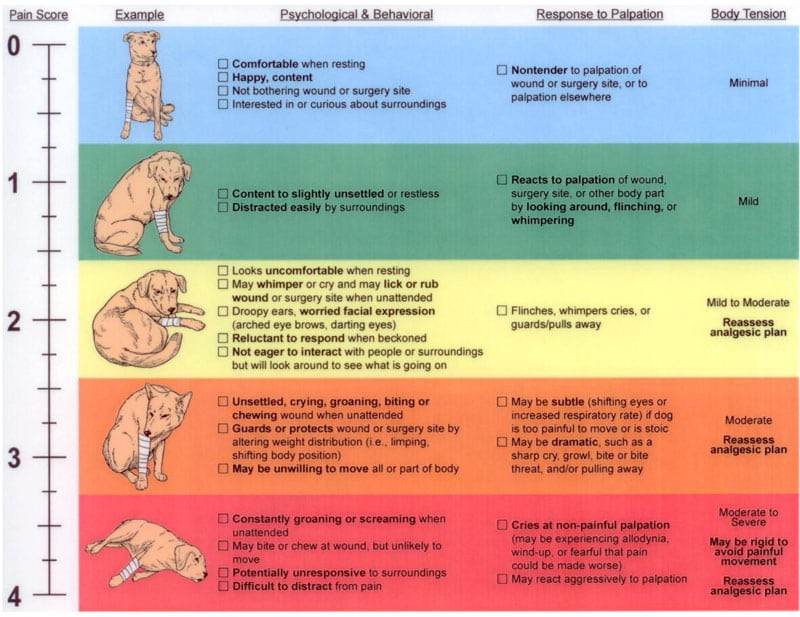 The IVAPM even shares this great article about animal amputees and pain control, which was originally published here in our News blog: Vet Expert Dr. Mike Petty Shares Tripawd Amputation Pain, Rehab Care Tips.
What to Do If Your Animal is in Pain
If you suspect or know your animal is in pain and you don't like the answers you're getting from your vet, please do not wait. Find a Certified Veterinary Pain Practitioner.
What's a Certified Veterinary Pain Practitioner (CVPP)?
Certified Veterinary Pain Practitioners are veterinary professionals that IVAPM has recognized as having the training and skills necessary to practice animal pain management effectively and ethically. IVAPM's certification program is rigorous and comprehensive, covering pain medications, physical rehabilitation and alternative therapies.

Certified Veterinary Pain Practitioners are committed to including pain management in the care of all of their patients. These include animals that are hurt, sick, or suffering from chronic conditions like arthritis. CVPPs assess every patient for pain, and work with clients to create treatment plans with comfort and safety in mind. They are trained to use a multi-modal approach to pain management, which could incorporate drugs, therapeutic laser, hydrotherapy, massage and acupuncture.
Use the IVAPM "Find a Member" Directory
Get your animal the pain control they deserve.
Recommended Reading
Best Pain Relief Tips for Tripawd Dogs and Cats