Even if you just joined our community, you know that a Tripawd's post-amputation recovery pain is a frequent topic of conversation in the Tripawds Forums. And with good reason: too many new animal amputees leave the hospital without enough pain medication. This makes recovery difficult for the pet and their person, which is why we constantly crusade for good pain control for Tripawd dogs and cats, especially during recovery.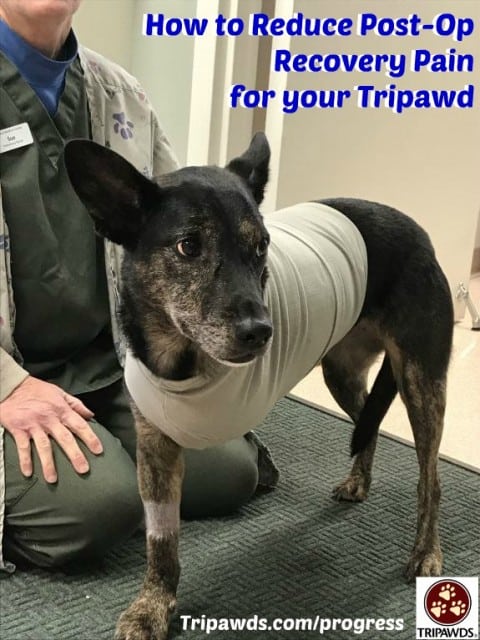 Recently we chatted with one of the vet community's most respected pain management experts about this critical topic:
How To Help Your Tripawd's Post-Amputation Recovery Pain
"You may have the best surgeon in the world that has done a major procedure, an amputation, or whatever, but maybe doesn't know how to deal with the post-operative pain at home. That doesn't mean he's a bad veterinarian, we just can't all be good at everything,†says Dr. Mike Petty, DVM, CVPP, CVMA, CAAPM, CCRT.
If anyone understands the needs of new amputees, this vet does. He wrote the must-have book for all dog parents, Dr. Mike Petty's Pain Relief For Dogs, founded Arbor Pointe Veterinary Hospital in Michigan, served as a faculty member of the Canine Rehabilitation Institute, is immediate-past president of the International Veterinary Academy of Pain Management (IVAPM) and co-authored the American Animal Hospital Association Pain Guidelines (among many other distinctions).
Vets like Dr. Petty are a rare find and not all veterinarians have this level of pain management expertise. For those of us who work with vets that aren't experts in this area, we asked Dr. Petty to share his post-op pain management tips for Tripawd dogs and cats. Let's review what he says in the video:
Can Amputation Be Pain Free for Dogs and Cats?
"It is possible to keep dogs (and cats) with amputation nearly pain-free. Not all of it, but most of it.
Some of it happens during the surgery, but certainly going home is really important. Things like icing, knowing what medications to give and so forth. But sometimes it has to go a level beyond that. Don't take "no†for an answer. If you feel like your dog is in pain, he probably is.â€
How Does a Cat's Post-Amputation Pain Management Needs Differ From a Dog's?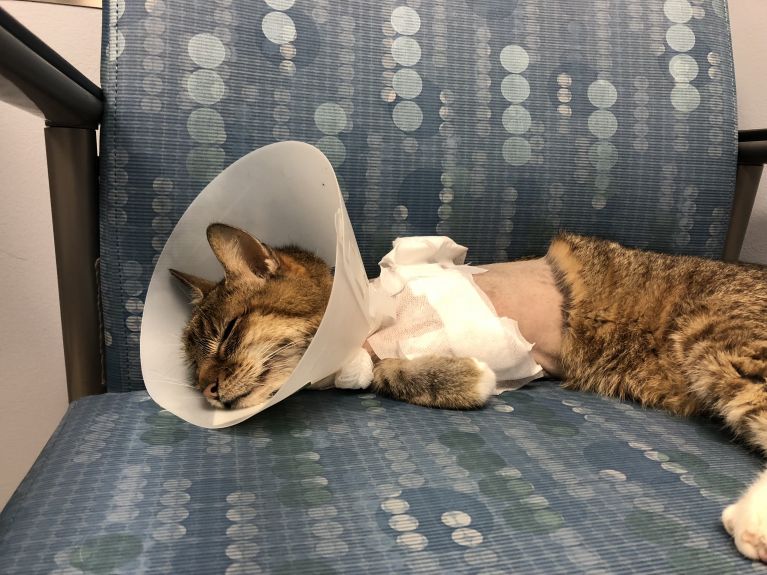 "Cat pain is different than dog pain. Cats are usually too cool to show their pain and cat pain is mostly exhibited by changes in behavior. It's very important that you know what you're looking for. There is a website called newmetrica.com and they have a pain evaluation form that shows things like muzzle position, ear set, and so forth to let you know your cat is in pain. If your veterinarian isn't using this you certainly can. Go to that website and download it.
Cats do hide their pain and if you aren't treating it properly this can lead to some long-term mal-adaptive issues."
How Can We Find a Veterinary Pain Management Expert?
"You have to be your dog's advocate! My two go-to websites for finding a veterinarian that does well with pain:
The International Veterinary Academy of Pain Management
Whether your Tripawd has post-amputation recovery pain now, or you want to make sure they never hurt from a surgical procedure, we hope Dr. Petty's tips help you be the best advocate you can be for your animal."
Recommended Reading
Vet Expert Dr. Mike Petty Shares Tripawd Amputation Pain, Rehab Care Tips
Pain Signs in Cats and Dogs: Learn the Symptoms