Nobody knows more about the old saying "necessity is the mother of invention," than beautiful Belle. When this Great Pyrenees lost her leg and needed help getting around on slippery floors, her mum Tracy didn't just slip-proof her home — she invented a product to do the job better! Today for Tripawd Tuesday, meet the dynamic UK duo whose mission is creating better Floors for Paws, all around the globe.
A Tripawd Inspires Better Floors for Paws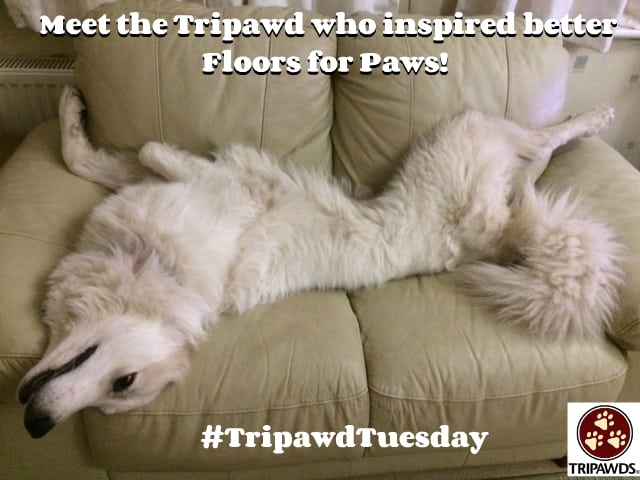 When Tracy adopted Belle as a puppy, she learned her new dog suffered from a luxating patella and a malformed femur. By the time Belle was fully grown, after many examinations to try to fix the bad leg, doctors recommended amputation. Tracy tells us:
When Belle was referred to The Queens Veterinary School in Cambridge for further investigation on her leg and unfortunately we were told that the best and really only option was to have it amputated we were told to only look at the Tripawds website and not to google anything!

I have to say the information, stories and forums on the site are excellent and made me feel a whole lot better about her operation.
Once Tracy saw that her home's slippery floors were a problem for her giant breed Tripawd, she acted quickly to do something about it and founded Floors For Paws.
"Looking for 'safe' flooring was a nightmare and the tiles and laminate in my house were like an ice-skating rink to her," she told the Boston Globe. "Roll on three years and we now have a very happy three-legged dog and a new business."
Floors For Paws is the first residential and commercial flooring product made with pets (and kids) in mind. Available in 18 colors and shades of natural wood, the flooring is:
More comfortable underfoot than stone/ceramic/wood flooring
Anti-slip due to its innovative ridged design
Anti-scratch due to its exclusive double PU coating
Water and stain resistant
Easy to maintain
Currently Floors for Paws is only available in the UK, and we sure hope to see it in the US some day soon.
Thank you Tracy, Belle and Floors for Paws, for creating a great product that puts the needs of our furry family members first!
Read All Tripawd Tuesday Stories
Your Pet Can Star in Tripawd Tuesday
Each Tuesday, Tripawd dogs, cats and other critters from around the world can enter for a chance to be "Tripawd of the Week." Just share your Tripawd's story and you're entered to win! On every Tuesday of the week, tell us about your three-legged hero. Just follow these easy steps:
In a short paragraph or two (or longer if you'd like!), describe your three-legged hero's story.
Include photos or links to videos already uploaded to YouTube.
Include a link to your Tripawds Forum topic and/or Tripawds blog, social media handles, etc.

Email your story and photos

to us.
All entries must be received by Saturday at 11:59 pm. One Tripawd story will be selected at random to be featured the following Tuesday.