If you're new to the Tripawds Nation you might be wondering why Gabapentin (also known as Neurotin) is mentioned so much in our community. Today we'll tell you how Gabapentin can help Tripawds recover from amputation surgery pain, how it works and what to watch out for.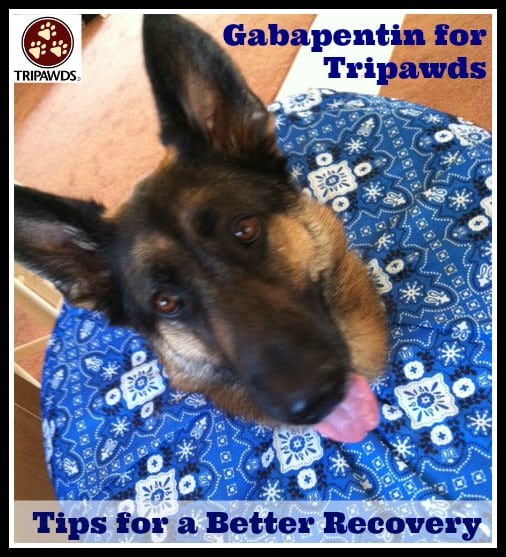 How Gabapentin Can Help Amputee Animals
Gabapentin is a FDA-approved pharmaceutical drug officially prescribed to control seizures, neuropathic pain, depression and anxiety in humans, not animals. But because no other veterinary medication performs the same function, vets can legally prescribe it for "off-label" use in animals to alleviate chronic and neuropathic pain.
Gabapentin has been commercially available since 1993 but use in animals is relatively new. Gabapentin's efficacy remains debatable in the veterinary community and many vets still don't routinely prescribe it to new amputees. Some vets just aren't convinced gabapentin works, and many Tripawds parents still have to advocate for this pain reliever.
Through the years we've talked to many vets and members who have seen real benefits from Gabapentin. We're not vets ourselves so take that for what it's worth, but we believe that Gabapentin's placement in the latest AAHA Pain Management Guidelines confirms our belief: Gabapentin remains one of the best tools to help your Tripawd experience a better recovery.
Some vets believe that a dog or cat about undergo amputation can benefit from gabapentin both before and after surgery. Gabapentin can also help prevent phantom limb pain and the three most common types of pain in Tripawds. Don't hesitate to ask your vet for this important pain relief medication.
Although it's not exactly known how Gabapentin works in people or animals, "Its mode of action seems to be its ability to block pain signals as they travel at the point where the nerve crosses over into the spinal cord," says Dr. Mike Petty in his book, "Dr. Petty's Pain Relief for Dogs." The book shares greater detail about how Gabapentin works, so be sure to pick up a copy.
You can also find more specific details in the The Merck Veterinary Manual: Analgesic Pharmacology.
Gabapentin Dosages and Side Effects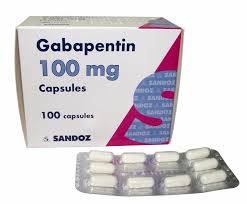 Like any drug, it's wise to be vigilant about Gabapentin when your dog or cat is using it. For example, Gabapentin can be hard on kidneys because it takes a while to go through the body. As a consequence, pets with kidney disease need careful dosing and monitoring to ensure Gabapentin doesn't make their condition worse.
To ensure your otherwise healthy pet is receiving the maximum benefit of Gabapentin, always:
Double-check you are using the veterinary version. The human version of Gabapentin in liquid form contains Xylitol, which is toxic to pets. If you get your pet's prescriptions from a human pharmacy, always triple-check to ensure it's not the human version. Xylitol is found in the liquid form only.
Ask for the pill version, not capsules or liquid. Pills can be cut in half. They are easier to give in the mouth and disguise in treats. Pills also make it easier to cut back and withdraw your Tripawd from the drug.
Ask your vet to prescribed a "tapered UP" dose. Some animals will experience sleepiness when taking Gabapentin. To reduce the odds of this happening, ask your vet to prescribe a "tapered up" dose. This method will start with just one dose at bedtime. Once your dog or cat has gotten used to Gabapentin you can give another dose in daytime hours.
Use in conjunction with a non-steroidal, anti-inflammatory (NSAID) medication. Dr. Petty believes that your new Tripawd will benefit far more if Gabapentin is given with a medication like Meloxicam, Rimadyl, Previcox, etc. (names may differ depending on your country). "In my experience, Gabapentin does not seem to work as well alone as it does when used alongside other pain medications, NSAIDs in particular," says Dr. Petty in his book.
Follow the prescribed dose and never stop suddenly. In general, new Tripawds will start Gabapentin a day before amputation, then stay on it for two to four weeks after surgery. All pets' needs are different though so always work with a knowledgeable pain management vet to find the right dose and length of time for using it.
Lately there's been some controversy in our Forums and elsewhere about how to stop giving Gabapentin. Some veterinarians say it's OK to stop Gabapentin suddenly if a Tripawd isn't taking it for pain. However we'll take Dr. Petty's position who says Gabapentin should never be stopped suddenly.
"Forgetting to give a few doses can cause something called rebound pain, which can be as bad or worse than the original pain you were trying to treat." — Dr. Petty's Pain Relief for Dogs
As you know, we aren't veterinarians so please don't take our word for it about Gabapentin: always talk to your vet and make sure they're up on the latest Pain Management Guidelines for Cats and Dogs. If they're not, don't hesitate to find a veterinary pain management expert: your Tripawd deserves it.
Recommended Reading
Post Surgery Pain in Tripawd Dogs and Cats
Tripawds Best Pain Relief Tips for Tripawd Dogs and Cats
Post Amputation Side Effects (this article is about dogs but much of it applies to cats too).