Most dogs and cats who lose a "spare" fourth leg can adapt to being a Tripawd. But if one of an animal's three remaining limbs is compromised, that's when things get tricky. The good news is that if a FHO, TPLO, hip replacement or other major procedure is necessary, a Tripawd recovery from remaining leg surgeries isn't impossible. With the right board-certified orthopedic surgeon and top-notch rehabilitation therapy, most Tripawds of all ages can go on to live a great life.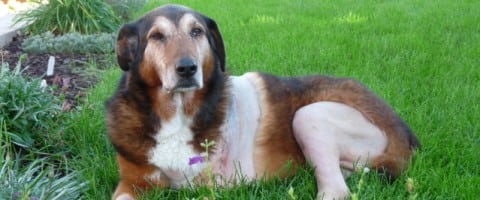 The Reality of a Tripawd Recovery From Remaining Leg Surgeries
As recently as ten years ago, most veterinary orthopedic surgeons would tell you that a Tripawd recovery from remaining leg surgeries is impossible. For instance, when Tripawds Spokesdog Wyatt Ray was a puppy we learned he had hip displaysia in his one remaining hip.
We asked about the possibility of a hip replacement when he got older, but his veterinarian looked at us like we were nuts. There would be no way for a Tripawd to recover from a hip replacement he said.
Thank goodness we've come a long way! Through the years more veterinarians like Dr. Randy Acker in Sun Valley Idaho and Dr. Neil "The Bionic Vet" Fitzpatrick in the UK have gone out on a limb to explore the pawsibilities. And as you can see, their research and development has paid off. More three-legged dogs can make full recoveries from FHO, TPLO and hip replacements thanks to recent orthopedic developments.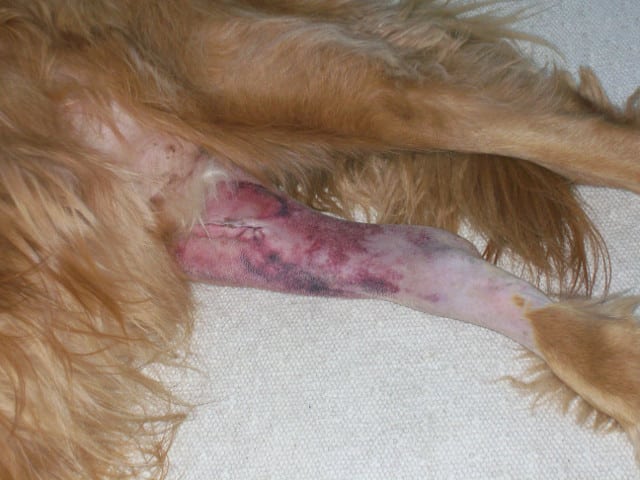 Many Tripawds have remaining leg problems.
The sad reality is many Tripawds will endure an orthopedic disorder at some point. According to this Tripawds Orthopedic Disorders Study with Colorado State University's College of Veterinary Medicine and Biomedical Sciences both front and rear limb amputees "may be" susceptible to future orthopedic conditions at an average of 1.75 years after amputation.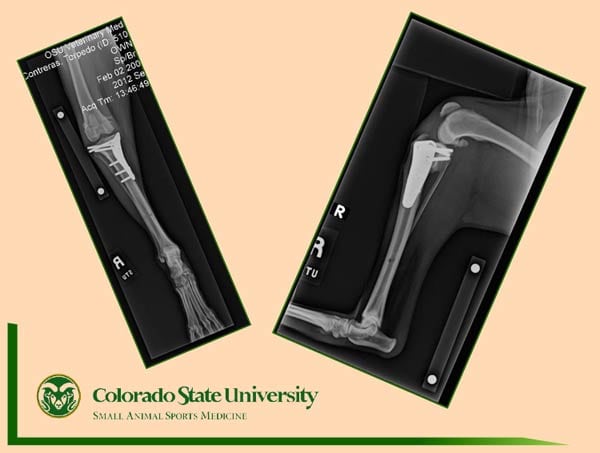 Tripawd parents play a huge role in preventing orthopedic injuries. From keeping your Tripawd lean to monitoring activity levels and providing appropriate exercise for Tripawds, your dog or cat can lead an injury free life.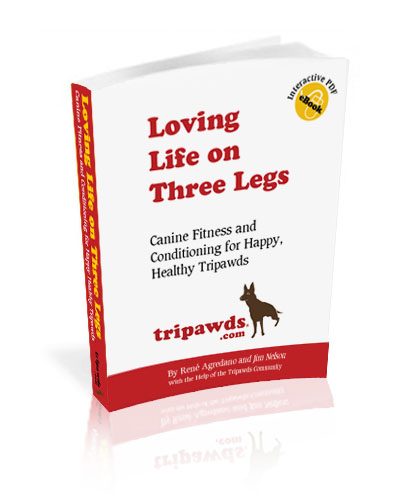 But if there comes a time when your Tripawd is faced with one ore more remaining leg surgeries, know that you have options (see "Conservative Management Alternative to Leg, Knee and Hip Surgeries for Tripawds"). If surgery is necessary, there is hope for a full recovery.
The following links and blogs share the reality of a Tripawd recovery from remaining leg surgeries. Take a look and if you want to discuss your situation, be sure to start a forum topic in "Hopping Around" or start a Tripawds blog and lean on our community.
Examples and Advice for Tripawd recovery from remaining leg surgery
Remaining Leg Surgery on Tripawds Studies Report Good Results
Vet Tips to Avoid a Remaining Leg Surgery for Tripawd Dogs
All About Remaining Leg Surgery Recovery for Three-Legged Dogs
What to Know About Remaining Leg Surgery on a Tripawd
Tripawd Recovery From Femoral Head Osteotomy (FHO) Surgery
Tripawd Tuesday: Chuy Keeps Up with the Chase
And a Tripawd Recovery From Total Hip Replacement (THR) Surgery
Tripawd Tuesday: Murphy's Miraculous Milestone
Here's Tripawd Recoveries From TPLO / TTA CCL Rupture Surgeries
Zora the Tripawd Greyhound TPLO Surgery and Recovery
Lulu the Tripawd Cat's Remaining Leg Surgery Recovery Details
3 week post op hind leg amputation/TPLO on other hind leg
Senior Tripawd Labrador Max has Cruciate Repair Surgery
Bionic Ajax is Home and Hopping Around
ACL/CCL Surgery for Ajax
Dakota the Gripper Girl: Two Surgeries!
Petra the Senior Boxer Recovers from TPLO
All Tripawds Discussion Forum Posts with "TPLO"
Tripawd Recovery From Other Limb Surgery
Raleigh Roo recovers from modified cranial closing wedge osteotomy (CCWO)
Ziggy Recovers from High-Tech 3D Angular Limb Correction Surgery
As we hear about more miraculous Tripawds recovering from other leg surgeries we'll be sure to add their stories here.