A remaining leg surgery recovery for a three-legged dog is one of the hardest recoveries that any Tripawd pet parent can endure. We hope you never have to go through it, but it's important to know that with the right care, this kind of recovery can work out fine. Quite a few members have proved that through the years, like Sally.
Learn from Tripawd Frankie and Mom Sally
Frankie is a Tripawd hound dog who needed not one but two cruciate repair surgeries over the last few years. He is one of the best examples of what to expect when an amputee dog needs a leg surgery. And today on this episode of Tripawd Talk Radio, you'll learn how he and his mom managed, when Sally (aka: benny55), tells all in our latest installment of "Meet Your Tripawds Pals."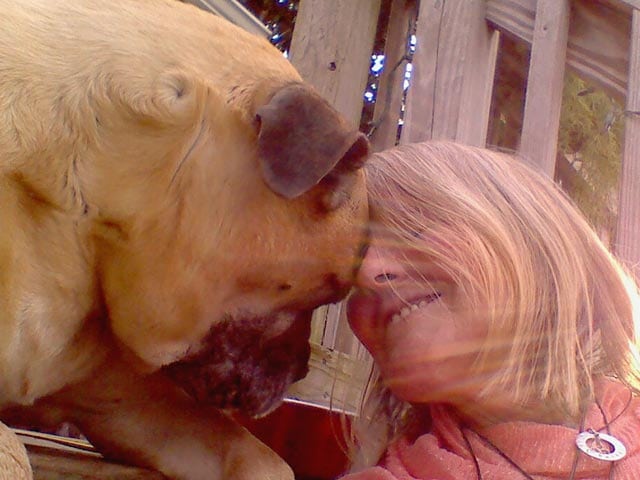 Sally Tells All About Remaining Leg Surgery Recovery for Three-Legged Dogs
If you've ever posted in the Tripawds discussion forums, you have likely been helped by Sally. She has been a huge part of the community since 2013, when her beautiful Mastiff Happy Hannah was diagnosed with osteosarcoma.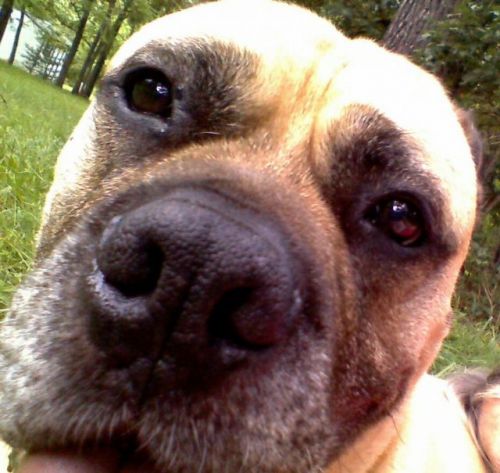 Hannah thrived as a rear-leg Tripawd for just over one year. Later, Sally rescued Frankie, a wild-n-crazy front-leg Tripawd hound dog who amuses us all with his antics.
She's also mom to sidekick Merry Myrtle, a four-legged Mastiff who lost her sight unexpectedly.
As if she doesn't have enough going on in her life, Sally generously continues to help the community every day in many important ways, including her Tuesday shift as a host on the Tripawds Helpline.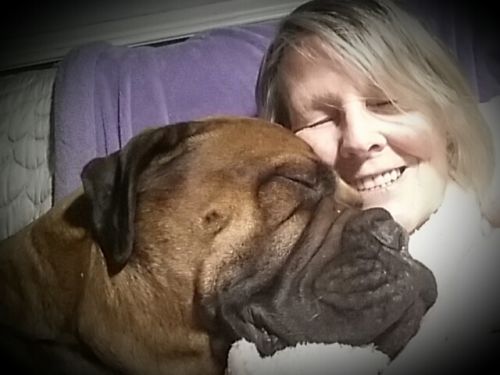 Take time today to kick back and meet this amazing woman! You'll learn all about what a Tripawd leg surgery recovery is like. Sally also shares her tips about staying pawsitive and learning how to get through the tough times.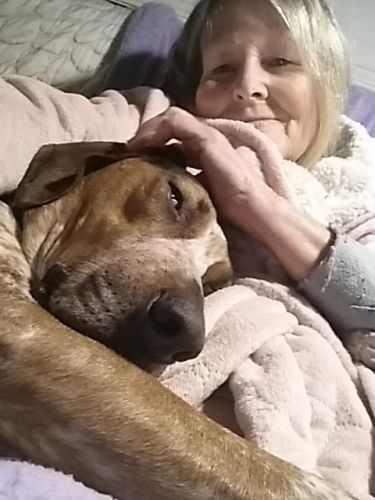 We know you'll love meeting this Tripawds' resident volunteer angel. She has lots of great tips to share for anyone facing amputation and difficult surgery recoveries for beloved dogs and cats. Enjoy!