It's a tripawd pawrent's worst nightmare; being told that your tripawd needs another major leg surgery. What do you do? Can your Tripawd handle another confinement and recuperation? Will he ever be the same?
Chuy is one pup from Arizona who says: "Yes, indeed! Just look at me!"
Chuy is a Tripawd friend who was diagnosed with Legg-Calve Perthes Disease, which is a fracture in the ball of the femur. In May 2009, he underwent Femoral Head Osteotomy (FHO) surgery on his rear leg, the same side in which he's already missing a leg.
This "simple" surgery involves the head of the femur or the attachment to the hip. A new joint is formed by just the muscles of the hind legs, similar to how the shoulder blade is normally attached to the dogs body, by muscle alone.
If you have a Tripawd that needs to undergo another major leg surgery, try not to worry. Check out Chuy's Mom's diary she sent to us, to help comfort other pawrents in this situation:
"Research is the key. Research the type of surgery your dog is going to have, the medications your dog will be on, the side effects and withdrawals symptoms. Research the actions you may need to take for your dogs recovery i.e. physical therapy, nursing, home preparation. Make sure you trust your vet, but remember, your vet doesn't know everything, you need to talk to others that have been through similar experiences."
Here are more details that Chuy's Mom shared with us about his recovery:
Week 1: Chuy pulled thru fine, he's spending the night at the vet, we can pick him up tomorrow after 1. Have water tank delivered from the farm supply for Chuy to do swim therapy in when he gets his stitches out. Get him from the vets, settle him in at home. He sleeps peacefully about an hour. Up all night, no sleep for mom. The Fetanyl patch is making him restless. He cannot pace as he only has two good legs, thank goodness for that!
He won't eat, won't poop, peed all over the crate, the carpet and himself. This happened a couple of times. The hazards of a tripawd having surgery on his good leg. Mom is worried that he's not eating his kibble. Try boiled burger and rice, yay! Nom! Nom! Getting the sling under his belly is another thing. He doesn't want Dad to do it, Dad is showing some slight fear of hurting him, he can sense that. He's hallucinating from the Fentanyl patch. He's on 100 mg. Tramadol 3 times a day and Metacam dose for 58 lb. dog. The whining is driving us nuts, he hasn't pooped yet!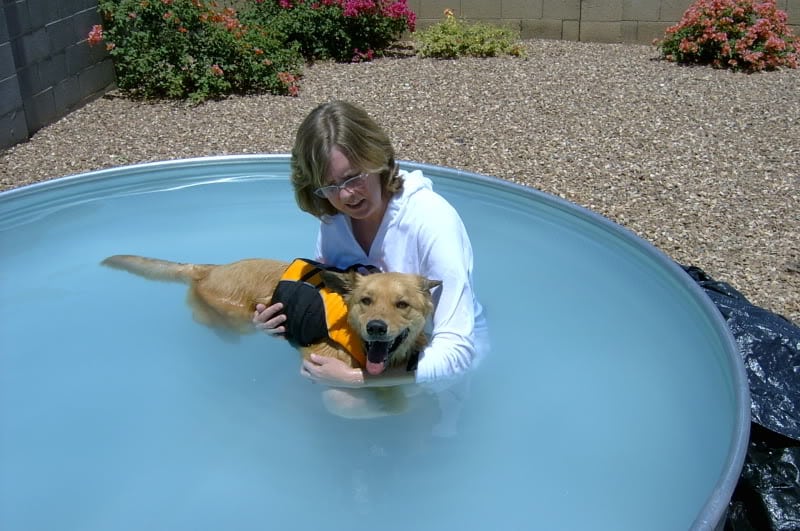 Call the vet, he hasn't pooped, still in pain, can I take the patch off? Yes! He tries to bite Dad, grazes his hand. Chuy snaps at Mom, growls at her and Dad, growls and snaps a Rory and the cats. I'd try to bite too if I hadn't pooped in 4 days. Mom starts to freak and goes to Tripawds for advice. Our little junkie is going through withdrawal. Thank goodness it's just the withdrawal, just needs his space. Get out the muzzle.
How much longer does this last? It takes a couple of days to get through the withdrawal.
He Pooped! Cut the Tramadol to 50 mg. every 8 hrs., give him 50 mg. Benadryl ½ hr before his PT, he cooperates much better. Stay on the Metacam as directed.
He's sleeping better, doesn't want the burger and rice. Try canned dog food with water. Warm it in the microwave. Picky, puppy, spoiled brat, he deserves it, been through so much, at least he's eating.
All is well. Things are settling down as we go into the 2nd week of recovery. His stitches come out next week, we can start swim therapy. Dad built a ramp for him. He'll have a blast, we hope…."
Seven weeks later, things were looking up for Chuy. His Mom wrote and told us:
"Chuy has been putting his foot down on the floor today! He's not putting alot of weight on it, but it's on the floor! I get so excited over the little steps, it's ridiculous. We make him wear his harness all day and when he wants to go out, we use a 2 ft. leash, then he has no choice but to walk himself. If he starts to fall, we can pull up with the leash so he doesn't hit the floor, but he's doing great and really starting to trust his leg. This afternoon when I brought him in from the backyard, he actually sat down in a normal sit for a couple of minutes before he laid down.

I don't know if he's tired of lying down or learning to trust his leg again. Whatever it is, he's doing better! Wahooey! I'm dancing again! Tears of happiness for a change! "
To read more about Chuy, check out his YouTube videos.