Until a few years ago, the idea of doggie rehab therapy seemed outlandish to most people. But thanks to visionaries like Deanna Rodgers, PT, CCRP of Good Life Physical Therapy for Animals in Fort Collins, Colorado, awareness of the benefits of canine rehab is growing.
As more people understand that many of the same physical therapy principles applied to humans can also benefit dogs of all ages and health conditions, more canines than ever are enjoying pain-free lives.
Dog Rehab Gives Spree a Pain-Free Life
Spree is the perfect example of how canine rehab helps. At just a few weeks old, Spree didn't look like she would have a good quality of life ahead of her.
She was born with a poorly formed skeletal structure that if left untreated would have subjected her to a life of terrible pain.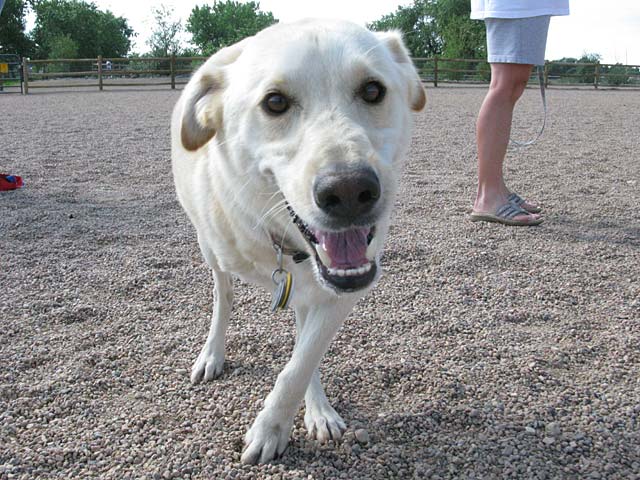 Luckily, her parent Connie Fredman of Canine Health Resort instinctively knew that she could provide her with a great life through surgery and dedicated rehabilitation therapy from herself and Rogers.
Today, Rogers performs weekly rehab work on Spree at Fredman's home, as seen in the following video. Spree still has severe elbow arthritis in her remaining front limb and sore neck muscles which is typical for a front-leg Tripawd.
Please note: this video is not meant to be an instructional "how-to" dog physical therapy video, but rather to show how physical therapy can help. One look at Spree's totally relaxed state, and you can tell she is loving it! Read below to learn more about this courageous dog, and how the dedication of Rogers and Fredman have helped to give her an excellent quality of life against all odds.
Never perform these manipulations on your dog without first consulting a professional canine rehabilitation therapist.
[youtube]http://www.youtube.com/watch?v=37IlyGNAVYk&feature=plcp&context=C4290ebaVDvjVQa1PpcFPNTG1mhz7ZCHQjZY-slxkNFXt5LyAqgQQ=[/youtube]
Spree Bounces Back Despite All Odds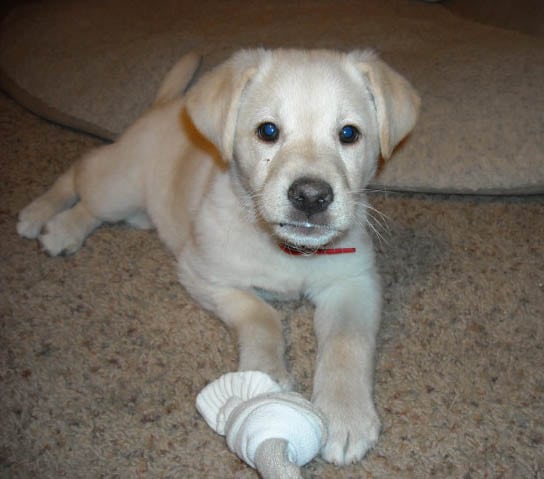 As a puppy, orthopedic specialist exams revealed that the best way to help Spree lead a better life would be to amputate her poorly formed front right leg. Spree became a Tripawd at just 15 weeks old.
Several months later, surgeons told Fredman that Spree needed a bilateral FHO surgery, which requires removal of the head of the poorly formed femur, in order to grow a new joint built with the hind leg muscles.
Although FHO leaves a dog without hip joints, the procedure gets the leg to attach to the body by muscle alone, similar to how a dog's shoulder blade attaches to the body. Smaller dogs like Spree are better candidates for this surgery but some larger dogs can also do well afterward.
Many parents would have given up after hearing this recommendation, but not Fredman. Rogers had already been performing gentle physical therapy routines on Spree and even bathtub swim sessions. Spree's recovery from FHO surgery, however, had its challenges.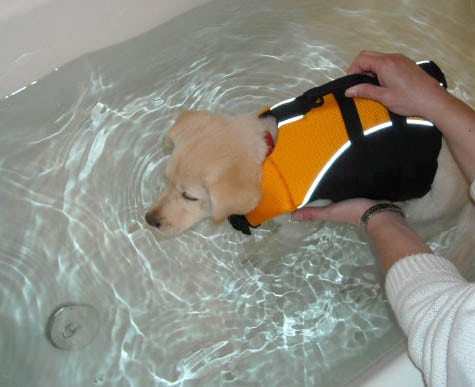 Because she was so young when her surgeries occurred, the brain's neuromuscular pattern that dogs normally develop didn't instinctively occur with Spree.
As a result, typical behaviors such as "sit" were extremely challenging. It took four months and two people performing regular rehab sessions just to teach her how to sit properly.
Today, Spree is a happy, healthy adult dog and lives a great life with Fredman's large pack at the resort. Although Spree requires ongoing weekly physical therapy sessions and pain management with tools such as Rimadyl, Dasuqin, Adequan and fish oil, if you took one look at her you would never know that she had such a tough start in life.
Many thanks to Fredman and Rogers for allowing us to be a part of Spree's therapy session. If you're in Northern Colorado, be sure to contact Good Life Physical Therapy for Animals to learn about how she can help your Tripawd lead a better, pain-free life. For boarding care after surgery at Colorado State University, contact Connie Fredman at Canine Health Resort.
Recommended Reading:
Tripawds Foundation Offers Free Rehab Consultations
Tripawds Recover and Relax at Canine Health Resort
When a Tripawd Needs another Leg Surgery
Tripawd Rehab Tips and Videos from California Animal Rehabilitation Center