All Tripawds deserve a pain-free, happy life, but when a Tripawd parent attempts to build a homemade doggie wheelchair, we get nervous. That's because after talking to canine rehabilitation experts and professional dog cart designers, we have learned that do-it-yourself homemade dog carts can actually cause more harm than good by putting a dog at risk of further injury.
Since we aren't dog rehabilitation experts, we wanted to learn when and how to properly utilize a wheel chair for a three legged dog. We spoke with two of the world's leading experts in dog wheelchair design and usage, Amy Kramer PT, DPT, CCRT, of California Animal Rehabilitation Center, and Leslie Grinnell, President of Eddie's Wheels from Shelburne Falls, Massachusetts.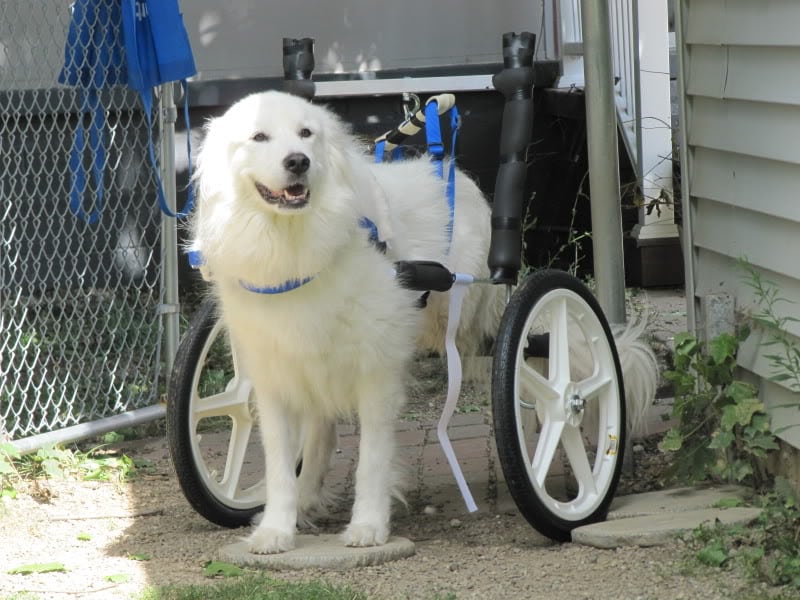 Is it Time for a Dog Wheel Chair?
The loss of a limb presents different challenges for a dog than a human, Kramer tell us. The advantage to being a canine amputee is that a dog has three legs to distribute its weight over, instead of just one remaining leg that humans have.
Despite a Tripawd's adaptability, a three-legged dog can often benefit from immediate use of a wheel chair, especially if the dog already has per-existing physical ailments like arthritis, she explains.
Grinnell adds that using a wheelchair on the longest walk of the day may decrease the damage to the spinal cord, elbows, carpus and rear legs, which are common age-related issues for front and rear Tripawds. "Think of the wheelchair as preventive medicine against the wear and tear of being three-legged," she explains.
[youtube]http://www.youtube.com/watch?v=U3wswDCCC-U&feature=plcp&context=C4676b49VPvjVQa1PpcFMPa4ws6rrhT9YG7wpA0iVjE_GKyxTdbf8=[/youtube]
According to Kramer, Tripawd parents should always keep an eye out for signs that their dog may need a cart. For example:
If your dog cannot walk comfortably without rest for more than 30 feet, you may want to talk to a qualified veterinary rehabilitation therapist.
If after an extensive pain management, rehabilitation and acupuncture treatment regimen your dog is still showing signs of pain, a cart might be the ticket to new found freedom and mobility.
And if you do obtain a cart, don't worry about your three-legged hero becoming too dependent on it to get around. "A cart is not ever detrimental to the patient's health and fitness," says Kramer. However, she reiterates that it "should only be needed if they are showing other signs of difficulty with gait."
How to Choose and Buy a Dog Wheel Chair
To the untrained eye, all dog wheel chairs might seem alike, but it's critical to know the differences between a custom well-built cart that lasts a lifetime and a cheap mass-produced knock-off.
According to Grinnell, the biggest difference between her company's dog wheelchairs and the lower-priced models built in China, is that Eddie's Wheels takes every dog's physical situation into consideration before building the customized cart in their Shelburne Falls factory. The first question Grinnell's staff asks a potential customer is, 'Tell us about your dog.'
"We know that this dog is pretty special if someone is looking into the cart option, so we take down the dog's story and how it became disabled. We ask questions like 'how long has he been coping with a disability?' because a dog who has been three-legged for 10 years is going to have other issues besides just missing a limb. Usually the carpus has collapsed or the elbows are worn out, or there may be lumbar spine issues or ACL problems in the rear legs. So we want a complete picture of the dog's anatomical and medical challenges. We often ask for a side view and overhead view photo. Many tripods develop a spinal curvature that we will take into account if necessary," she says.
[youtube]http://www.youtube.com/watch?v=fomLSjWqgZU&feature=plcp&context=C406b18dVDvjVQa1PpcFMPa4ws6rrhT3B3c3CE5kJ5UwmVaZIGpFk=[/youtube]
As a pet parent with two bi-pawd dogs at home (Willa, Webster and Sweet Pea, as seen above), Grinnell's company has firsthand experience with the issues that physically challenged dogs face. "We think of our dogs as our research and development team. We really do test our products on animals!" she says.
Unlike prefabricated, low cost wheel chairs for dogs, Grinnell says that an Eddie's Wheels cart will always have customized features. "For amputees, we calculate the weight of the missing rear leg and install a counterweight on the side of the amputation to keep the cart balanced and minimize the danger of tipping over," says Grinnell. The company can also "splay the frame wider to allow for the wide stance many tripods develop, and make the saddle accommodate the enlarged musculature we see on some three-legged dogs."
Finally, Grinnell says that Eddie's Wheels also makes the only front wheel cart for front leg amputees, which enables these dogs to sniff, run and sit in their wheels while preventing the "bunny hop" walk that leads to stiffness later in life.
[youtube]http://www.youtube.com/watch?v=1Pu5elCd9hc&feature=colike[/youtube]
When Affordability is an Issue
The benefits of a custom-built dog wheel chair are obvious, but oftentimes affordability is a big issue. A custom Eddie's Wheel cart can cost anywhere from $325.00 to $650.00 depending on factors such as the size of the dog, the type of wheels needed to match their exercise terrain and many other custom design features. Although wheel chairs are covered in some pet insurance policies like VPI and Pets Best, this expense is often a barrier for financially-distressed pet parents. For these customers, Grinnell says that getting creative is often the path to obtaining one.
"We have found that many people are very successful in making online fundraisers and even within their communities many people will contribute to help a handicapped dog get the help they need. We've encouraged people to work with their local pet store to do fundraisers for carts by providing brochures, posters etc."
These organizations in our Tripawds Financial Resources Document might also be able to help.
"We also have a stock of donated used carts and if one fits, we are happy to sell it at a reduced price, refurbishing and customizing for a new dog," says Grinnell.
Know Your Tripawd's Limitations
As Tripawd parents already know, dogs adapt much better to challenging circumstances than humans do. For most Tripawds it only takes about a week to learn how to use a properly fitted and professionally built dog wheelchair after fine-tuning is made through the help of Eddie's Wheels staff and their instructional videos. When a Tripawd is allowed to use his new wheel chair after taking a long, tiring walk without one, the dog will often instinctively understand that the supporting wheels provide respite and relief.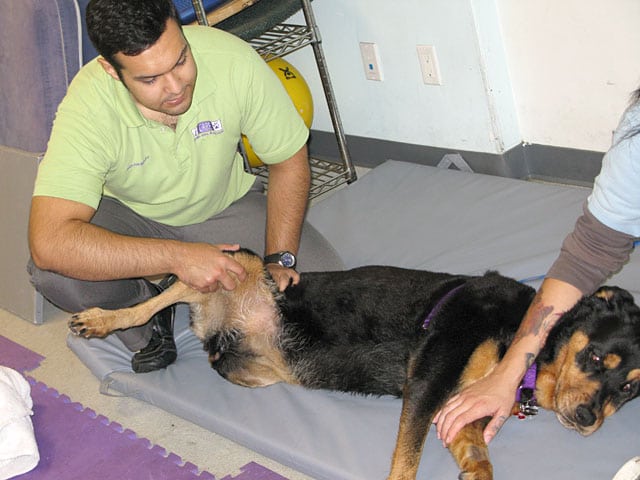 But regardless of whether or not a Tripawd is ready for a wheel chair, says Kramer, "All amputee pet owners should understand their pet's limitations due to being an amputee, as well as have a home exercise and stretching program designed for their pet."
She adds that as a Tripawd ages, pet parents need to be on the lookout for signs that might indicate there is an issue in one of the dog's remaining limbs.
To learn how to spot potential ailments that could affect your Tripawd, find see a certified canine rehabilitation practitioner near you.
Please note that Tripawds has no affiliation with any dog wheelchair manufacturer, nor do we have personal experience using a wheelchair for either Tripawds Founder Spirit Jerry or Tripawds Spokespup Wyatt Ray.
If you have experience using a wheelchair for your dog, please provide feedback with a comment below. Or post any questions in the Hopping Around Discussion Forum.
Recommended Reading:
Tripawds News Blog: California Animal Rehabilitation Tips and Videos for Tripawds
Tripawds Downloads Blog: Financial Resources for Tripawd Pawrents