Interested in spreading the word in your community about the amazing abilities of three legged Tripawd dogs? If so, you'll find plenty of ways to outreach to others and create an official Tripawds chapter where you live.
Download Tripawds Wall and Counter Displays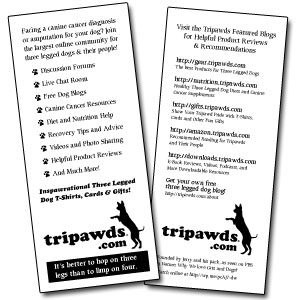 Download and print these Tripawds fliers and cards, then put them up at local pet stores. Also, ask your veterinarian or oncologist to give them to all their amputation patients. Feel free to write in your contact information on the materials.
You can even give your vet a handy Tripawds Countertop Display to hold the business cards, and have the staff contact us for more cards or just let them know where they can find the electronic file!
Midwest chapter leader Barb Young has stocked several veterinary offices in her city with Tripawds materials. During her visit to the practice, she drops off some yummy dog treats, her own Mission of Hope business cards with Tripawds information, then leaves a nice letter for the vets informing them about Tripawds.
Contact us for an example of the letter.
While we are hoppy to send you some business cards, these downloadable fliers and cards are a big way we keep the costs of maintaining this community to a minimum. Thanks for helping us reduce our operating expenses.
Create Your Own Tripawds fliers
Do you want your Tripawd to be the star of your own flier about three-legged dogs? If so, create your own Tripawds flier.
Please note: Because the word "Tripawds" and "It's better to hop on three than limp on four" are registered trademarks, we want to ensure their proper use, so please email your flier design to us for approval before distributing.
You may utilize these high-resolution logos in your poster, press release and other announcements:
Tripawds Logo in Black and White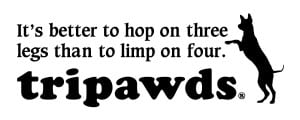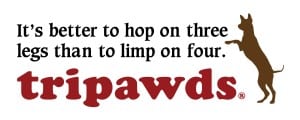 Organize a Tripawds Pawty
Tripawds member gerrysmom created a Tripawds Party Flier when she wanted to organize a three legged meet-up in the Madison, Wisconsin area. Her Word doc is available for download and customization. Then, take your flier and:
Post fliers at local feed stores and dog-friendly watering holes
Create a Craig's List posting
Write a press release and call local TV and newspaper reporters
Finally, be sure to announce your three legged gathering with a new topic in the Tripawd Parties discussion forum as well as on our Facebook page. You never know who your nearest Tripawd neighbor will be!
Represent Tripawds at Dog-Friendly Events
Tripawds Members Barb and John Young regularly represent Tripawds at local pet fairs, media shows and events to get the word out about the capabilities amputee dogs, so that more people will consider adopting Tripawds.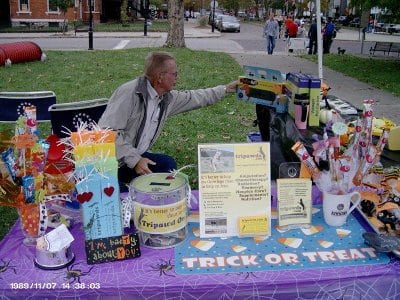 Barb and her husband John attend these festivities as part of her Mission of Hope project to carry on her Hope's legacy, which is represented at the events as an organization working on behalf of Tripawds. Now, Tripawds Member Heather Neal, Cadence's mom, is also going to start representing Tripawds in the greater Chicago area!
Thanks for Spreading the Word!
We encourage other Tripawds members to conduct the same type of outreach in their cities. If you are interested in attending an event as a Tripawds representative, please contact us today so that we can exchange ideas about how you can help get the word out to as many folks as pawsible at each event!