Last week, Tripawds members Barb and John Young honored their beloved Tripawd Hope's memory by spreading the word about Tripawds at the Covington, Kentucky MainStrasse Village 10thAnnual Dog Costume Paw-rade in Goebel Park.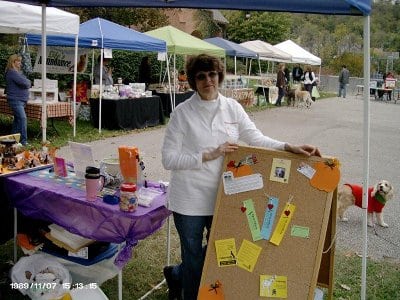 "What a beautiful day we had for the Paw Rade in Mainstrasse Village!" says Barb. "It was great to have the opportunity to talk with so many pet owners, rescues and shelter people about the best group of folks around–the Tripawds community, our extended family."
Barb and John's "Mission of Hope" is their way of honoring the support they received while their Hope went through her own amputation journey and soon after succumbed to kidney failure. The Youngs have started this outreach program to offer information and support to Tripawd dogs in the Cincinnati area.
"Tripawds folks gave us so much support and encouragement after Hope's surgery, that in honor and remembrance of her, we have started the Tripawds.com Cincinnati Outreach Program, 'Mission of Hope'" Barb told us.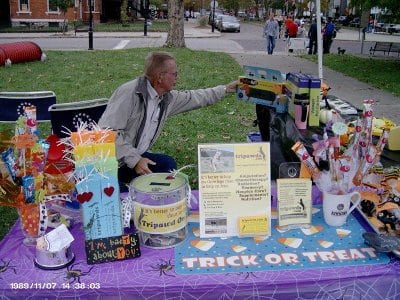 "It was easy to tell people how all of you have taken the path that is before them, and how you can help them along the way.
So many people told me that they wished they had known about tripawds when their pet had surgery," she added.
Create Tripawd Awareness in Your Town
Spreading the word about the amazing capabilities of three-legged dogs is easy and doesn't have to cost a lot. Print our free Tripawds fliers, then pass them out to your veterinarian, dog food store, beautify salon . . . "Anywhere and everywhere," says Barb, "because there are people out there who need YOU and the support you and this community can give them."
If you have an opportunity to set up a booth at an animal function, "do it!" Barb says. "It's easy and you will get far more out of the event that you put in. Email me and I will give you all the info you need to do an event!"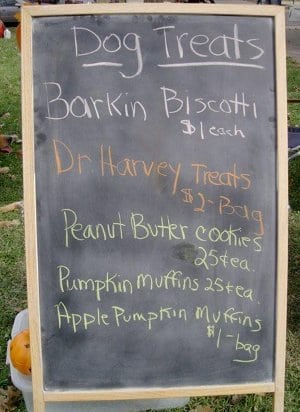 At the Paw-Rade, the Youngs set up a beautiful table, and had beautifully-packaged, tasty homemade dog cookies ready for hungry pups.
Barb turned her kitchen into a biscuit bakery, and baked several different types of treats for the event.
Although competition was stiff among the many different treat vendors, Barb added a classy touch to her offerings. Instead of grabbing treats out of a jar when a customer requested some, she used tongs to bag their order. This gave her treats a cleaner, more sanitary look than typical treat vendors.
In addition to dog treats, Barb addressed the feline fans at the Paw-Rade, with her homegrown catnip treats.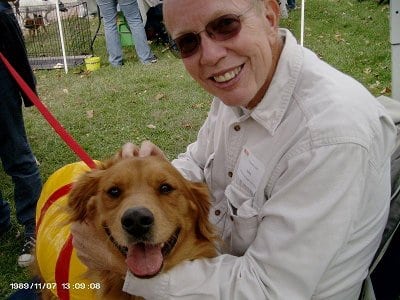 They even had Charger, a Tripawd pup staff the booth to show everypawdy what three legged dogs can do!
"It really was a great time for everyone and gave me a good opportunity to talk with other rescues about tripod animals they might rescue in the future," says Barb.
We've never seen a more well-dressed bunch of pups anywhere!
Thank you Barb and John for all of your hard work to raise over $100 to help Tripawds.com, and show the world that Tripawds Rule!