When I was on my cancer journey, my doctor told us about "The Penny Jar" method, which can help pawrents measure quality of life as cancer progresses.
Spirit Bo's folks also knew about this easy way to keep track of good and bad days. His mom Meghan generously provided the following description:
The Penny Jar Method: How to Measure a Dog's Quality of Life
by Meghan Howell
"During the canine cancer journey, "bad" days are likely to arise. Sometimes the bad days are so overwhelming, we may overlook the many good days that our companions are having.
An effective way of assessing your canine pal's quality of life is called the Penny Jar method.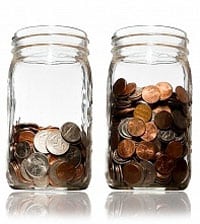 To use this method, you will need two jars/cups and pennies. One jar is for good days and the other is for bad days.
It is important to establish a rubric, or standards, as to what constitutes a good or bad day. You can write out your rubric or keep a mental note of it, and it should be tailored to your dog's specific issues.
For example, the most important issues that you may keep track of could be
appetite
mobility
breathing
Of course, each dog is different and will have his/her own set of standards to track.
After establishing the issues that you want to monitor, you will need to decide to what degree or how many of the variables will need to be abnormal to count it as a bad day. For instance, if two of the issues are off that day, you may want to count it as a bad day.
It's important to remember that it is your dog's health and days that you are assessing, not your own. A bad day at work should not equate to a bad day for your Tripawd.
Be sure to make the Penny Jar part of your daily routine so you do not miss a day. Sometimes, the good days are smooth rides and we may not think about the Penny Jar until a bad day hits.
Always add pennies daily in order to get an accurate assessment of your dog's quality of life.
Be Consistent; there are No Wrong Decisions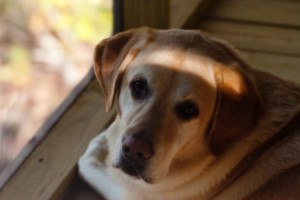 The Penny Jar method can be used as a tool to aid you in the decision to set your dog free. You will need to determine at what point your dog no longer has a good quality of life.
At first glance, you may think that when the bad day jar has more pennies than the good day, it will be time.
However, some may decide that after multiple, consecutive bad days the time will be right.
When using the Penny Jar method, it is important to be consistent. There are no wrong decisions as long as you are honest with yourself and your Tripawd!"
Many thanks to Meghan for sharing this important tip with our community. If you would like to share tips from your own Tripawd journey, contact us here.
Recommended Reading: