When you experience the resiliency of a canine amputee, it's hard to contain your excitement.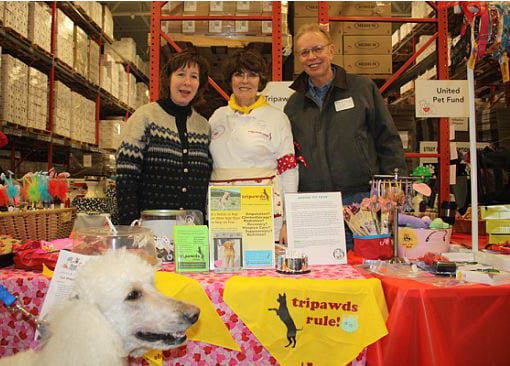 Some Tripawds members like Spirit Hope's pack, Barb and John Young, along with Cadence's Mom Heather Neal are sharing their knowledge about the three-legged lifestyle by representing the Tripawds community at dog-centric events like the My Furry Valentine Adoption Extravaganza held on February 11 in West Chester, Ohio.
As part of the Young's dedication to their Mission of Hope project, Barb and John worked hard securing items to help support the Tripawds community, like delicious dog treats thoughfully baked by friend Susan Wykoff.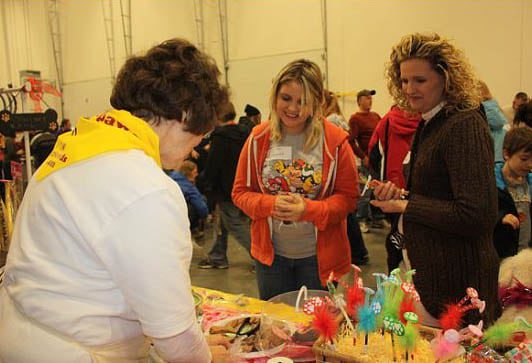 In addition, the Youngs had Tripawds bandannas and numerous animal-friendly items available for booth visitors.
"I was able to talk with several rescues and shelters and animal care professionals about tripawds and the information at their website, as well as educating the public about life on three legs," Barb told us.
She added, "It was a long, but fun day with literally hundreds of attendees. About 261 animals found their forever home during the event! I got a sore throat!"
Cadence Steals the Show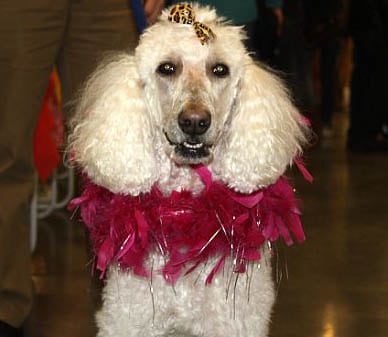 A Tripawds exhibit is especially fun and attention-getting when a member makes an appearance, like Tripawds Ambassador Cadence.
This sweet girl is a bone cancer hero. She has bounced back from an osteosarcoma diagnosis last July, and is loving life every single day.
"I got emotional watching people interact with Cadence. Some did not even realize she had an amputation," says Mom Heather.
Heather traveled to the event from Chicago because she says "I want to show others that amputation of a leg, although a life changing event, doesn't have to mean the end of quality of life for a dog. Cadence proves that she is happy and loving life on three legs!"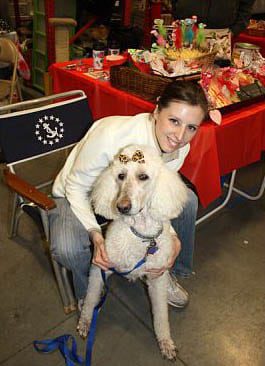 Cadence and her pack tell us they were also there "to give back and tell others about the Tripawds organization as well as talk about the help, support, and education I have received from so many individuals on the Tripawds site."
This Midwestern Tripawds chapter is going to great lengths to help raise Tripawd awareness, and Heather, Cadence and the Youngs are looking forward to attending future events on behalf of Tripawds.
"My hope is that through the education that Barb is giving about Tripawds through Mission of Hope and interacting with SpokesDog Cadence at this adoption event, people will not overlook a tripawd dog when looking for a loving companion," Heather explains.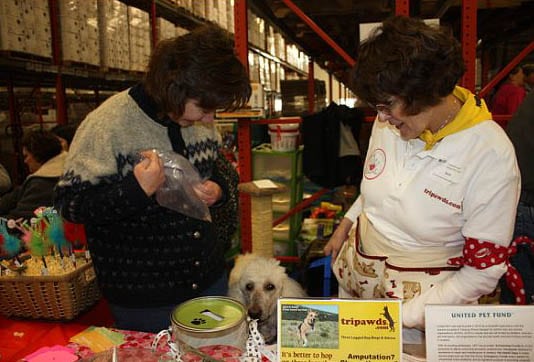 We send our heartfelt thanks to Barb, John, Susan, Heather and Cadence for their generosity and dedication to raising Tripawd awareness!
Stay tuned for our next News blog post that describes how you can help spread the word in your community!