Every Tripawd dog parent worries about a remaining leg surgery, and with good reason. Any orthopedic surgery on an amputee dog is a tough recovery situation. But Greta the Tripawd's TPLO recovery story shows that when the worst case injury happens, getting back to loving life on three legs can be totally possible.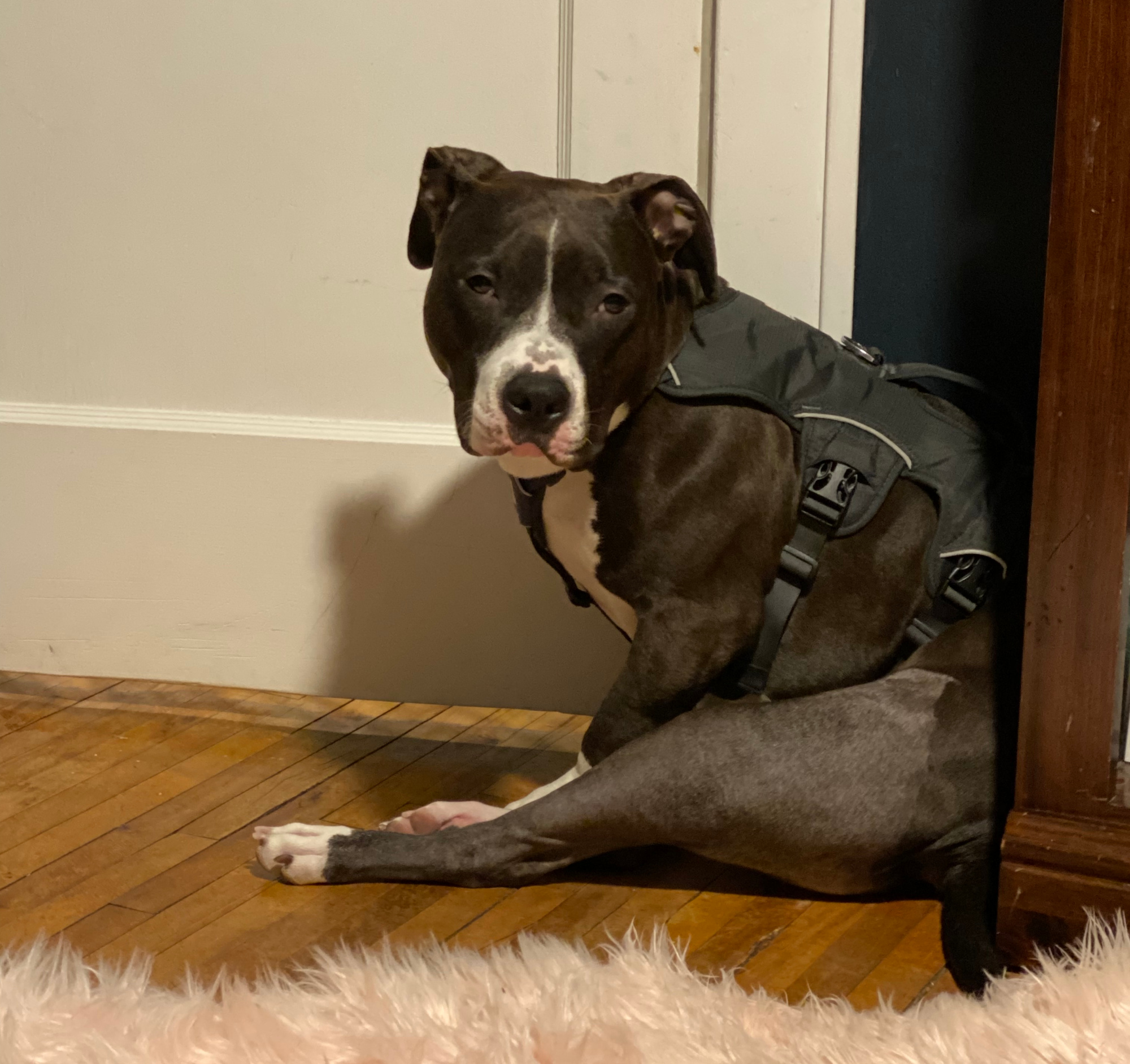 If you've been part of the Tripawds nation for a while, you may recall Ludo the Tripawd Pitbull's story in July 2021. This sweet boy got his wings way too soon. But in the process led his people to Greta and her brother Gurgi. This is where their story picks up, as told by her dad, Scott.
A Tripawd's Real Life Recovery Story Rollercoaster Ride
Greta entered our lives in the Summer of 2021 just two weeks after we lost her ghost brother, Ludo. He was also a Tripawd for his final two months due to an Osteosarcoma.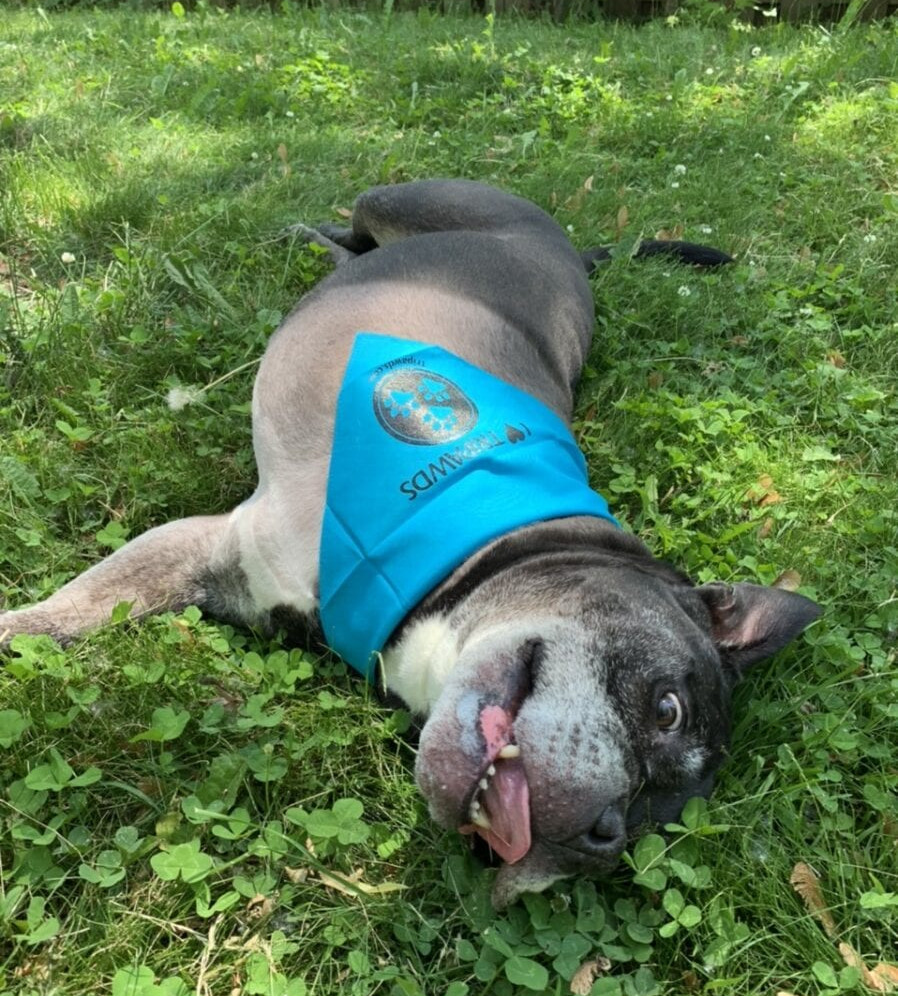 Greta came by way of El Paso, Texas after a tumultuous start to life. When she was 9 weeks old, she was bitten by either another dog or wild animal, causing extreme damage to her front leg. She was then brought in for euthanasia. Her breeder determined she was no longer sellable.
The vet refused, took her in, amputated her leg, and hooked her up with Save a Bull Rescue in Minneapolis, MN. When we saw her on their website, we knew we were the home for her. Ludo taught us everything we needed to know about loving and caring for a Tripawd.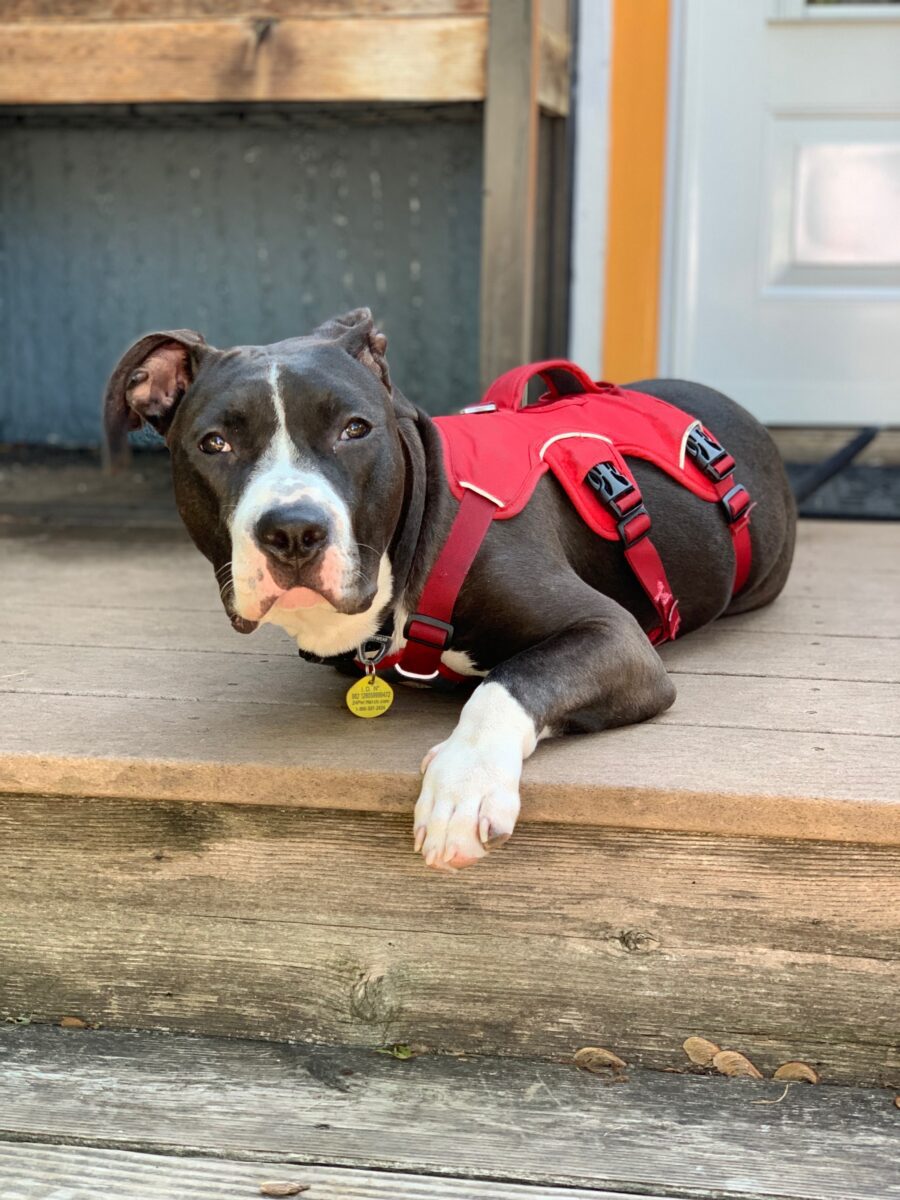 Because of our experiences with Ludo post-amputation, we got Greta hooked up with a local physical therapist right away.
She started swimming at a local dock diving pool (which she hates, but is good for her). And we started an at home stretch routine. Greta's gait was a little funky, but by taking these steps, we saw an immediate improvement. Unfortunately, the improvements came to an abrupt halt. A few months later she developed an unusual limp.
Her PT noted a likely cruciate tear, and we made an appointment at the University of Minnesota where not one, but two tears were confirmed.
So, Greta continued her surgical journey her first year of life. We discussed in detail with her surgeon the risks of TPLO surgery on a front-leg Tripawd. We were reassured that Tripawds usually recover faster than four-legged dogs out of sheer necessity.
Furthermore, because of Greta's shorter than normal legs, a typical TPLO method was not feasible. The doctor explained that rather than making a kind of half circle notch on her knee, they needed to cut a triangle in her bones and have that fuse together. It did not cause any complications and was not an issue, just another special need for our special girl.
Greta's surgery went well, but we learned she had not only a torn cruciate in her left leg, but also a torn meniscus.
These were both removed and replaced with an implant. She was a star at the doctor's office and was able to bear enough weight on her leg to hop to the house and go out to the bathroom. It seemed she was well on her way to a seamless recovery, except there was just one, very cute, very rambunctious caveat to her situation – her younger brother Gurgi.
In our grief over losing our beloved boy Ludo, we adopted not only Greta, but her younger brother Gurgi about a week and a half apart. Everyone probably knows how much work one puppy is but having two at the same time is madness. Add in a couple of surgeries, and things can get out of control fairly fast.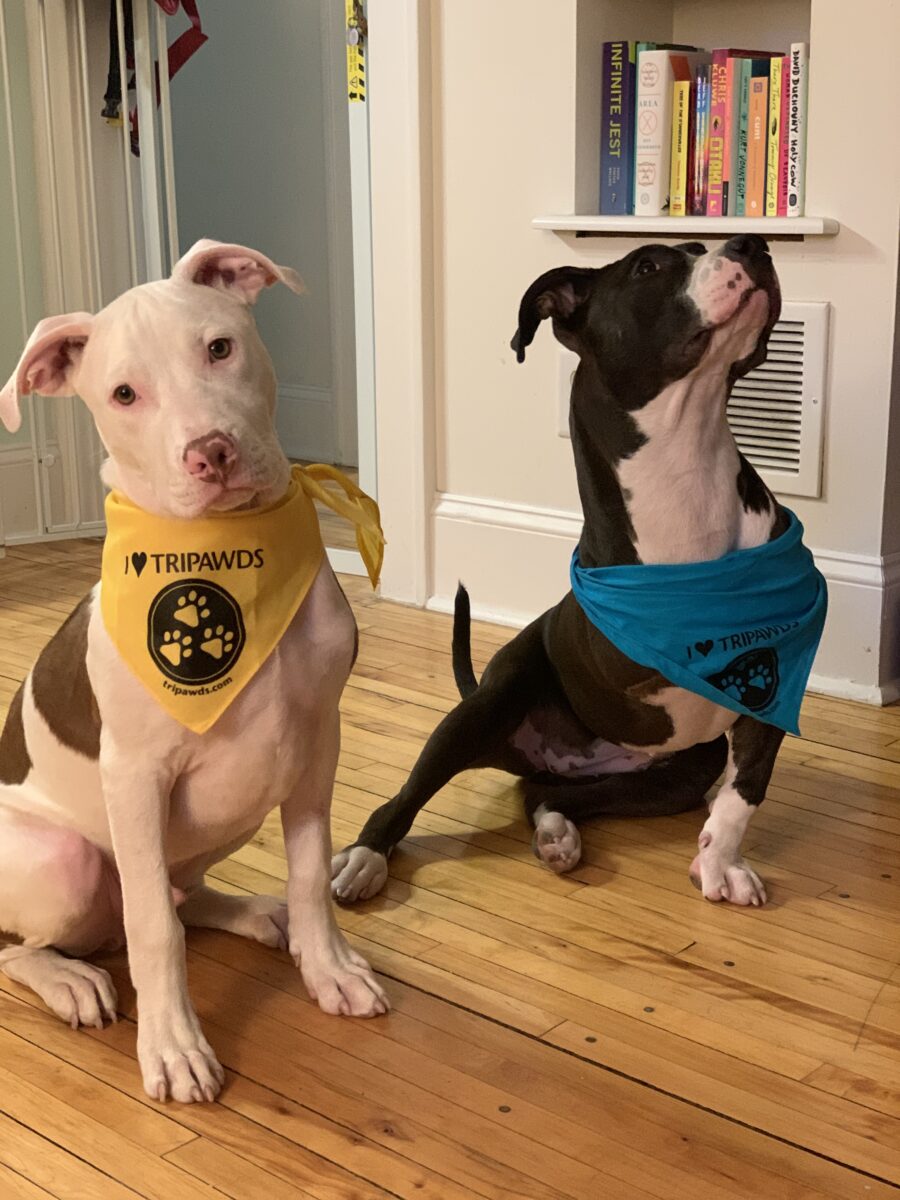 Greta wasn't allowed to do anything other than go outside for bathroom breaks for the first 2 weeks and then she slowly needed to increase activity.
Playing with her brother was most definitely not allowed. To accommodate this, we set up a mattress in our home office where Greta spent the next six months with full supervision. This was no easy ask of a one-year-old bully.
In addition to trying to control a very energetic one year old Tripawd and her brother, we ran into a few other hiccups during Greta's recovery. The first of which took place the very first night when we learned Greta is very sensitive to anesthesia. The small bedroom we were confined to was covered in vomit shortly after we got her home, which ultimately brought us back to the ER for anti-nausea medication. Providing her with this medication for all future sedation requiring procedures became standard practice.
5-7 weeks post-op, Greta hit another hurdle.
We began taking her on short walks to encourage bone growth. However, on one such walk Greta came to a complete stop and refused to continue. When we got her home, we watched her leg begin to swell. So we returned to the ER for X-rays. To everyone's surprise, Greta's X-rays showed better than average bone growth. And no issues with the implant. She left with a diagnosis of a pulled muscle, antibiotics, and anti-inflammatories. The recommendation was for two weeks bed rest. Following this, we saw even greater improvements and Greta was able to get back to playing with her brother, Gurgi, for several days before she went in for her next surgery.
Her second surgery was a bit more straightforward, as her right meniscus remained intact. Her second recovery, however, brought on some unique challenges.
Mostly, Greta was done with confinement! A curious, growing girl can only take so much. She had a world to explore and a brother to torment! It was clear we needed to change our approach. We began utilizing the kennels, alternating which dog had free reign of the living room. I think it helped both Gurgi and Greta to be able to see the other dog despite not being able to play with them.
With this new strategy in place, Greta's recovery continued to go smoothly all the way up to her 10-week check up. Once again she showed better than average bone growth. Seeing these results, her surgeon took her off all activity restrictions. Gurgi and Greta were reunited.
Unfortunately, their reunion was short-lived, because once again, Greta's leg began to swell.
Again, X-rays showed no issues. But a biopsy of the inflammation came back with alarming results. An antibiotic resistant infection occurred. We were sent home with antibiotics that no one expected to work. Another surgery was scheduled to remove her implants. Lucky for us, and especially Greta, the antibiotics did work. When we brought her in for surgery, the surgery was cancelled. We instead left with a Greta cleared of all issues.
Today, Greta is doing so well! It was a long recovery from January to June, but well worth it.
We can't help to think that this may be the first time in Greta's life that she is pain free.
She was bitten when she was a baby, had a front limb amputation, and tore both cruciates. Then she recovered from both cruciate surgeries. All in all, Greta has spent the better part of her first year on this earth either in pain or recovering. She missed out on a lot of socialization and training we would have liked her to experience early on. Yet Greta is the sweetest, funniest, full of personality dog you will ever meet. We are so excited to get her back to her puppy classes, and play with her in the yard. And finally get her acclimated to her cat brother, Optimus Prime.
If you take anything away from Greta's story, know TPLO surgeries are definitely scary regardless of how many paws your dog has.
But don't automatically write it off thinking your Tripawd can't handle it. Greta had her surgeries at the University of Minnesota's Small Animal Hospital. They assured us that the idea Tripawds can't have these types of surgeries is outdated thinking. Tripawds can most-definitely have and recover from TPLO surgeries. Just look at Greta!
She recovered faster than a 4-legged pup even with unexpected complications. Greta is now running around with her jowls flopping in the wind. The resiliency and fortitude Greta has shown through this whole ordeal was incredibly inspiring. She's the best dog and we're so happy we decided to bring her in to our lives and do these surgeries.