Caring for a Three Legged Dog or Cat
Tripawds is your home to learn how to care for a three legged dog or cat, with answers about dog leg amputation, and cat amputation recovery from many years of member experiences.
Learn how to help three legged dogs and cats in the forums below. Browse and search as a guest or register for free and get full member benefits:
Instant post approval.
Private messages to members.
Subscribe to favorite topics.
Live Chat and much more!
Some of you may remember back in October Daisy tore her cruciate ligament in her right knee (she's a left front amp).   We had been doing conservative management for the last 8 months and that seemed to be going pretty well.  Well on May 31st she had a complete rupture.  Poor baby has been hobbling around on two good legs and one bad one!  And it is awful to hear that knocking sound from her knee.
Today was her appointment to discuss options and we decided surgery is it.   She is scheduled for this Thursday.  Dr. Terry is going to do a procedure that is similiar to the tightrope but she called it a lateral something or other.  (I'm really bad with the medical terms)!
Wish us luck.  It is scary to have another leg surgery when she has already given up her spare!
Marla and Daisy
My Two Tripawds...Biscuit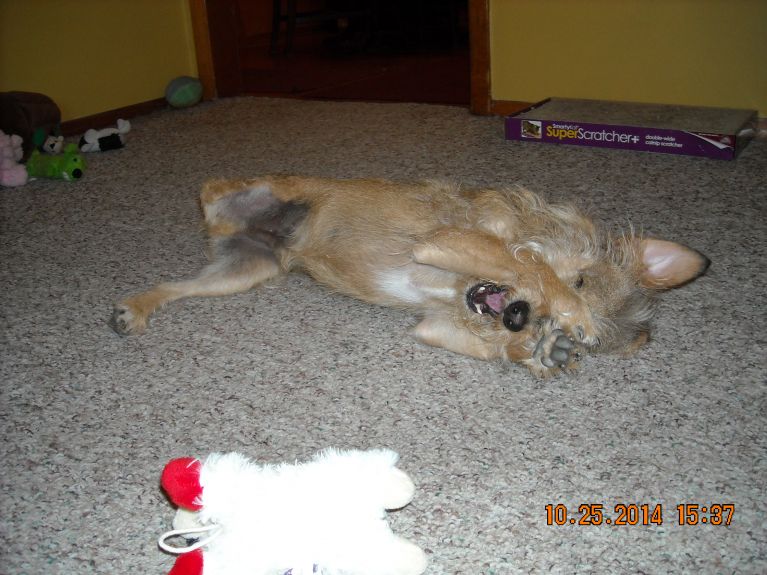 and Spirit Daisy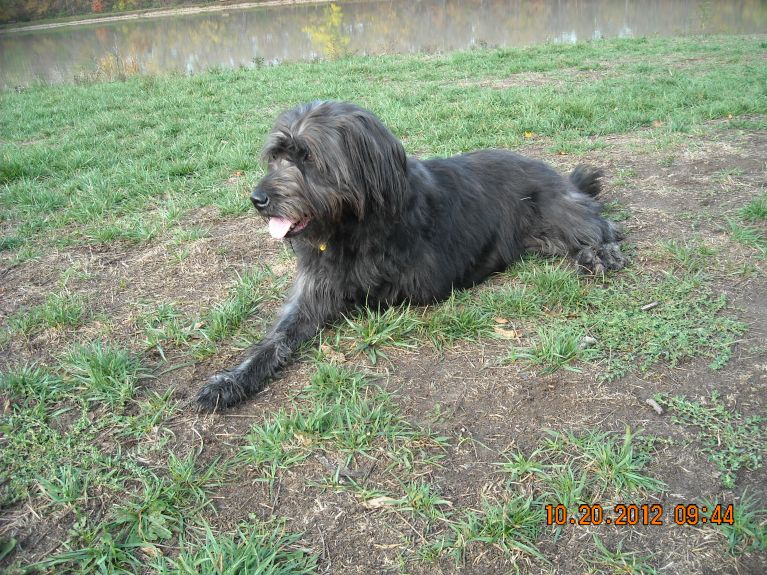 Virginia


Member Since:
22 February 2013
Offline
Wow Maria and Daisy! What a bummer! Glad though that her recovery from amputation has been stellar'(except, of course, for the knee this g)
Cannot offer ANY I sight I to that type of survey...HOWEVER--and all the computer brains with "memory" can chime in.......ust recently we had an amputee on here who, I think k went through the same "type of thing. After no the of rest and being carried, etc. the dog is doing g REALLY WELL and the ow ERS are soooo glad they did the surgery.
You gave it your best shot and, up u til now, this gs were going g so well. AND SHE WILL DO WELL AGAIN:-)

You are incredibly loving and strong pawparents and she knows she's in good hands with you. I really doubt that it will be possible, but she will even get more spoiling and more loving!!
PLESE keep us posted on surgery, recovery, etc. We LOVE pictures around here ya' know. And, you also know we are all here for you.
Surrounding you with supportive energy,
Sally and Happy Hannah
Happy Hannah had a glorious additional bonus time of over one yr & two months after amp for osteo! She made me laugh everyday! Joined April's Angels after send off meal of steak, ice cream, M&Ms & deer poop!

krun15
Quad pug Obie had knee surgery in February to fix a luxating patella and a partial ACL tear.  I think I know the type of surgery you are talking about and I think it is less invasive than some other ACL repairs.  You might post in the ask a vet section. I chose surgery for Obie because even with rest his leg was getting worse.
My experience is that the patella repair was by far the biggest hurdle because it involved cutting bone, and we had to wait for that to heal.  I think Obie was in more pain (but well controlled) than Maggie was from her amp.  The key to success with recovering from knee surgery is restricting activity.  Sounds like Daisy does that on her own!  Obie was not allowed off leash at home for 8 weeks, then 4 more weeks at the park. Obie was putting a little weight on his leg the day after surgery, but I had to help him for about a week.  I had the huge advantage of being able to carry him when he exceeded his daily activity allowance.
I bet Daisy will be doing pretty well in a few weeks, and she will feel way better than she has the last months.
Good luck!
Karen

Montana
Member Since:
1 February 2013
Offline
Hang in there Daisy. We'll be sending you all our happy thoughts this week.
Spirit Shooter was a Miniature Australian Shepherd who was diagnosed with a MCT and had a LF amp 1/28/13 at 13-1/2 years old. 
Shooter crossed the Bridge on 8/28/13, his 7 month ampuversary and two weeks from his 14th birthday.

Crossing the rainbow bridge
Member Since:
4 March 2012
Offline
Sending best wishes Daisy's way! Not sure if it is an option for you but you might want to check out Eddie's Wheels. Our Daisy (since gone to the Rainbow Bridge ) loved her cart - might help your sweet girl get around.
Good luck!
Alicia
Daisy we were so bummed to hear this news! But you are one amazing girl, and your Momma is pretty kewl too, I know you will do just fine.
We will be thinking of you and sending lots of love your way. It's a ruff surgery and recovery but you're a tough girl, you can get through this.
Marla, what are they telling you the recovery will look like? Just curious.

Wherever the Wind Takes Me, Dude
Member Since:
25 July 2009
Offline

Wyatt Ray Dawg . . . The Tripawds Leg-A-Cy Continues!
Read all about my adventures at my Tripawds Blog
Well I just dropped Daisy off at the vet on my way to work for her knee surgery.  I gotta tell you I'm nothing but a bundle of nerves and it is going to be hard to get any work done today.
The recovery is going to be 8 weeks of restricted activity.  I know for the first 2 weeks she is only allowed to go out to potty and no more activity than that.  Then I can slowly start letting her move around more.  They told me this morning that she should be able to put some weight on her knee pretty soon after surgery.  I was concerned how I was going to manuever her around with two legs so that helped ease my mind a little.  I will be looking into possibly doing the water treadmill for part or her rehab since they have a pool at the University of MO Vet School.
It's gonna be a long day..............
Marla
My Two Tripawds...Biscuit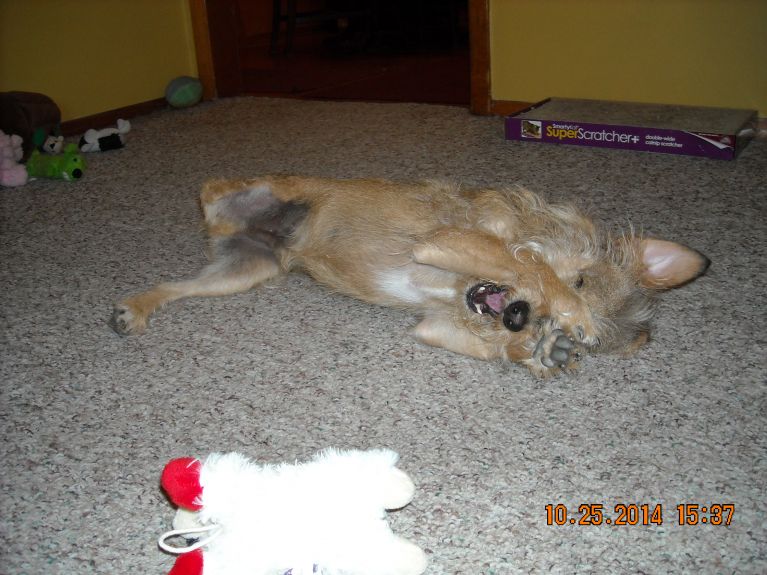 and Spirit Daisy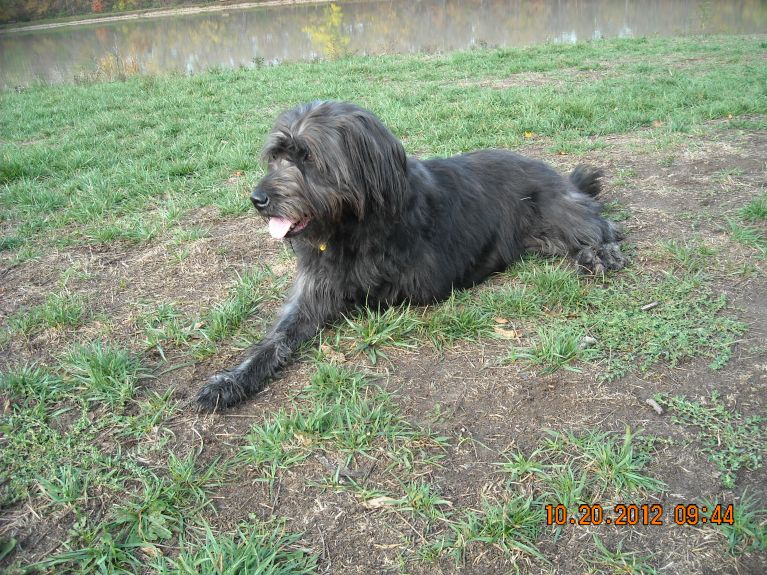 Ohhh good luck today to both of you! We will be thinking of you both. Are you getting the surgery done at the university?
I don't know if you ever saw this discussion about Ellie (I think you may have), a Tripawd who had a TPLO surgery, but maybe you want to poke around in it, it will ease your mind as it seems the recovery went really well for her.
Keep us posted!
Daisy's regular vet is doing the surgery.  If she was having the TPLO I would have had to take her there since my vet doesn't perform those.  Daisy is having a less invasive procedure where they use a kevlar thread to stabilize the joint.  Not sure the exact term for the procedure but it is sorta like the tightrope procedure but with less holes drilled thru the bones.
She most likely won't be in surgery till this afternoon so I won't hear anything till later today on how it went.
Marla
My Two Tripawds...Biscuit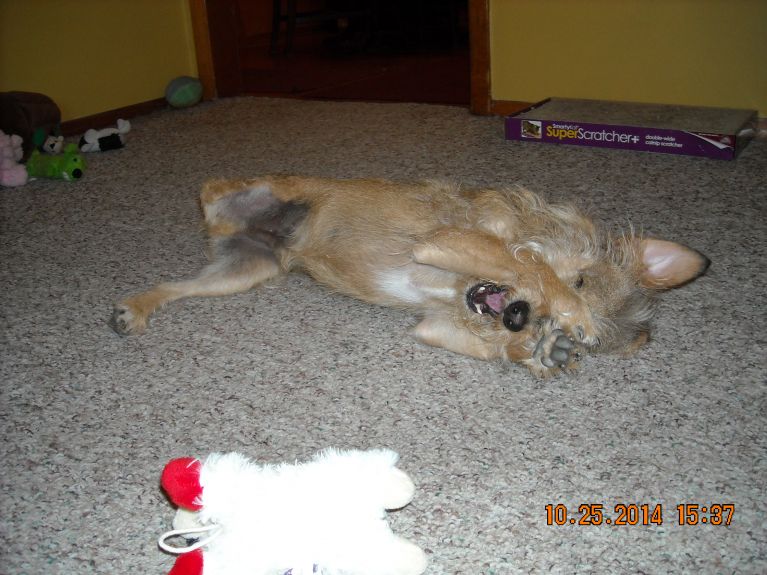 and Spirit Daisy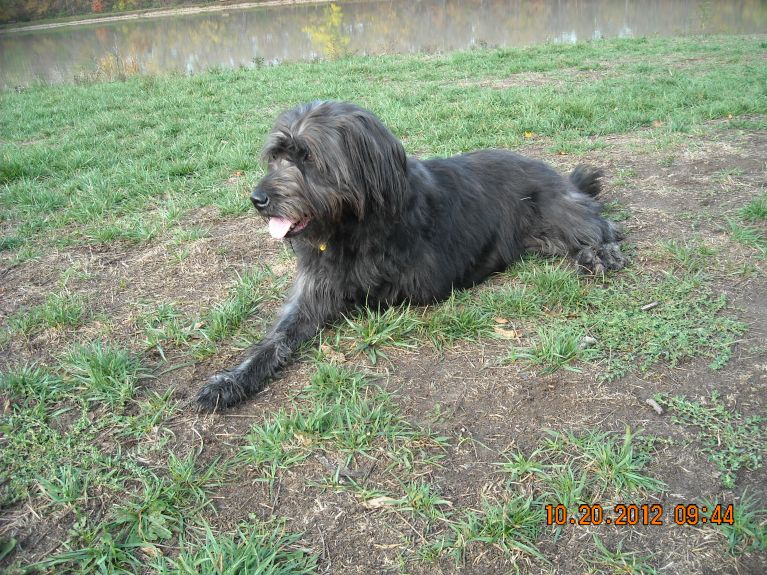 Ah ok, that makes sense. I know how much you love your vet so that's terrific.
We'll we're thinking of ya! Paws crossed for a quick uneventful recovery.
Yay! She is such a trooper. And you are too!!! It won't be that bad, you'll both do great, I know it.

Idaho
Member Since:
12 March 2013
Offline
Daisy, you hang in there. I know it's tough to try to get along on two legs, but you will be back on three in no time. Murphy had total hip replacement (he's a rear tri). We got him one of those little exercise cages that can be reconfigured into a square or a circle. He's a big dog (Lab/Chessie), but we only needed the 30" high, since he couldn't jump. He lived exclusively in that for the first two months after the THR, going out to potty on a leash. We got a queen size eggshell mattress cover, folded it in half and covered with some sweatshirt fabric to use as his bed pillow. That fit the cage perfectly. After two months he started PT and it worked WONDERS! I would definitely, definitely say Yes! to doing it. He went twice a week for two months. They not only did water therapy, but other core strengthening exercises . After the end of the four months, he was cleared by the ortho to be off-leash and do pretty much anything he felt like doing. The swimming is a great exercise, and he is going every day now and spending almost a hour in the pool. He has a float coat and that allows him to go much longer than he would otherwise.
Keep up the good work...and get well soon!
Murphy is a five year old Lab/Chessie cross. He was hit by a car on 10/29/12 and became a Tripawd on 11/24/12. On 2/5/13, he had a total hip replacement on his remaining back leg. He has absolutely no idea that he has only three legs!
UPDATE: Murphy lived his life to the fullest, right up until an aggressive bone lesion took him across the Rainbow Bridge on April 9, 2015 and he gained his membership in the April Angels. Run free, my love. You deserve it!
Murphy & family thanks for chiming in! My Momma says if she could sit down to find the time to write your story she  could point folks to it for inspawration. But until then THANK YOU for giving hope to Daisy & Marla!
Forum Timezone:
America/Denver
Most Users Ever Online:
946
Currently Browsing this Page:
1
Guest(s)
Member Stats:
Guest Posters: 1225
Members: 16211
Moderators: 2
Admins: 3
Forum Stats:
Groups: 4
Forums: 23
Topics: 17945
Posts: 248813
©
Simple:Press
—