Caring for a Three Legged Dog or Cat
Tripawds is the place to learn how to care for a three legged dog or cat, with answers about dog leg amputation, and cat amputation recovery from many years of member experiences.
JUMP TO FORUMS ↓
Join The Tripawds Community
Learn how to help three legged dogs and cats in the forums below. Browse and search as a guest or register for free and get full member benefits:
Instant post approval.
Private messages to members.
Subscribe to favorite topics.
Live Chat and much more!
Member Since:
13 January 2013

Offline
Thank you Sally and Happy Hannah! We appreciate your kind words and support. Yes...we will do our research and figure out what is best for our amazing pup. All of us are so lucky to have this terrific web site filled with love and support. Here we have all found a very special group of people who truly care deeply/love their animals and support others through difficult challenges. It was this web site where we gained all the knowledge/strength needed to overcome the cancer. Proof that love is truly the best cure for any challenge...
Best,
Laurie and Aera
Hi Laurie, welcome to Tripawds. First I want to say congrats on beating the cancer! Wooooohooo! I have my paws crossed that Area stays cancer free for years and years!
I hope she doesn't need that leg repair but if so have you checked out Murphy's story? He had a total hip replacement after his amp, his story will amaze and inspire you.
Here's an article to read about avoiding surgery, Conservative Management Alternatives to Leg, Knee and Hip Surgeries for Tripawds. I hope you're able to go this route instead, I know that kind of recovery is a tough one.
Keep us posted on how things are coming along. Does she have to stay calm and confined at this point? How is she getting around? And of course, let's see some pics of your magnificent cancer warrior!
Well we are at 5 weeks post surgery as of yesterday.  Everything seemed to be going pretty good.  She was starting to want to stand to eat a few times (I had been letting her eat/drink lying down) and walking out to potty a little further than she had.  I'm still using a sling to assist her and we have continued to take the recovery very slowly.  I've not been trying to get her to do more than she is willing.
This morning she is not wanting to walk at all.  I got her up to stand but then she wouldn't move.  I was able to get her from the bedroom to the hallway (that's only about 10 feet) using a sling on the back and one on the front.  I don't know if a muscle is strained or what.  When I poke and prod on her nothing gets a reaction.  I still have some Tramadol leftover so I gave her a couple so hopefully that might help if she is having pain.
I'm just beside myself this morning and it's too early to call the vet...
Marla and Daisy
My Two Tripawds...Biscuit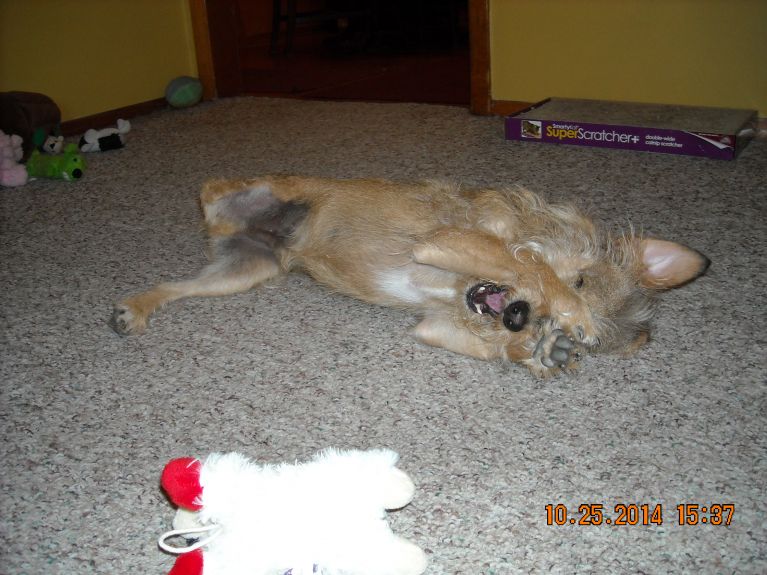 and Spirit Daisy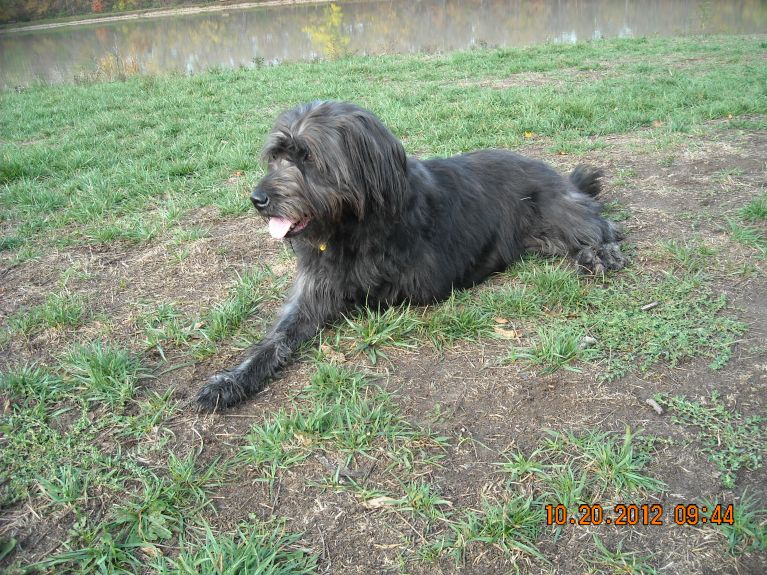 Oh Marla I know this has gotta be scary! I hope it's nothing serious, please let us know what the vet says. By the way, just a thought but did you check between her toes? Maybe she has a sticker or something stuck in there. Just a thought, and hoping that's all it is. Keep us posted, we are thinking of you two.
Spoke with Dr. Terry as soon as the vet opened this morning.  Since this was a sudden onset we decided to give Daisy 24 hours and see if there is any improvement.  She thinks that she might just have tweaked her knee.  I will check back with her tomorrow morning and if no marked improvement I'll take her in then.  For now we are adding tramadol back to the mix along with her regular Deramaxx dose and continue resting.  Poor girl hasn't been potty since last night.  But the stubborn dog she is she'll hold it forever.
Rene-I did check all of Daisy's paws for any little piece of stick or rock but nothing there.  I always check there first since one time she quite putting weight on a leg during a walk and had a HUGE cockle burr stuck up in between her paw pads.
Fingers crossed that it'll get better soon.  Seems like we are always one step forward, two steps back.
Marla and Daisy
My Two Tripawds...Biscuit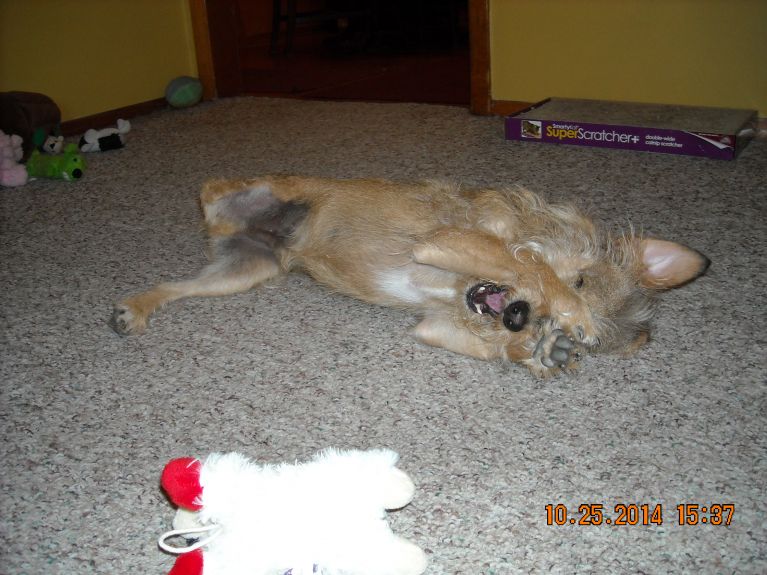 and Spirit Daisy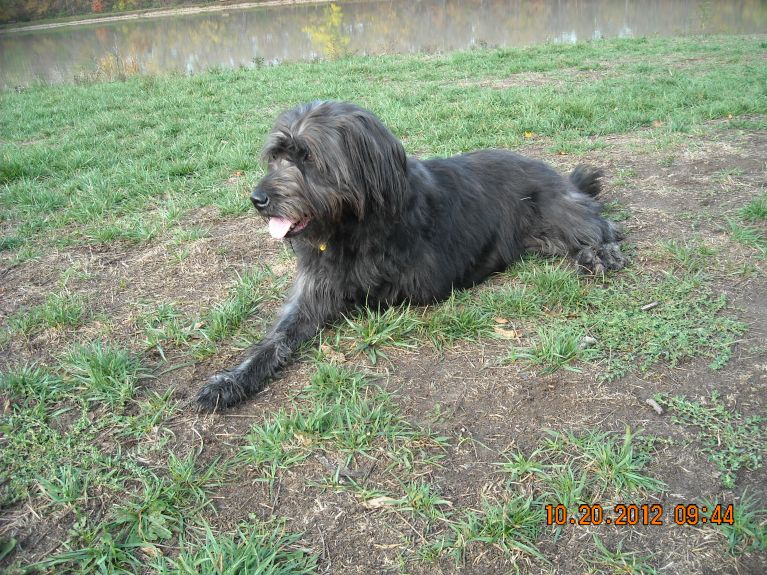 Goodness gracious Marla and Daisy! Enough of these "challenges", right?
Your patience is extraordinary! I know it has to be wearing just a "touch" thin about now though:-)

It almost as to be some sort of little tweak with the knee since it came on so quicky and, hopefully, it will go away jisy as quicky!
You and Daisy hsven't been chasing any HORSE FLIES recenty, have you? Tht could be the culprit!
Please update us tomorrow when you can. You are an incredibly strong and devoted partmer for your pup! And she feels the love and is lapping up every second of it! All meals served in "bed"? Heck yeah Daisy! Enjoy the spoiling!
Lots of love,
Sally and Happy Hannah
Happy Hannah had a glorious additional bonus time of over one yr & two months after amp for osteo! She made me laugh everyday! Joined April's Angels after send off meal of steak, ice cream, M&Ms & deer poop!
Update:  So I went home for lunch yesterday and Daisy greeted me at the door -- good sign.  She managed to get from the living room to her water bowl (I noticed she had taken a drink) and to the back door all on her own.  BUT I noticed when giving her a treat she would not turn her head to the left to take it.  I started checking this out and she would turn it to her right side but not her left.  Still had problems getting her out to pee last night.  She is just not wanting to walk more than a couple steps at a time.
Took her to vet this morning.  Thankfully they squeezed me in as Dr. Terry was booked up with appointments all day.  I told her about Daisy not moving her head.  Well she has managed to strain her neck somehow since she felt swelling there and is most likely pinching a nerve.
Now we have added a muscle relaxant to her pain management cocktail.  I'm gonna have 80 lbs. of limp noodle to manuever around LOL.  The muscle relaxer is Methocarbamol 500 mg twice/day for one week and if better I'm to give it only once a day after that till her recheck appointment.
Have I told you how much I LOVE my vet.  She would not charge me an office visit -- only charged me for her meds.
Marla and Daisy
My Two Tripawds...Biscuit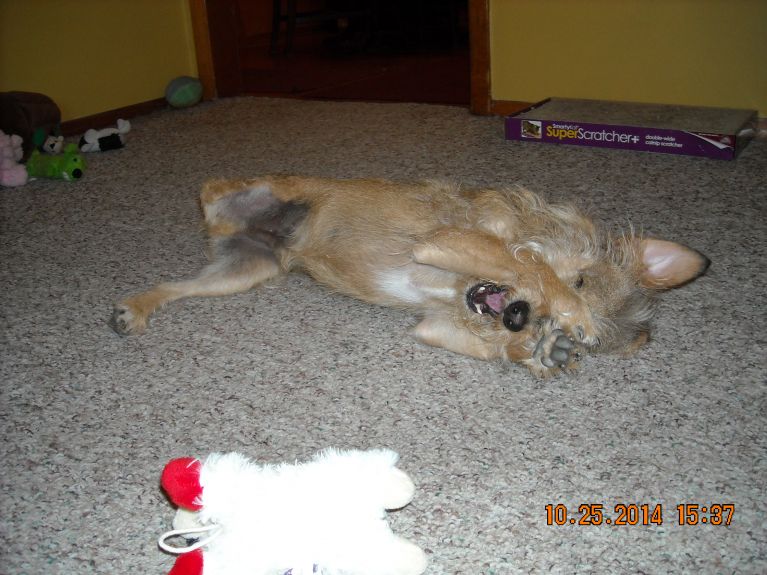 and Spirit Daisy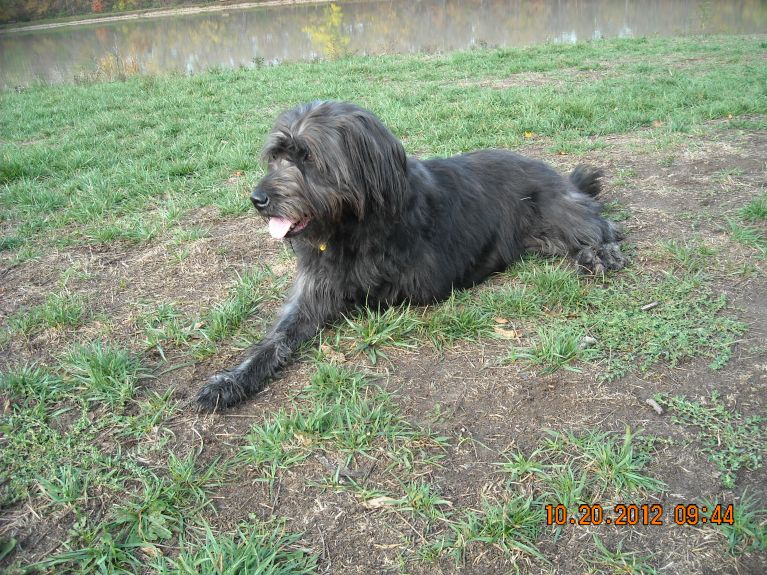 And have we told you how uch we love you?!! Well, let me tellyou again! The tripawd community loves you!!
So hapoy to hear she's up and greeting you! Best "hello" in the world!!
Not familiar with that"noodle drug"....but itsounds potent!
You are SUCH a diligent mom! Kudos to you and your vet!
Glad we're getting your sweet girl back on the road to receovery! No more hiccups! Done! Full recovery full steam ahead!!
Keep us posted and all paws crossed!
Sally and Apy Ha nan
Happy Hannah had a glorious additional bonus time of over one yr & two months after amp for osteo! She made me laugh everyday! Joined April's Angels after send off meal of steak, ice cream, M&Ms & deer poop!
Bravo to YOU Marla for being so observant! I know your vet is probably super proud of you too for helping her arrive at such a relatively fast diagnosis. And yeah, what a great vet for sure. Feel free to list her in our Vet Referrals Topic if you  haven't already.
Ohh I know how those stiff necks hurt, ouch! Especially for front-leggers, it tends to happen a lot. I hope the muscle relaxer works quickly and she's feeling good again soon. Keep us posted.
YAY!  Daisy is feeling much better this morning.  She has actually been up and moving around on her own already 3 times in the last hour.  Seems to be turning her head slightly to the left again!  Muscle relaxers are doing the trick.  Such a relief as yesterday she was laying around whining which is something she never does (my stoic girl prefers to suffer in silence).  I guess the whining could have been caused by the meds though.
We are now 5-1/2 weeks into recovery so I am hoping for NO MORE SETBACKS!
Marla and Daisy
My Two Tripawds...Biscuit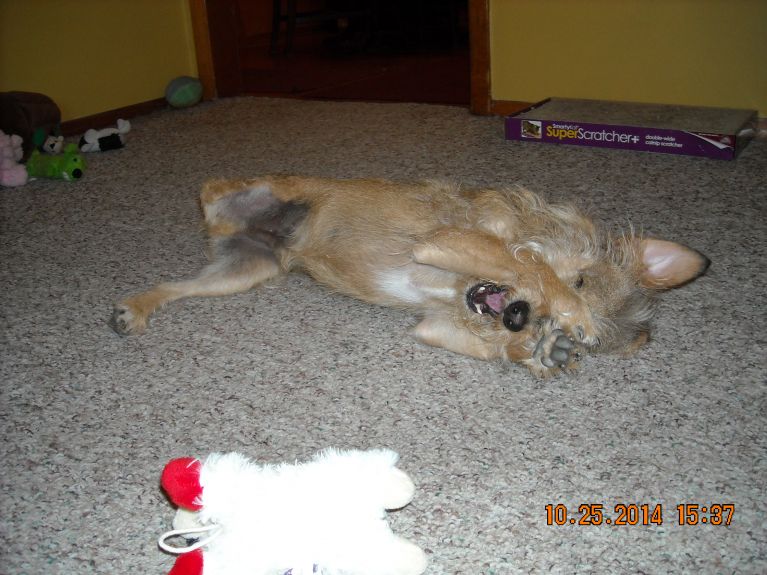 and Spirit Daisy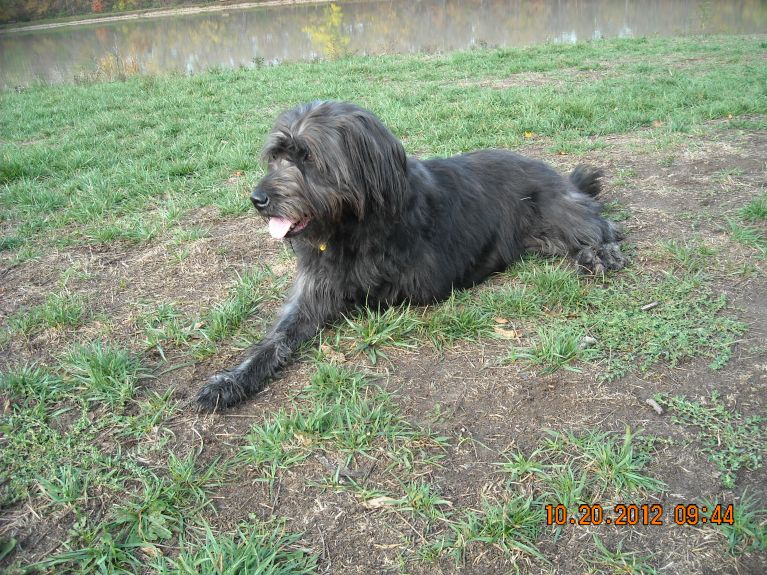 Yay indeed! Here's to no more setbacks, no more pink elephants. We hope you have a great, restful and healing week!
Daisy went for her 8 week recheck today.  Everything looked good.  Her muscle is tight on that knee so I am to start massaging her knee.  I'm always massaging up and down her spine so I'll add that to the repertoire.  There is still some swelling so Dr. Terry did a laser treatment on both knees and hips.
Boy Daisy was wore out when we got done.  I practically had to carry her in the house.  She's not really able to stand for very long since we have had such limited activity and she's really out of shape.  Her poor front leg was shaking from trying to hold herself up during the treatment!

We are still on restricted activity except for leash walking.   Hopefully soon we can get back to "normal".

Marla and Daisy
My Two Tripawds...Biscuit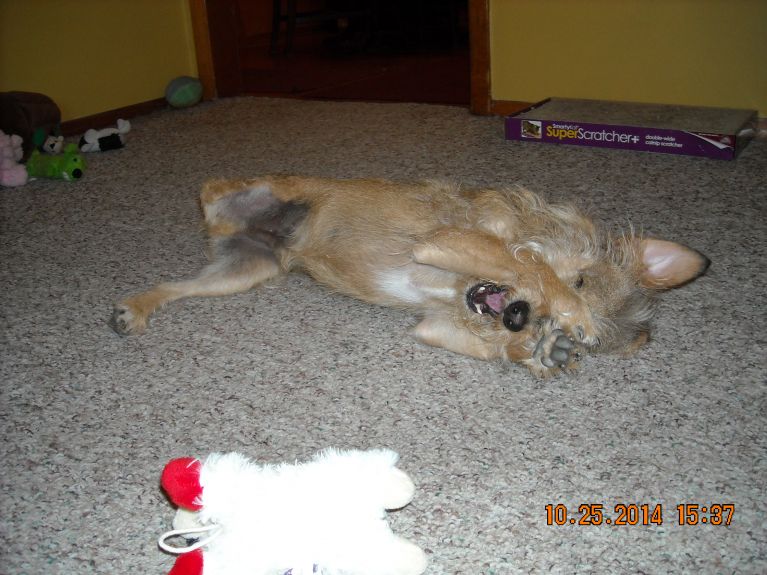 and Spirit Daisy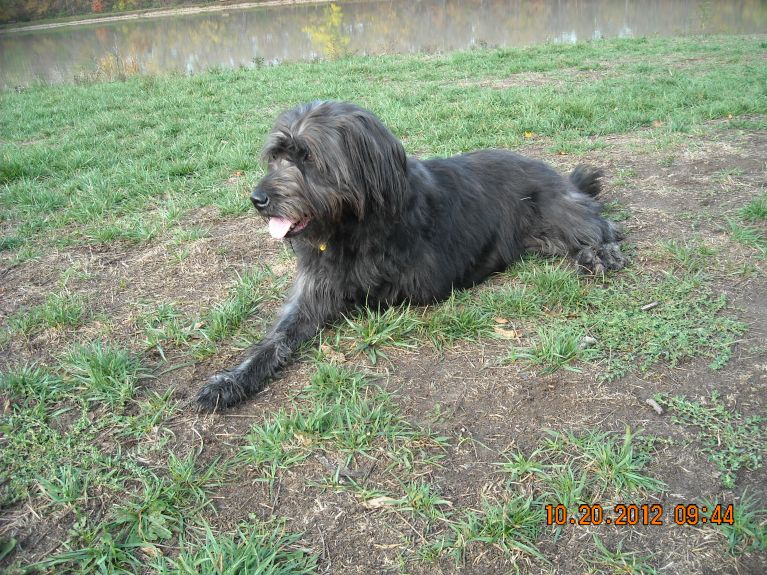 krun15
You are almost there!! 
Quad pug Obie was weak when we go to this point too, and he is only 7 years old and a quad.  I had to remind myself that he had basically been stationary for 2 months.  I did lift some house restrictions- but I had to be careful to leave all the blinds closed because he chases lights.
We are now almost 6 months out and I still have to ice his knee sometimes when he gets sore.  But it's been steady progress and I am really happy with how he is getting muscle tone now in the bad leg.  Start slowly and steadily build activity level, she will be back to her old couch potato self in no time

.
You are doing great Marla, and Daisy is too.
Karen

My heart lives at Rainbow Bridge
Member Since:
28 November 2008

Offline
Great report.  Knees are not fun, but once they heal it is all worth it.  Duke is 1 1/2 year out from his surgery and still occasionally gets a bit sore.  I'll give him a Rimadyl and he will rest for several hours, then he is good to go.
Shanna & Spirit Trouble ~ Trouble gained her wings 3/16/2011, a 27 1/2 month cancer survivor, tail wagging. RIP sweetheart, you are my heart and soul.  Run free at Rainbow Bridge.
The November Five - Spirits Max, Cherry, Tika, Trouble & Nova. 11/2008 - 3/2013 An era ends as Queen Nova crossed the Bridge.

Slowly but SURELY sweet Daisy is regaining her strength and healing nicely She's already agreed to no more "hiccups", right? Good!
Ya' kow, as cute as that avatar picture is.....and it really is cute...how'bout posting another couple of pics!. Daisy, you have to share your "cuteness" with the al of us!
Good job Daisy! And Marla, we bow down toyou! What a devoted mom you are!
Lots of love,
Sally and Nappy Hannah
Happy Hannah had a glorious additional bonus time of over one yr & two months after amp for osteo! She made me laugh everyday! Joined April's Angels after send off meal of steak, ice cream, M&Ms & deer poop!
Forum Timezone:
America/Denver
Most Users Ever Online:
946
Currently Browsing this Page:
1
Guest(s)
Member Stats:
Guest Posters: 1217
Members: 15978
Moderators: 2
Admins: 3
Forum Stats:
Groups: 4
Forums: 23
Topics: 17851
Posts: 247783
©
Simple:Press
—