As you know, the Tripawds community is no stranger to heartache. It can be an emotional place, but everyone here always seems to know the right words to say during hard times. Which is why we're writing today, because the pawrents of a Tripawd legend can really use the power and friendship of the Tripawds Nation.
The Power of Three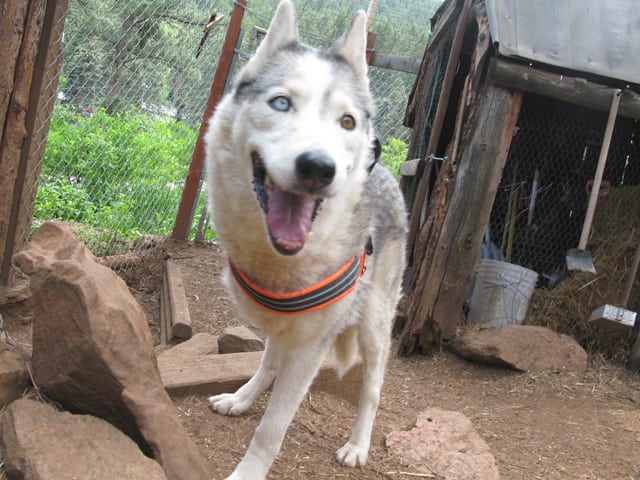 You might be familiar with this special angel. She still has so much to share with us even four years after she earned her wings. Calpurnia joined us in 2007 after losing a leg to soft tissue sarcoma. As an active sled dog she ran over 10,000 miles doing what she loved best, before losing her leg. Calpurnia was one of our first Tripawds members with a story of hope and inspawration to share with the world.
Calpurnia's people, TC and Dave, have been so good to this community. TC generously offers her sage wisdom about life on three and four legs, coping with amputation, and just general dog pawrenting. She and Dave are true canine experts – after all, they have 22 rescue dogs on their Odaroloc Sled Dog team to care for!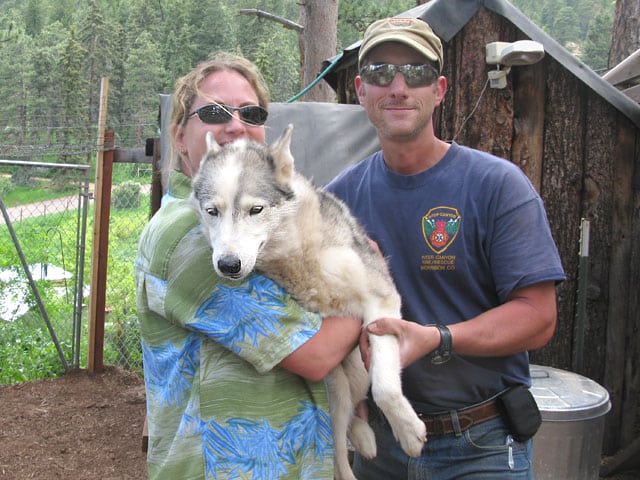 Odaroloc Winter Dreams Gone in Fire
Like Calpurnia and all of her packmates, TC and Dave live for winter. Each year we're mesmerized by the team's crazy northern migration from Denver to Willow, Alaska.
All winter long they live in a cute hand-built cabin, running the trails, helping with the Iditarod, and giving these rescued pups an amazing life they love more than anything else.
But last Sunday, their cabin and all the Odaroloc mushing dreams burned to the ground. A major wildfire has destroyed their property. It took the Odaroloc's cabin, kennels and a life of hard work and dreams right along with it.
One can only imagine the gut-wrenching heartache they are feeling. Losing everything is unimaginable and an especially sad part of this tragedy is Dave is a firefighter and couldn't even be there to help save his cabin, or his community, since the Odaroloc team is in Denver.
Their Willow neighbors, many who also lost their homes, are pulling together but there is a huge need for help in what's accurately described as the Sled Dog Capitol of the World.
The Power of Dog
Hundreds of dogs and their humans are currently without any housing or possessions. The wilds of Alaska aren't an easy place to be in good weather, much less while trying to rebuild your life in a very short summer season. Can you imagine?
We're writing today with the hopes that this great community will stop by the Adventures of the Odaroloc Sled Dogs blog and Odaroloc Facebook page to offer your caring, loving wisdom and support. TC and Dave's blog post has a list of ways you can help.

As with any disaster, there is a huge need for help in Willow, with everything from donated dog food to gift cards and of course cash, all of which will help the community get on their feet and paws before the long winter ahead.

In addition, a friend of the Willow mushing community, Stephanie Crawford, is holding a fundraising campaign to build long-term dog houses that were lost in the fire.
Alaska seems like a long way off when you live in the lower 48. But the Odaroloc crew is part of our Tripawds family, which really brings this tragedy home. Thanks for sharing the Power of Dog and the Tripawds Nation with this amazing pack.