For anyone who isn't sure if a dog can lead a happy life as a tripod, meet Calpurnia, a gorgeous gal from Colorado, who became a new member of the Tripawd family on September 14, 2007. Here is her recovery story that her Dad just sent to me.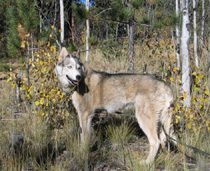 For nearly 12 years, Calpurnia has been an enthusiastic working sled dog – running lead for nearly 10,000 miles through the snowy back country of Colorado. She was an amazing leader and we have shared many adventures together by sled and dog team.
In the fall of 2005, Cali was showing off and did a fancy spinning jump off her dog house and fractured her rear left femur. Fortunately, I was right there when it happened, so we were able to get her treatment right away. She ended up having a spiral fracture that took 2 plates and a bunch of screws to repair. Worse than that, she had to be confined in a crate for 8 weeks and was not allowed to put ANY weight on that leg during that time, or else the bone might not heal correctly and require another surgery. It was hard on all of us, but she fought back from that injury and was back running on the team by that spring.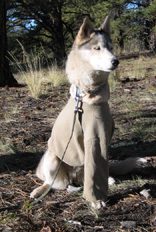 In the spring of 2007, after a wonderfully snowy winter, she developed a swollen area on her right front leg. At first, the vets were not sure what it was, but needle biopsies did not show any cancer cells. Maybe it was an injury of some sort, but it was not at all painful for Calpurnia. We tried treating it with anti-inflammatories, antibiotics, rest, ice packs, etc. to no avail. We did another round of biopsies in August and this time the results showed a grade 2 soft tissue sarcoma.
The tumor was considered a "nuisance tumor" – the type that does not readily metastasize to other places. Normally, this sort of tumor would be removed and that would be the end of it. However, its location on her leg and size did not give very good chances for removal, and would involve a long process of multiple surgeries and skin grafts. After talking to several veterinary oncologists, we decided to try treating it with chemotherapy drugs to try to restrict growth and prevent any spread. The thought behind this was to try to allow Calpurnia to use the leg for as long as possible – possibly even allowing her to run another winter with her beloved team.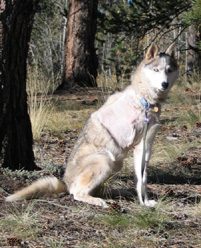 By the beginning of September, it was apparent that the chemotherapy was not controlling the growth of the tumor like we had hoped.The tumor was outgrowing its skin and developing sores that could become infected and were starting to bother Calpurnia. With that, we made the decision to amputate the leg.
This was a very difficult decision as we were not sure that Cali would be happy as a house dog. She was not mentally ready to retire from sledding, and is such an athlete that we worried her spirit would be crushed if she was not able to run with her team. We were worried that her femur fracture on the rear leg might be aggravated by having more weight on it. We were also concerned that the other dogs might pick on her or knock her over and injure one of her remaining limbs. This was, after all, a life or limb decision.
So here we are, a mere 2 weeks post surgery. There was no sign of the cancer spreading from her lymph nodes, so the vets feel she is cancer-free.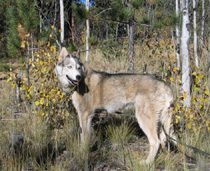 So far, Cali is quickly learning how to maneuver with 3 legs, and is holding her own with the other dogs. She has days where she is sore – probably because she is using new muscles in different ways – but a good massage at the days end seems to help.
We have begun training with the rest of the team to prepare for the winter ahead and took the whole crew on a camping trip this past weekend. While hooking up the rest of the dogs, we could hear Calpurnia screaming that she wanted to go with the team. It was sad that she could not – she is not ready for that yet and would push herself too hard. I am hoping to get a special harness for her so she might be able to train puppies or pull my 5-yr old niece on a sled, but definitely we need to find a new "career" for her as she is not ready to retire quite yet!
Cali is an amazing, inspirational girl.