I can't believe what a lucky dawg I am. I got to meet the one and only Calpurnia, the three legged sled dog.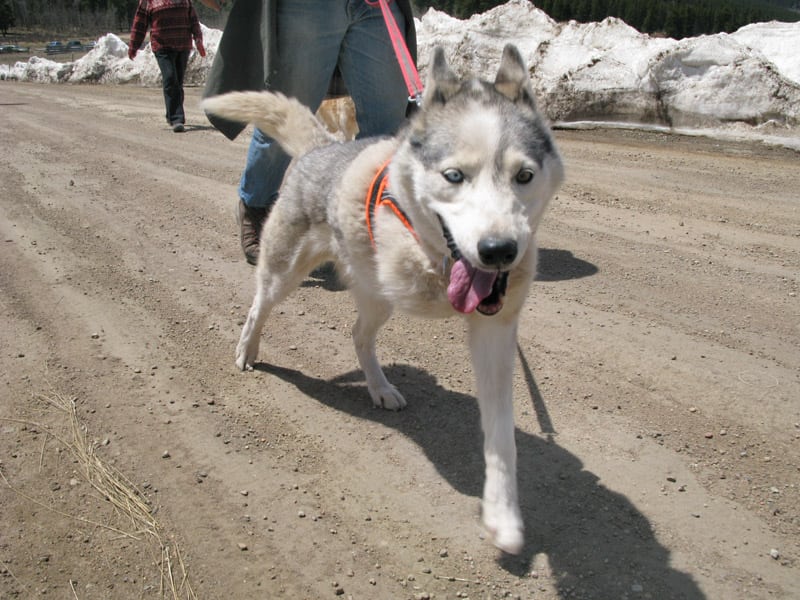 If there was ever a dog that demonstrates how we Tripawds can live a great life, she can. Calpurnia is tough as nails, headstrong and rambunctious, and completely defies her age (12 years old!). We met up recently, and took a walk at the Colorado Trail, on Kenosha Pass, about 100 miles west of Denver.
Well, Cali ran. At 10,000 feet above sea level, I tried to run with her, but that girl just kept flying down that trail ahead of me. My Mom couldn't run fast enough to film her the whole time! She is simply amazing.
Calpurnia and her people, Dave and TC, are active sled dog racers that live outside of Denver. They have a big team made up of rescue dogs — all of them! — and go around the snowy Rocky Mountains, mushing and racing and having a ball all winter long. Contrary to what some people have said about sled dog racing, this sport is not mean to the dogs, or inhumane. Sled dog people absolutely love their canine team members, as you can see by how much that Dave and TC have done for Cali.
I can't wait for fall, because we are going to meet up with Calpurnia and her team, and watch them practice for winter competition. Mushing sure looks like fun, but I think I'll sit on the sidelines with my humans and let the real snow dogs do all the work!