Caring for a Three Legged Dog or Cat
Tripawds is your home to learn how to care for a three legged dog or cat, with answers about dog leg amputation, and cat amputation recovery from many years of member experiences.
Learn how to help three legged dogs and cats in the forums below. Browse and search as a guest or register for free and get full member benefits:
Instant post approval.
Private messages to members.
Subscribe to favorite topics.
Live Chat and much more!

(0

votes)

Willow, Alaska Fire Touches Tripawds Family

Read the original blog post
Add Reply
Add Topic
As you know, the Tripawds community is no stranger to heartache. It can be an emotional place, but everyone here always seems to know the right words to say during hard times. Which is why we're writing today, because the pawrents of a Tripawd legend can really use the power and friendship of the Tripawds Nation.
The Power of Three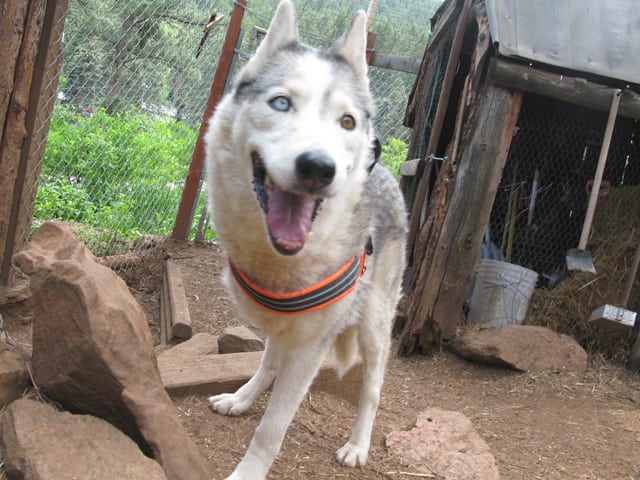 You might be familiar with this special angel. She still has so much to share with us even four years after she earned her wings. Calpurnia joined us in 2007 after losing a leg to soft tissue sarcoma. As an active sled dog she ran over 10,000 miles doing what she loved best, before losing her leg. Calpurnia was one of our first Tripawds members with a story of hope and inspawration to share with the world.
Calpurnia's people, TC and Dave, have been so good to this community. TC generously offers her sage wisdom about life on three and four legs, coping with amputation, and just general dog pawrenting. She and Dave are true canine experts – after all, they have 22 rescue dogs on their Odaroloc Sled Dog team to care for!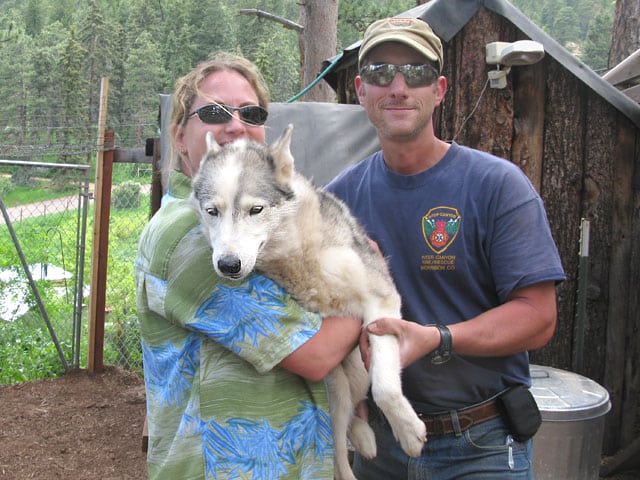 Odaroloc Winter Dreams Gone in Fire
Like Calpurnia and all of her packmates, TC and Dave live for winter. Each year we're mesmerized by the team's crazy northern migration from Denver to Willow, Alaska.
All winter long they live in a cute hand-built cabin, running the trails, helping with the Iditarod, and giving these rescued pups an amazing life they love more than anything else.
But last Sunday, their cabin and all the Odaroloc mushing dreams burned to the ground. A major wildfire has destroyed their property. It took the Odaroloc's cabin, kennels and a life of hard work and dreams right along with it.
One can only imagine the gut-wrenching heartache they are feeling. Losing everything is unimaginable and an especially sad part of this tragedy is Dave is a firefighter and couldn't even be there to help save his cabin, or his community, since the Odaroloc team is in Denver.
Their Willow neighbors, many who also lost their homes, are pulling together but there is a huge need for help in what's accurately described as the Sled Dog Capitol of the World.
The Power of Dog
A few thousand dogs and their humans are currently without any housing or possessions. The wilds of Alaska aren't an easy place to be in good weather, much less while trying to rebuild your life in a very short summer season. Can you imagine?
We're writing today with the hopes that this great community will stop by the Adventures of the Odaroloc Sled Dogs blog and Odaroloc Facebook page to offer your caring, loving wisdom and support. TC and Dave's blog post has a list of ways you can help.

As with any disaster, there is a huge need for help in Willow, with everything from donated dog food to gift cards and of course cash, all of which will help the community get on their feet and paws before the long winter ahead.

In addition, a friend of the Willow mushing community, Stephanie Crawford, is holding a fundraising campaign to build long-term dog houses that were lost in the fire.
Alaska seems like a long way off when you live in the lower 48. But the Odaroloc crew is part of our Tripawds family, which really brings this tragedy home. Thanks for sharing the Power of Dog and the Tripawds Nation with this amazing pack.
I saw this on FB TC & Dave's name is on it along with others who have lost everything in the fire.  It gives how you can donate to.  I hope I can post this.  Feel Free to remove if not Jim & Rene.
More great information on donating to the mushers of Willow.
[Image Can Not Be Found]
WDMA has received several messages asking good questions about all the fund raising. If you are concerned about who is taking in your money or if do not want to use a credit card and prefer to send a check, here is my suggestion. Make your check payable to WDMA. In the memo line, please write: fire relief fund. Mail to: WDMA, PO Box 858, Willow Alaska 99688.WDMA will be distributing all monies to those in need. If you would prefer to send a check directly to a specific musher, here is a list of the ones who lost everything. All of them receive mail at the Willow Post Office. You can mail to them directly by putting on the envelope: Musher Name, General Delivery, Willow, AK 99688 I promise the mail will get them--one of the joys of a small post office where everyone knows everyone. This is the list I (Donna Quante)have to date. If anyone knows of names that should be added, please let me know. I know I've missed someone and we need to get a complete list. Thanks.
Homeless:
Scott Smith
Bob Chlupach and Jan Steves
Justin and Jaimee High
Sue Firmin
DeeDee and Mike Jonrowe
Mary Helwig
Peter and Joyce Duncan
Joar Ulsom and Mille Porslid
Leo Lashock
TC Wait and Dave Wurts
Sassy is a proud member of the Winter Warriors. Live long, & strong Winter Warriors.
sassysugarbear.tripawds.com
07/26/2006 - Sassy earned her wings 08/20/2013
05/04/2006 -  Bosch, Sassy's pal, earned his wings 03/29/19  fought cancer for 4 months.
"You aren't doing it TO her, you are doing it FOR her. Give her a chance at life."

Los Angeles, CA
Member Since:
13 June 2013
Offline

OMG.... I cannot even imagine... how can I help? Donate? Is that best? I will keep them in my thoughts for sure... I wasn't aware of their story but it is amazing ... like ALL our heros but definitely them... 
Shelby Lynne; Jack Russell/Shiba Inu mix. Proud member of the April Angels of 2014.
October 15, 2000 to April 8, 2014
Our story: Broke rear leg in June 2013 - non-conclusive results for cancer so leg was plated and pinned. Enlarged spleen in September 2013 and had it removed and was diagnosed with Hemangiosarcoma and started chemotherapy. Became a Tripawd January 8th, 2014 and definitive Hemangiosarcoma diagnosis. Three major surgeries in 7 months and Shelby took them all like a champ only to lose her battle to cancer in her brain. We had 8 amazing extra months together and no regrets. #shelbystrong #loveofmylife
Alison, I post the address.  If you want it to just go to TC & Dave then put their names in the memo and they will see that they get it.  I am not sure how else.  I know TC had put some info on their FB page about how to donate for dog food etc and how to do that for all the dogs.  It is sure a mess up there
It skipped some houses but got everything at others 🙁
xoxoxox
Michelle & Angel Sassy
Sassy is a proud member of the Winter Warriors. Live long, & strong Winter Warriors.
sassysugarbear.tripawds.com
07/26/2006 - Sassy earned her wings 08/20/2013
05/04/2006 -  Bosch, Sassy's pal, earned his wings 03/29/19  fought cancer for 4 months.
"You aren't doing it TO her, you are doing it FOR her. Give her a chance at life."
This is HEARTBREAKING! Such a sad tragedy!! Unthinkable!
They clearly were living in sync with their soul's purpose. The lives of over 22 dogs were saved because of them.
And then we have the awe inspiring Calpurnia who continues to inspire with her zest for life and defying the odds!
I keep scrolling back and look at their cabin...their home...you can feel the love and warmth of that home. And that love and warmth is within them now. They will rebuild and they will have their sanctuary again.
Not sure exactly sure what form my "donation" will take, but I'll definitely figure out a way to contribute.
Thank you for letting us know what happened and how we can help.
Sending love and a knowing.....a trust.....that somehow good will come out of the ashes.
Sally and Alumni Happy Hannah and Merry Myrtle too!
Happy Hannah had a glorious additional bonus time of over one yr & two months after amp for osteo! She made me laugh everyday! Joined April's Angels after send off meal of steak, ice cream, M&Ms & deer poop!
Dear Tripawds Nation-
We have been overwhelmed by the love and support sent our way during the loss of our Alaska dream.  So many of you have reached out with little notes, virtual hugs, and just thoughts being sent out - please know that we do feel all the love, and it is such a comfort to our hearts.  
Our community in Alaska is tremendous - so many have lost so much, but still they are there helping each other rebuild and putting the needs of their dogs first.  We have heard amazing stories from our friends there - people racing walls of flame to help evacuate the animals that needed them, then working tirelessly to keep their dogs cool and as calm as they can while living like refugees and waiting for word on their homes.  We are very fortunate to have a place in Colorado where our dogs are resting easy and living a good life - I cannot imagine being homeless with 30-60 dogs to care for!  
We will rebuild, and I do know that as sad and burned as it looks now, that eventually, given time, it will be pretty again.  The fireweed and forget-me-knots will come to places that were once covered with birch and spruce.  The grand views of Denali and the Alaska Range will continue to take our breath away.  The moose and lynx will return.  Snowy trails and husky howls will fill the air once again.  Willow will rise from the ashes!  
Please keep rolling those good thoughts north - and please know that they are felt and appreciated!
With heartfelt gratitude-
TC, Dave, Spirit Calpurnia, and the Odaroloc pack
With everything going on with you and your Alaskan family, your post actually lifts our spirits while we are trying to life yours! You two are lovely souls!
Calpurnia taught us all so much about persevering, about will, about remaining u unstoppable regardless of what lofe throws your way. She is so proud knowing her lessons were absorbed by you two, her best students.
With love,
Sally and Alumni Happy Hannah and Merry Myrtle too!
Happy Hannah had a glorious additional bonus time of over one yr & two months after amp for osteo! She made me laugh everyday! Joined April's Angels after send off meal of steak, ice cream, M&Ms & deer poop!
I can't begin to tell you folks how special the Odaroloc pack is to us, your kindness, love and support to them in this awful situation is so appreciated.
Thanks for sharing that info Michelle! I'm not on FB so I miss a lot of this stuff.
TC, of COURSE your place will be beautiful again, how can it not? It's your destiny.
Hey gang!  Back again with an update.
Dave is currently in AK sifting through the ashes.  The fire is about 90% contained, but hot spots are all around.  Dave said he had to put out a little fire in some wood chips near our place.  He is both overwhelmed at the wide-spread devastation, and also amazed by how people have come together and rallied in the community.  He was greeted warmly into the arms of friends and neighbors standing at our driveway waiting for him.  Someone had dropped off a care package with cookies, another had planted a little purple flower in the ashes (this mystery person planted flowers at EVERY burned home before people returned).  Today, they will try to clean up the metal scraps of the kennel, fences, and roof and pipes to be recycled.  Tomorrow he will meet with the insurance folks.
Some fantastic news - Our sleds survived the fire!!!  Unbelievable!  The sleds are so critical to what we do, and expensive as they are custom made.  That alone is huge.  Maybe Calpurina and other spirit huskies had something to do with this?  Some other items that we had stored in our shipping container may also be salvageable, but it does appear that even though things were not incinerated, it got pretty darn hot in there and some items melted....  We will know more once Dave starts digging.
Also some more good news - our 16-yr old neighbor was able to beat the flames in to the house, grab some artwork from the walls and the wood chest my dad made for me, threw it in the back of Priscilla (our beat up toyota beater-with-a-heater truck) and drive her out of there as the fire crossed the driveway!  What an epic tale - so brave of this young girl!!  (And no, I would NEVER ask anyone to put themselves in harms way for my stuff.)  So some of our favorite treasures are also saved!
I have adopted the motto "Stubborn Optimism" and when things get leaning toward despair, I force myself to think about the next steps forward toward our goal of rebuilding (hopefully by this fall)!  We have a couple of ideas, which we need to wait for the insurance part before we get going on, but we do have another sort of silly way that people can help if they want to.  We have several friends in the lower 48 who have offered their labor to help rebuild.  Others have said they would love to help, but are not able to do the physical work.  SO....  I found a fun way to connect these dots and see if we can get some air miles donated to help fly some of the labor volunteers up to help!  (And you just have to love friends who are willing to partake in my silly ideas at their own embarrassment....).  Even if you can't help, give it a read just for grins.  Maybe you know someone with more air miles than they know what to do with.... Info is on our blog (Rene and Jim - if this isn't appropriate, let me know or just remove it!) 
https://odarolo.....us-part-1/
With stubborn optimism-
TC and the Odaroloc kids
TC that is amazing that the sleds survived.  I have been following the story of the fire and how some places it just "jumped over" and other places like yours devastation.  I love how the community has come together for everyone. 
That young lady was so sweet to do that but it was so very dangerous for her.  I am glad that a few of your precious memories survived.  I am glad you have been posting updates here and also on your fb & blog. 
Hopefully the insurance part doesn't take long to come your direction.
((((((((hugs)))))))))
xoxox
Michelle & Angel Sassy
Sassy is a proud member of the Winter Warriors. Live long, & strong Winter Warriors.
sassysugarbear.tripawds.com
07/26/2006 - Sassy earned her wings 08/20/2013
05/04/2006 -  Bosch, Sassy's pal, earned his wings 03/29/19  fought cancer for 4 months.
"You aren't doing it TO her, you are doing it FOR her. Give her a chance at life."
Oh my DOG that is AWESOME news about the sleds! That really made me smile today TC, YAY! The spirit dawgs were looking out to make sure everyone could get back on the trail.
It's so amazing you had a neighbor who would do that for you. Wow. I don't think that would happen in many places.
Stubborn optimism...YES! I love it. Fierce, fighting spirit will get your dream going and keep it going until you're back in a cabin with the roof over you head.
As for traveling up north, Wyatt Ray has two words for you.... road trip! He's already dreaming of Alaska...
As for the sponsor via air miles, of course it's appropriate to put up here, I love the ingenuity of this idea! Will help spread the word and do what we can. Unfortunately we haven't set foot in a plane since 2001 so we don't have any miles racked up but we'll see what we can do.
Oh Wyatt - you are truly a snow dog, aren't you!
More tidbits from Dave's recon trip:  
Our big wood stove that we heated the cabin with MELTED.  Also, the cast-iron fry pan I left hanging next to the cookstove fell onto the cookstove and WELDED to the surface.  I looked it up, the melting temperature for cast iron is between 2,100 and 2,190 degrees F.  UNbelievable.  Needless to say, the contents of the house are non-existent....  

...Except for the SpongeBob Squarepants mug that a friend's kid sent to Dave.  That had the bottom broken out of it, but otherwise is unharmed, not even sooty.  

The fireweed has already started growing on the burned ground.  Little sprouts of green coming up.  

The meeting with a possible builder was very positive.  Stubborn optimism!!

Dave and the work crew were able to pull out any remaining metal to be hauled and recycled.  They also cut several trees that were bound to pose a fall hazard to the build site.
Progress in bits and pieces!
Woooooowwwwww. What that must be like to go there and see all of it...can't...even...fathom. Geez. Now I know the little fire safe we have here is a joke.
Must be the special lead paint coating on the Chinese-made Spongebob mug that protected it!
It does sound like progress though, that's awesome. I know that whatever comes of this will set your life in a new and awesome direction that you never even considered. Stubborn pawsitivity is key for sure.
Tell Dave we're cheering him on!
And yes, Wyatt is seriously a snow dog. He would be so happy if we could spend winter up there.
Stubborn Optimism! What a powerful anchor to help keep you centered and focused on what the tomorrows will bring, Keep building that forward thinking muscles, one step at a time.
I CANNOT imagine the devastation of losing your home, your treasured momentums and yet, still being able to celebrate a SpongeBob cup and readying a site for re-building.
I have an old cast iron "Liberty" woodstove. To think that a fire could conceivably melt it just blows my mind.
Now I know why Calpurina was such a survivor! Her humans were her role models!
Such an incredible act of courage and compassion nof that young girl who saved that picture for you. And then the sweet soul who planted flowers at every ash site...so thoughtful.
The airmiles plan was wonderfully creative. I sincerely hope responses come in.
Stay strong my friend! Your Stubborn Optimism looks really good on you!
Sending love and continued strength..
Sally and Alumni Happy Hannah and Merry Myrtle too!
Happy Hannah had a glorious additional bonus time of over one yr & two months after amp for osteo! She made me laugh everyday! Joined April's Angels after send off meal of steak, ice cream, M&Ms & deer poop!
Forum Timezone:
America/Denver
Most Users Ever Online:
946
Currently Browsing this Page:
1
Guest(s)
Member Stats:
Guest Posters: 1254
Members: 17254
Moderators: 5
Admins: 3
Forum Stats:
Groups: 4
Forums: 24
Topics: 18416
Posts: 254070
©
Simple:Press
—