All Ruff Wear products and more helpful items for your three legged dog are now available in the Tripawds Gear Shop!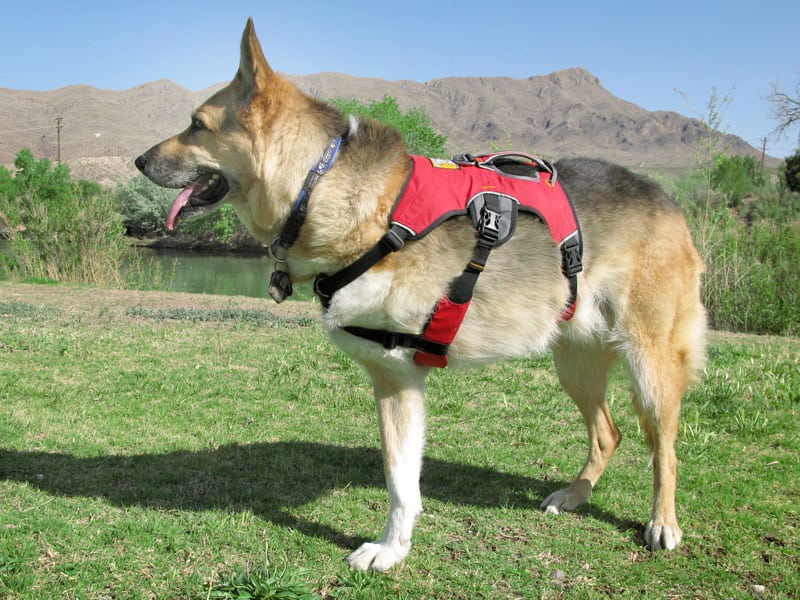 My people would like to thank the nice folks at Ruff Wear for sending me their new Webmaster harness to try out.
And they'd like to tell you that it is now available for purchase right here at tripawds.com! They've been using the Web Master to help me get around since I became a canine amputee. And we all agree the new harness has various improvements.
Keep reading to see our product review and the demonstration video we produced.
NOTICE:
Sizing information and pricing updated March 31, 2012. This 2009 review discusses the original Web Master harness. Please see the Tripawds Gear Shop for latest items.
Nothing tugs heartstrings like watching a three-legged dog having a hard time getting around … never again with the Web Master harness! [ Order | Video | Sizing | FAQs ]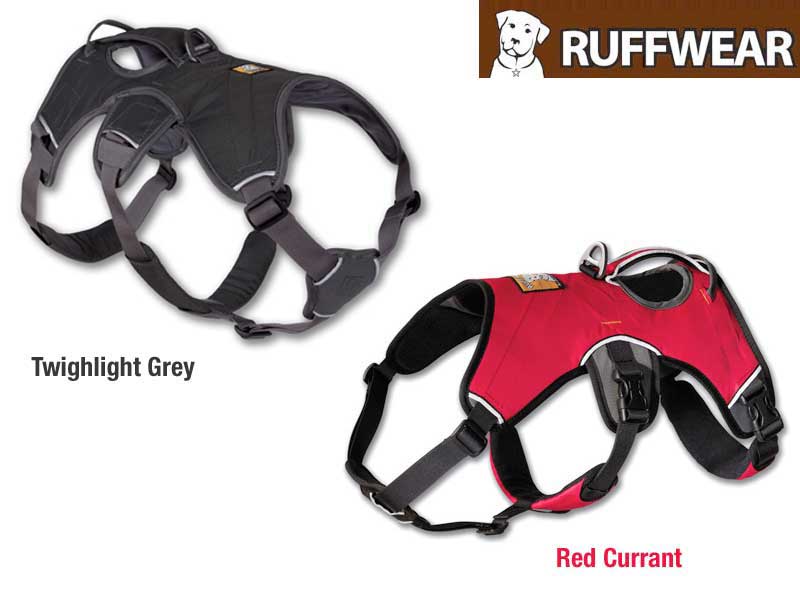 This durable yet lightweight harness provides support, comfort and full range of motion for your dog with fleece-lined, padded chest and belly straps.
The heavy-duty webbing and strong assistance handle help you lift your dog in and out of vehicles or out of harm's way when assistance is needed.
A Ruffwear harness is the best solution for helping your three-legged friend go up and down stairs without putting extra force on remaining limbs. And with five adjustable fitting points to accommodate dogs of all sizes and shapes, the new Web Master is worn with padded comfort, secure fit, and a generous ergonomic cut.
It is your best alternative to a collar, allowing better distribution of pulling force to prevent choking. And with your leash attached to the centered aluminum V-ring, you have ultimate control over dogs who tend lunge, without pulling them off balance.
But if a picture is worth a thousand words, a video must be worth a million! Just check out this demonstration video for the Web Master featuring, yours truly …
The best news of all is that the Ruffwear Web Master harness is now available for purchase right here!
The Web Master comes in two colors and various sizes to meet the needs of all tripawds and their people.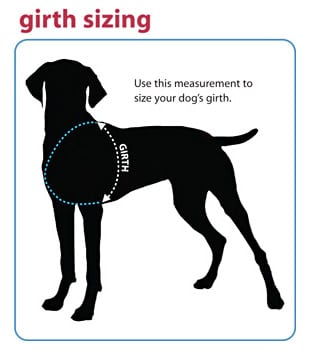 Note: This harness has a Velcro tab inside the front strap which helps keep the padded chest strap from shifting around your dog's body. Because of this new feature, we have found the best way to put the harness on a tripawd missing the front-left leg is to lift his right forelimb into the opening for that leg. Then, simply lift the harness over your dogs head as shown in the video above.
Harness Sizing:
For proper fit, simply measure your dog's girth around the widest part of his/her rib cage. For in-between sizes, choose the smaller harness for an active, contoured fit.
Size

Dog Girth

XXS
13″-17″
33-43 cm
XS
17″-22″
43-56 cm
S
22″-27″
56-68 cm
M
27″-32″
68-81 cm
L/XL
32″-42″
81-106 cm
If girth measurement is in between sizes, Ruff Wear Recommends selecting smaller size for best fit.
On front leg amputees, the harness will tend to slip around the chest. Without the second leg to hold it in place, this is inevitable. It is, however, purely aesthetic. The harness can easily be adjusted and is still perfectly functional.
Get yours today, your tripawd will thank you!
Your cost of includes shipping to anywhere in the continental U.S. via ground delivery (5-7 business days). Additional shipping fees will apply for Alaska and Hawaii. Estimates to be provided upon receipt of order.

PLEASE NOTE: No P.O. Boxes and No Military Addresses! Ruff Wear requires a physical delivery address and does not ship orders outside the U.S. Please consider these online retailers or visit ruffwear.com to find a store in your country.

Please provide your phone number upon checkout! It is required for prompt delivery.
NOTICE:
Sizing information and pricing updated March 31, 2012. This 2009 review discusses the original Web Master harness. Please see the Tripawds Gear Shop for latest items.
Ruff Wear Webmaster: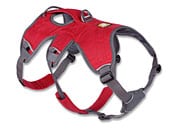 Originally designed to assist search-and-rescue dogs, this handy harness allows you to help your tripawd up and down stairs, in and out of a vehicle, or provide extra support.
New and improved!
[ see all gear | return policy ]
---
Please Note: Your purchase indicates acceptance of Ruff Wear's exchange policy and warranty terms as outlined below.

FOR INTERNATIONAL ORDERS SHOP HERE:

Please advise if any of these sites do not ship internationally. Note that some retailers may charge more for shipping outside the U.S. or have other international order shipping policies.
FAQs:
The video and pictures only show Jerry. Will this harness work on rear leg amputees?
Yes, many have purchased the Ruff Wear harness for their dogs missing a rear leg and have been completely satisfied. On rear leg tripawds, the harness will not slide around the chest which may happen on dogs missing a front leg. This is purely aesthetic since it is easily adjusted and still perfectly functional.
Is the harness adjustable?
Very. Two long straps under the chest and belly can be adjusted to fit dogs large and small. Straps meeting at the three-point adjustment clasp in front can also be extended. Harnesses ship pre-adjusted to tightest fit.
Does it come with a warranty?
The Ruff Wear product warranty will only cover defects in material or craftsmanship. Broken buckles may be replaced at the discretion of Ruff Wear, but chewed straps or other damaged induced by dogs is not covered. Please review their return/exchange ploicy for additional detail.
My dog's girth is between sizes, what size should I get?
Ruff Wear recommends you choose the smaller harness for an active, performance fit. It may look small but will provide ample support without having to trim the longer straps of a bigger size. (FYI: Doing so will void warranty and prohibit product return.) There are five separate adjustment points. It should be snug but not constricting.
Will this harness work on four-legged dogs?
Yes! This Ruff Wear harness is not modified in any way specifically for canine amputees. It was originally designed for search and rescue dogs to assist them onto chair lifts and into helicopters. We discovered it provides excellent support for three-legged dogs going up/down stairs and getting into vehicles.
How quickly can I get my harness?
Your purchase price includes ground shipping which can take 3-5 days. You must request an estimate for additional delivery fees by providing a complete address before ordering. Please note that doing so may add at least a day to your order. Always provide a phone number to expedite shipping issues. Note: Read next question before requesting expedited shipping!

Why don't you ship outside the U.S.?
This is Ruff Wear's shipping policy, not ours. They drop ship all orders directly for us and we have no control over their policies. Please see the list of online retailers above for international orders. In Australia, please consider TopDogs Adventure Gear for Dogs.
How soon after surgery can I start using the harness?
We recommend not using the harness until the surgery has completely healed and stitches or staples are removed. We have heard of no specific cases where any harness has hampered healing, but we believe direct pressure from the straps may irritate the wound. Please consult your veterinarian with any concerns.
How can I help my dog get around immediately following surgery?
We suggest using a soft towel slung under the belly if additional support is required in the meantime. A reusable canvas shopping bag slit down the sides also makes a handy temporary sling. but most of all, dogs need rest for the first few days following amputation.
What credit cards do you accept?
We do no accept any credit cards directly. All payment is processed through PayPal where you can pay securely with Visa, Mastercard, Discover or American Express if you do not have an account. The seller attributed to Paypal transactions may be identified as Jim Nelson or Agreda Communications.
What if I need to return the harness?
Be sure to leave all tags on when fitting the harness. Please review the complete Ruff Wear return policy below before ordering.
Ruff Wear Products Refund/Exchange Information:

Only items returned within 30 days may receive credit.
Ruff Wear does not do direct product exchanges. A replacement harness may be ordered here at any time during the return process.
Refunds are given via PayPal only. Only cost of item can be credited. Original shipping & handling costs are non-refundable. Return shipping costs of item are the responsibility of the customer.
Packages must be insured when shipped, and a shipper's tracking number must be provided to us via email. We cannot provide refunds or exchanges without a tracking number. All returns must be freight prepaid; no C.O.D. deliveries.
Returned items must be in new, resalable condition with all packaging intact to receive full credit. If any of these conditions is not met, a restocking fee may be assessed.
Please write the following information on the outer packaging, as well as in your enclosed note: RA #XXXXX; Customer: Job # XXX-XXXX Tripawds; name; return address; and daytime phone number. List Item(s) to be credited.
Send Returns And Exchanges To: Ruff Wear, Inc.; 354 SE Logsden St; Unit# 125 Bend, OR 97702
Please let us know as soon as you ship your harness back. Once we've confirmed it was received at Ruffwear, we will process your credit and notify you.
Please contact Jerry for a Return Authorization (RA) number and delivery instructions. As soon as the harness is verified as "received" at Ruff Wear, we will process your credit or exchange and notify you.
Why buy from Tripawds? Purchases made on this site help support our continuing efforts to raise awareness about canine cancer and amputation as a viable treatment option. Because we believe it is better to hop on three legs than to limp on four.
All transactions will be processed by PayPal in a new window for security reasons. Products will be shipped directly from Ruff Wear in Bend, OR. Thank you!