Today's Tripawd News is a special post written by Tripawd Indy's Mom, Carol Roberts. Carol submitted Indy's story in honor of his 17 month ampuversary today. Paws up, Indy!
If you want to share your Tripawds story here, contact us.
Loveable Indy Celebrates 17 Months
Written by Carol Roberts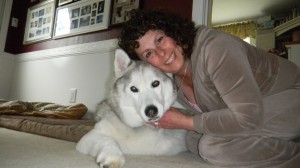 Let me introduce you to my most lovable Siberian husky named Indiana (aka Indy)!
When you look into his big brown eyes, he touches your soul with love; when you give him a big hug, it's heavenly, he's so soft, cuddly and he smells so good.
When you have Indy kisses, you just melt with the loving energy he gives; when you pat him, he holds on to you with his paws and always has to be in touch with you!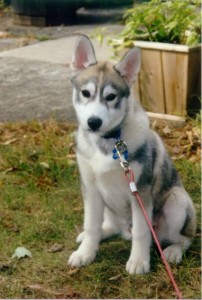 We brought Indy home at eight weeks old and I fell in love with my boy from the moment his eyes met mine. We started going on our long walks ever since he was a puppy and soon we walked four miles a day and then some – every single day – rain or shine and in the snow!
Indy became very popular in our town. Many business owners came out to pat him and we bought him inside to many businesses to say hello. People driving by in cars stopped to admire him and we met so many new friends along the way. He had become a daily part of many people's lives as we walked by.
As a puppy, he learned how to do many, many tricks! I taught him to count to 10 barking out the numbers. I say one speak – he barks once, I say 5 speak, he barks 5 times, I hold up my 7 fingers, and he barks 7 times. He does this in any order whether I use hand signals or voice.
continued . . .