Today's Tripawd News is a special post written by Tripawd Indy's Mom, Carol Roberts. Carol submitted Indy's story in honor of his 17 month ampuversary today. Paws up, Indy!
If you want to share your Tripawds story here, contact us.
Loveable Indy Celebrates 17 Months
Written by Carol Roberts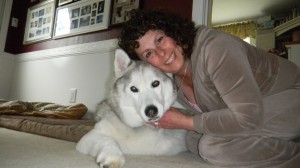 Let me introduce you to my most lovable Siberian husky named Indiana (aka Indy)!
When you look into his big brown eyes, he touches your soul with love; when you give him a big hug, it's heavenly, he's so soft, cuddly and he smells so good.
When you have Indy kisses, you just melt with the loving energy he gives; when you pat him, he holds on to you with his paws and always has to be in touch with you!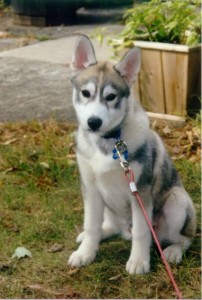 We brought Indy home at eight weeks old and I fell in love with my boy from the moment his eyes met mine. We started going on our long walks ever since he was a puppy and soon we walked four miles a day and then some – every single day – rain or shine and in the snow!
Indy became very popular in our town. Many business owners came out to pat him and we bought him inside to many businesses to say hello. People driving by in cars stopped to admire him and we met so many new friends along the way. He had become a daily part of many people's lives as we walked by.
As a puppy, he learned how to do many, many tricks! I taught him to count to 10 barking out the numbers. I say one speak – he barks once, I say 5 speak, he barks 5 times, I hold up my 7 fingers, and he barks 7 times. He does this in any order whether I use hand signals or voice.
continued . . .
He actually talks and many people have witnessed words like I love you, I love you mama, and more. He sings howls, hums and whispers when prompted.
When he had four legs, he would stand up and place both paws on my shoulders and dance with me. He would walk forward and backwards with me as well. He has always been so entertaining and of course he has always been well-rewarded with treats, plenty of loving praises, and plenty of peanut butter!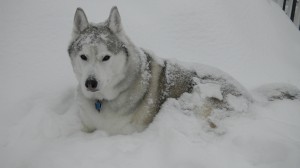 Huskies love to run and boy did Indy run so fast! He would have a big smile on his face as we used to race each other. I guess you know who won every time!
He LOVED the snow and would prance and leap straight up in the air with joy! We always sat in the snow together for hours on end enjoying the crisp weather.
He loved staying in his kennel when we went out for a while. Most of all, he loves to cuddle and give many Indy kisses. He is the most loving dog I have ever met and I am so blessed to say he is mine!
The Shocking Diagnosis
The last week in December of 2009 I started to notice that when we walked, his head was bobbing a little bit vs. when he would just glide by my side. I gave him Rimadyl for a couple of days and there was no change.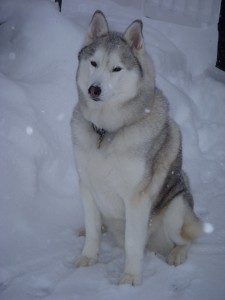 The first week of January 2010, I brought him to his vet. He was not limping in front of the doctors and nurses – just doing his happy Indy dance! They had me continue the Rimadyl for another week. After the weekend went by, I noticed that he would limp when getting up in the morning and after naps. He started not to put weight on his paw. I scheduled a series of x-rays at the end of the week to find out what was the matter. We thought it could be his hips, his back or maybe a wrist sprain.
On January 14, 2010 we dropped him off for the day and they had me sign all kinds of papers because he was going under anesthesia. I was so worried and they assured me he would wake up.
I received a phone call later that day saying he is awake and feeling fine but hey found something. Indy had severe bone loss in his left wrist. "What did I do?" I asked. "You didn't do anything wrong", they responded, "He has a tumor on his left wrist". I commented, "It's not cancerous?"
There was a moment of silence. This was when one of Indy's doctors said that they suspected it was osteosarcoma and if nothing was done, it may eat away at his bone & his leg could break. The bone cancer he had was very aggressive and it already made its way to his lungs and was microscopic and didn't show on the lung x-rays. If we didn't take action, he may have had only a month to live.
The only choice we had was to remove his limb at the shoulder. I was in such shock and was more devastated than I had ever been in my entire life.
My world felt like it was crashing down and I couldn't breathe. I was with my daughter when I received the call and she was wonderful and comforted me. She helped me call my husband and we had to decide which hospital to take him to in the next few days. We chose Tufts in Grafton MA.
We had an appointment with a specialist at Tufts the following Wednesday and he kept our boy over night for a bone biopsy. We picked him up the next day and both Indy and I cried all the way home. I nursed him back to health and he then had a very pronounced limp that he didn't have before.
Within five days we received the phone call which confirmed that he did have osteosarcoma. We were asked to bring him right in the next night for surgery the following day.
It all happened so fast. They told us that there was a chance he may surpass the 4 months they predicted him to live because I caught it so very early. They told us we may have 5 or 6 months with him. It was a very successful surgery and we visited him in the hospital every day. He was in for four days and he did remarkable adjusting. He didn't need any help that night to do his business. He even ate his dinner too!
Indy Bounces Back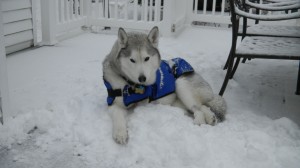 When we brought him home he did very well, just mentally the meds did a number on him as he tried to do his everyday things just in a different way. The second week was much better than the first and he was off all of his pain meds and nerve pain meds.
After his stitches were removed, we started to walk short walks. One block, two blocks, one mile, two, three and then four miles again!
He trotted around like nothing was the matter. Everyone beeped and gave him the thumbs up, So many people got out of their cars and gave him love. Some didn't even notice until after hugging him for five minutes that he was missing a limb! He did amazing & looked like a very happy boy!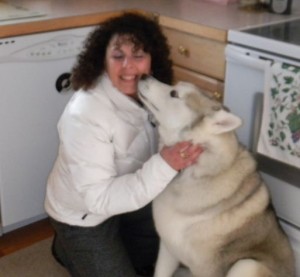 After four months of doing great, he started to let me know he wanted shorter walks. As the days went on, they got shorter and shorter until one day he just sat down. I thought – "Oh no – the cancer is back!"
I brought him to the vet right away and his lungs were clear. What a relief! I watched him the next few days and noticed his back right leg was not functioning right and he was not putting any weight on it. I brought him back and we had it x-rayed to find out that he tore his ligament and the only cure would be surgery (which we could not do). He had to take it very easy and stop the walks.
After about four months of many truck rides and plenty of extra special care, he was back walking a few blocks with me. We decided that we would have his lungs x-rayed every four months. In September 2010, his lungs were clear and his blood work was perfect!
Coping with Mets
The next four month check up landed on his 1-year check up. We were absolutely shocked to find that he had 2" tumors in his lungs. They gave him a couple of weeks – maybe a month more. My world came tumbling down all over again! I did notice he was coughing once in a while and he never used to cough at all. I kept watch and they gave me cough medicine to keep in the house.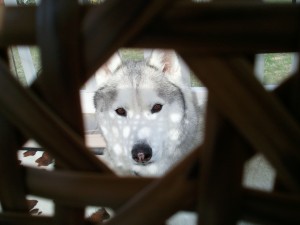 It wasn't until April that I heard him cough all night long. We started giving him cough medicine 3 times a day and it seemed to quiet it down.
Six weeks ago we had a terrible scare one night when we came home from dining out, he was acting like he was so uncomfortable & his breathing was labored.
He had no energy & lost the sparkle in his eyes. But he had such a wonderful day filled with a walk, truck rides and visiting friends!
I gave him a pain killer and sat with him for hours; he finally fell asleep and woke up the same way. I stayed home all day with him and as the day progressed, he felt better for four more days. His doctors told us to start giving him Tramadol three times a day.
The first week of May Indy had no interest in eating his breakfast (he normally would knock you over if you got in his way of his meals!). After a couple of hours I hand-fed him and finally he finished. Dinner was no problem. I pretty much hand-fed him for a month. It just so happens that the past 10 days he has miraculously stared eating on his own again!
However, his coughing has increased in between the medicine and I am very worried. He has had so many very good days! The past couple of days even though he eats on his own, he has been resting more again, but not too tired to sing a song or give out those famous Indy kisses!
Today We Celebrate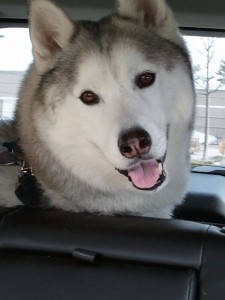 Today is 17 months beating the odds against osteosarcoma and Indiana has done it with such grace, joy and without a care in the world. He has been an inspiration to us all. Not one moment has he ever acted upset with all that he's been through. He trusts me with his life and I take very good care of him and shower him with so much love!
We chose not to give him chemo or any other alternative medicines or food. Indy has made it this far with my love.
Indy is our miracle and I am blessed to have him in my life and in my heart.
His 10th birthday is in one week and I pray he is here for us to celebrate our gentle warrior, my soul dog, my best friend and light of my life. Indiana's love is truly a gift and we cherish every moment we have loving him.
With love & Indy kisses,
Carol, Indy's mom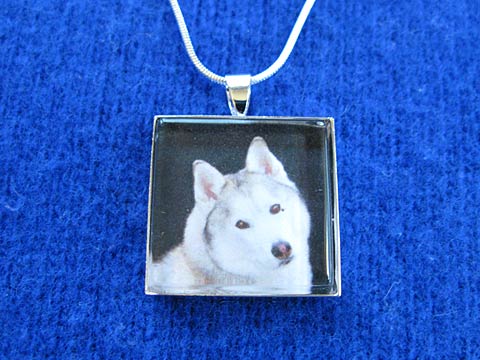 Got an upcoming ampuversary? Honor your own Tripawd's big day with a custom Tripawd dog photo pendant like Indy's!