Every year your ongoing generosity helps us attend dog-oriented events to increase awareness about canine amputees and bone cancer.
From last November's 2 Million Dogs event in Washington to the Fort Collins Doggie Olympics, if there's an affordable dog event in our path, we do our best to be there.
Last week we put Tripawds Spokesdog Wyatt Ray to work at the Larimer County Humane Society 21st annual Fire Hydrant 5k Fundraiser and Pet Expo (which raised over $55,000 for dogs in need!).
Our Tripawds display included Tripawds Gear and canine fitness equipment, books, fliers,  Tripawds handmade jewelry and lots of doggie snacks.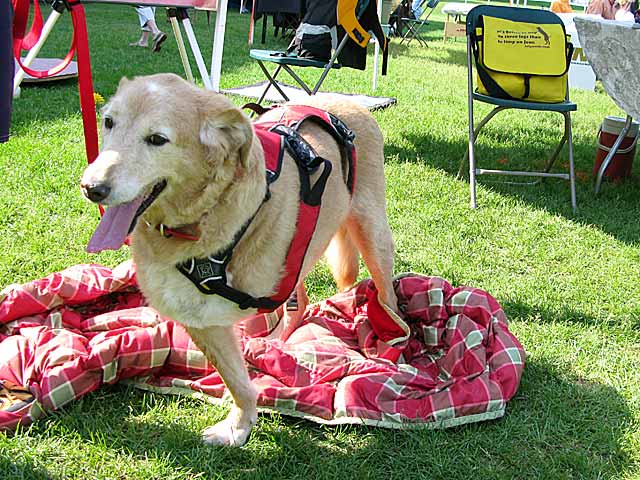 The event was extra special because our Tripawd Pal Dakota, his sister Evelyn, Mom Shari and little brother Aidan came to help.
Who could resist sweet Dakota?
We were so hoppy to see that one of our exhibit neighbors was Doug Koktavy, author of The Legacy of Beezer and Boomer.
Doug's book is one of the best tools for helping pawrents cope with their dog's serious illness. Read it if you haven't already, it's a keeper!
Later the afternoon turned into a Tripawds reunion when Spirit Peyton's people and little brothers Dillon and Rhys stopped by to say hello.
One of the highlights of the day was meeting Kara Pappas, Development Manager at the Larimer County Humane Society, along with her three legged rescue dog, another rear legger named Wyatt!
Kara was so happy to meet us in person, because Tripawds had been such a great resource for her when recently, a sweet, three legged lab came into the shelter.
Kara wanted to adopt him but she wasn't sure if a tripod dog would require lots of care. She looked online, and Tripawds.com alleviated all of her concerns. Our discussion forums, blog stories, tips and resources all helped cinch her decision to give Wyatt a furever home.
Hearing stories like Kara and Wyatt's are why we exist…
To show the world that canine amputees can have a good life and really aren't any different from quadpawds.
And it's because of the pawrents like you who contribute your time and financial support that we can do it; from taking the time to share your Tripawd experiences and offer support to new members, to shopping through our blogs and our Etsy store.
Every click, every dollar you spend on or through here makes the world a better place for three legged dogs.
Thank you so much!
As part of our ongoing commitment to show you where your financial support goes, here's what this event cost Tripawds:
Exhibit Space: $75
Tent Canopy: Borrowed
Sales Tax Permit: $8
Total: $83