As you know, Tripawds get around great in life. And although we can do anything a four-legger can, we tend to just do it with shorter bursts of energy.
Sometimes after surgery our stamina can decrease, especially if we are coping with cancer. Our walks may become much shorter, and our people may get sad that we can no longer go as far as we once did.
But now our people don't need to be sad about those shorter walks! We just heard from a tripawd named Xena, who gets around all of Manhattan with a Houndabout dog stroller. Her dad Brian says:
"Xena has had surgery on both cruciates. In addition to that, she had a tumor that ruptured her spleen in 2007. She had to have her spleen removed. Shortly after that she had bloat which required emergency surgery. So to say she's been "through the mill" is an understatement. The scariest thing by far was her being diagnosed with osteosarcoma and having to make the decision to amputate her leg.
Now a year later, after the surgery and the chemotherapy, she is still with us. She stays as active as she can given her ailments and her age. We still take her for walks in the city, and she even has her own "carriage" to get in when she gets too tired.
NEW: Tripawds Recommends the Burley Bark Ranger Dog Stroller!
NOTE: Solvit no longer makes the HoundAbout Pet Bicycle Trailer.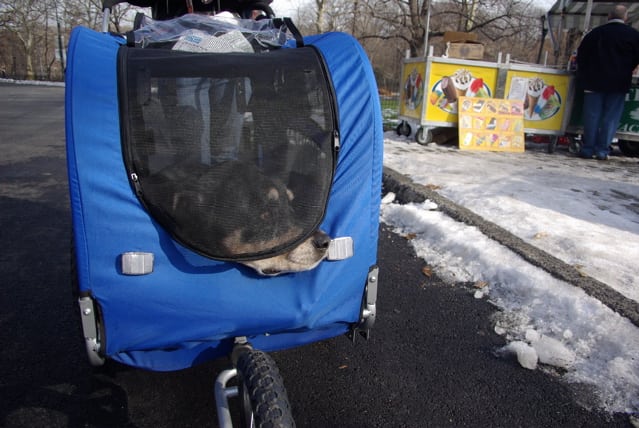 I highly recommend the product to anyone. We get tons of people asking about it when we walk through NYC. It is well built, folds down for transport or storage and the company's customer service is very helpful.
Xena loves riding in it. As you can see, even at 94 pounds, she fits in it comfortably. It also allows us to go places with her that we normally could not. We took her right inside the mall with it."
We think this dog stroller by SolvIt is fabulous. If you get one for your Tripawd, just remember to introduce him to it slowly. There are lots of ways to get a dog used to being carted on wheels, much like crate training, so that the stroller becomes a comfortable place of refuge for your Tripawd.
Dog strollers and trailers are also available in various sizes at Petco.