As promised, here are five more questions we often get asked from nervous Tripawd pawrents-to-be. Click here to see the first five.
Question #6: "My dog just had surgery a few days ago, and the incision area is all puffy and swollen. Is it normal?"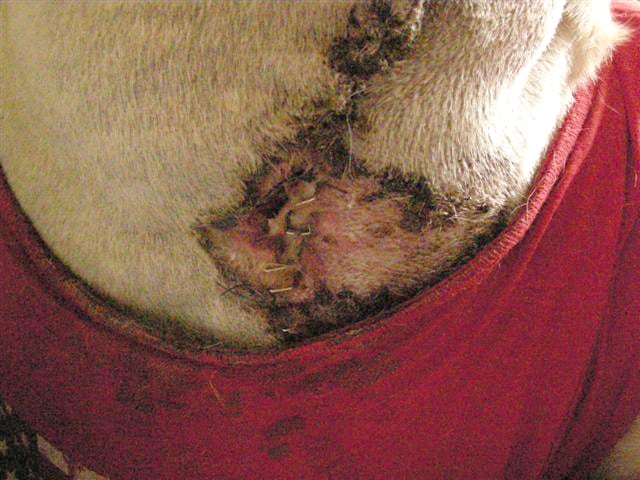 If your dog is about to undergo amputation surgery, it's important that you know about seromas. They can occur anytime after a surgery like amputation, spaying, etc., but they are relatively harmless.
But what exactly is a seroma? According to Michigan Veterinary Specialists,
"Seromas may occur at the surgical site. A seroma is an accumulation of fluid in the tissues. The body will usually absorb the fluid, but the fluid is sometimes drained if needed."
Think about it; a body is full of fluids that circulate around, right? Well, if a limb suddenly goes away, where's all that fluid going to go? The body can reabsorb most of it, but sometimes fluid can build up at the place of least resistance, the surgery site.
Check your dog's surgery site daily, and look for a puffy, watery build up in the area. Keep some hydrogen peroxide wipes handy in case you see fluid leaking. If you suspect a seroma, call your vet to discuss it, and find out if you'll need to go in and have it drained (an easy, in-office procedure).
A hot/cold pack, like Bella's Pain Relief Pack, will help reduce swelling.
To see more seroma photos, click here.
Question #7: "My Tripawd Dog Has Bone Cancer. Should we do chemotherapy?"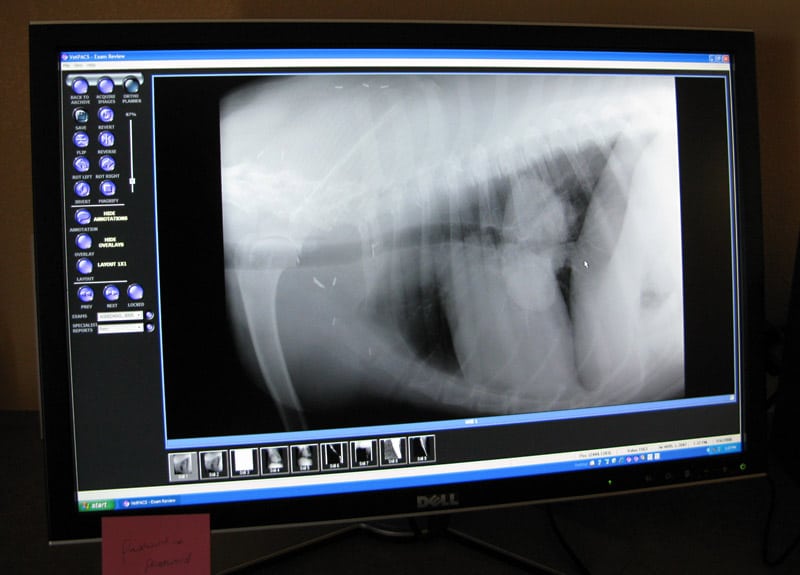 First, get high quality chest x-rays and discuss the chemo options with an oncologist or specialist. If the lungs are clear, chemo maybe a good decision, if it is affordable for you (it can cost $500 to $1000 per treatment for bigger dogs).
Everyone is different, and chemo may be right for some dogs and not others. Young dogs and those with an elevated Alkphos (this is a bloodtest measuring a bone enzyme) tend to fare poorly. And for dogs with bone cancer, chemotherapy rarely cures it, but can slow down the rate of metastasis to the lungs or to other bones. There is no point to giving traditional chemo drugs like carboplatin if the cancer is already elsewhere, but the metronomic protocol may keep the mets smaller. This does not mean you shouldn't try chemo with these dogs, but it might help you make your decision.
But if doing chemo isn't going to work for your situation, don't be hard on yourself, because there is always a chance that you can still have a great quality of life without it, through supplements, diet., etc. Either way, with or without chemotherapy, nothing is guaranteed, but as long as pawrents can give their fur kid a fighting chance as best they can, that's all that matters.
Question #8: "My dog sometimes cries out and licks the area where his leg used to be. like it's sore. I think he's depressed that his leg is gone. Why is he acting like this?"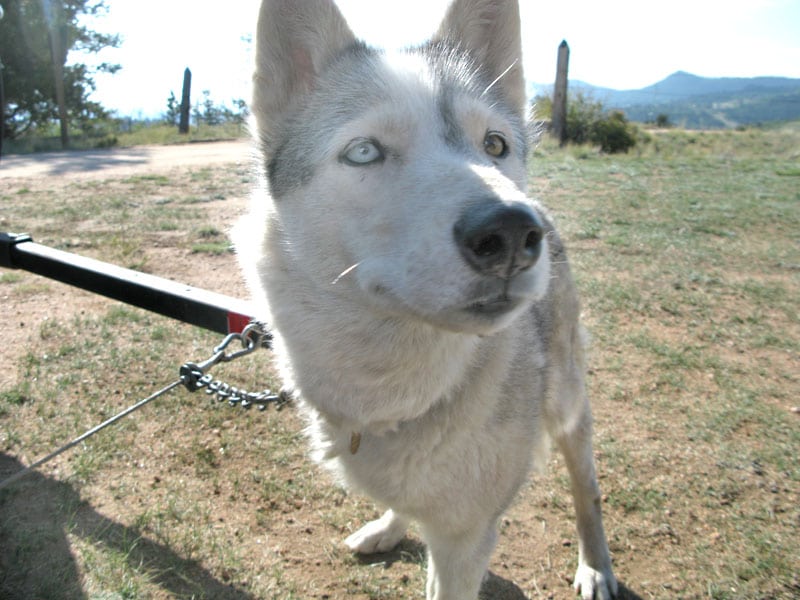 Your dog may be experiencing "phantom pains," a common condition in human amputees, and dogs are suspected to also experience it. Phantom pains are pain and sensations in the missing limb. Our friend Calpurnia says:
"There are many theories as to why this occurs, but the bottom line is the pain is real. The most current theory . . . is that the brain has an idea of what the body looks like, a "map" that it refers to. After amputation, the map in the brain is still a whole body, as it takes time for the brain to re-map to the new body configuration. Because the brain is expecting input frm the missing limb and not getting any, it sends a sort of panic signal that is interpreted as pain. One way that we might be able to help the brain re-map itself is to increase circulation and provide gentle stimulus . . . "
Calpurnia goes on to list ways that you can do this, in a blog post about phantom pain, here.


Question #9: "When will my dog be able to get back to hiking and swimming again?"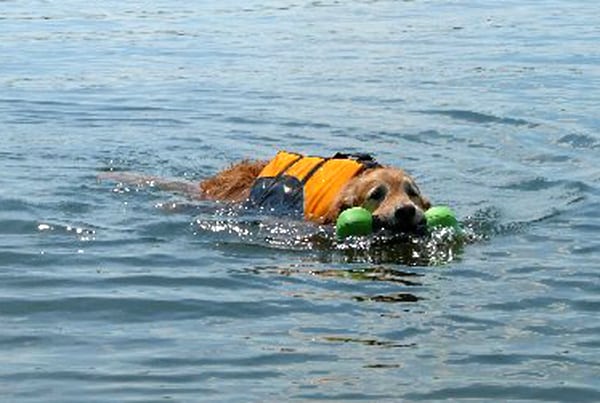 Every story is different, and while most of us make a quick recovery, please don't expect miracles.
All in all, Tripawds can do just about anything that four legged fur babies can do, but in more limited time spans. For example, after recovering, a Tripawd's walk will typically become shorter. Also, things like frisbee and jumping onto the bed should be exercised with caution.
The best thing we recommend for three legged dogs, is shorter walks, more often. After the recovery period, try taking your tripawd for three to four 15 min. walks a day, instead of trying to walk for an hour like you used to.
It's easier for Tripawds to hop along at a quick pace than it is for us to walk, so we tire easily. But don't make it a race, 'cause we will try to win. We dogs don't like to show our weakness. We will overdo it. It's up to you to monitor your Tripawd's fitness and endurance. If we overdo it one day, it might take us three days to recover from it.
A canine buoyancy vest will provide tremendous support to Tripawd dogs in the water, and a Ruffwear harness will be valuable during hikes.
Take plenty of water with you, and allow for some breaks. If your Tripawd stops often, pants, and needs to rest, sit down with her for a few minutes and get her to drink some water. A walk that used to take 10 minutes might now take 20.
After my surgery, try to avoid running and playing at all for about three weeks. Then slowly start with just brief walks – a hundred yards or so. Work your way up to longer walks. It may be a while before your dog is comfortable taking a half mile walk for at least a few months.
Your dog's opposing leg will get beefed up to compensate for the extra weight, but you may not notice it for a few months.
There is no "standard" range, time, or distance to expect. Please just take it easy and take your time. Your dog may just prove us all wrong and be running long distance before you know it. Every story is different. Whatever you do, don't go too far, too soon, with your dog.
Visit the Resources Page for many more helpful links!
Question #10: "How will other dogs react to my Tripawd?"
My Mom was worried about that when I came home after surgery, but in the end she had nothing to worry about.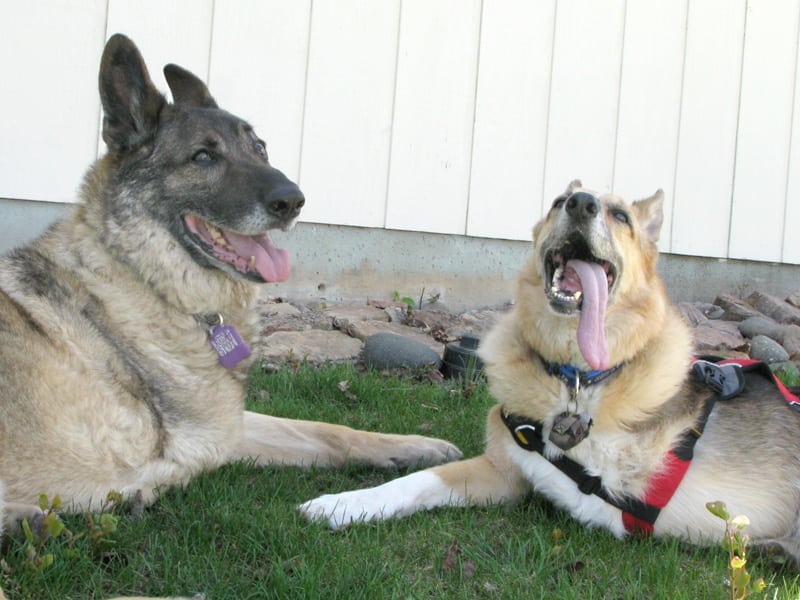 Immediately after surgery, some dogs will sniff and check out the new Tripawd, but that's probably because your dog is still carrying the scent of surgery and medicine. Plus, the medication that's passing through her system will also emit an odor that only dogs seem to be aware of. As the days go by, that will pass.
We think that most dogs don't even notice when another canine is missing a limb. However on a few occasions, we 've observed that sometimes dogs that would have roughhoused together won't anymore. That could be a sign that the four legger senses that the Tripawd is different, maybe weaker, and he doesn't want to hurt her. Or, it could just be that the dogs don't want to play together.
The important thing is not to read too much on it. We think the only reason that four legged dogs may be unfriendly toward Tripawds, is because of the mindset of the Tripawd pawrent. If the human is projecting fearful or nervous energy toward the other pack, the stronger dogs will pick up on it and act accordingly. Don't show your nervousness, and don't be afraid about how other dogs will react. Be the strong pack leader, and we'll bet that any dogs you encounter will give you and your Tripawd the respect you deserve.
Humans though, they're another story . . .