Order Ruff Wear Big Eddy and Portage Life Jackets Now – All Sizes Available!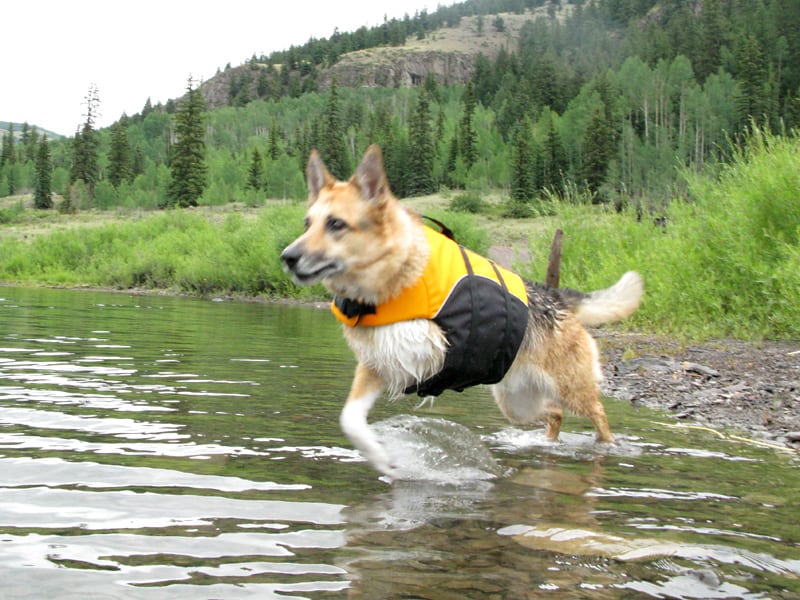 (August 4, 2008) I love to swim. And yes, we three legged dogs really can swim! But since we tire easily, we can sometimes take on water.
My people discovered this the hard way, and stopped taking me to the lakes I love so much. That's why I'm glad they got me a new K-9 Float Coat from Ruff Wear!
Now I can swim farther and longer than ever before. Ruff Wear's new K-9 Float Coat provides the extra buoyancy your tripawd needs to truly enjoy swimming. Keep reading to read our product review and view the demonstration video we produced, or to order yours today!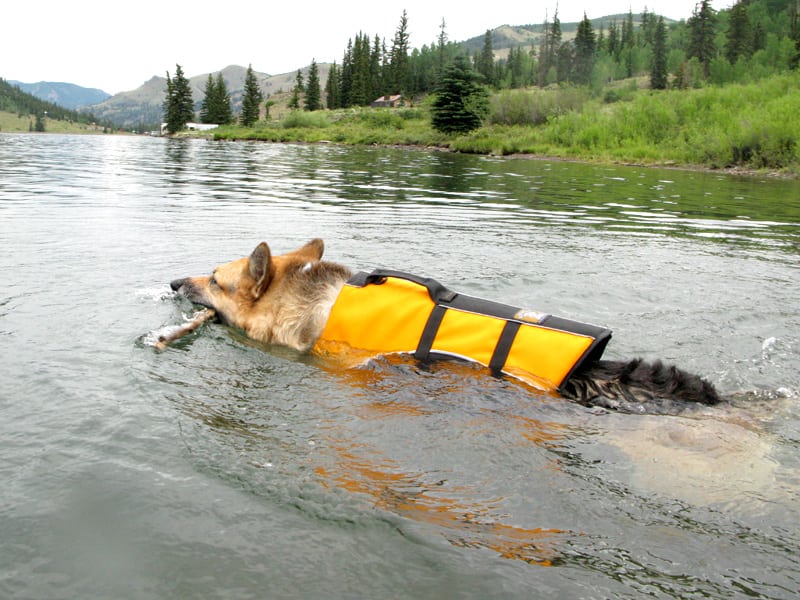 The K-9 Float Coat from Ruff Wear is far superior to any other dog life jackets on the market. Since this flotation device wraps all the way under the belly, it provides chest protection and support from the moment your dog enters the water. Other canine life preservers only offer flotation padding on the back, which doesn't help until your dog is halfway under water.
With variable thickness buoyancy cells, the K-9 Float coat delivers proven fit and functionality. A generous ergonomic cut provides full range of motion in and out of the water. Putting on and removing the Float Coat is easy with three sturdy quick release buckles.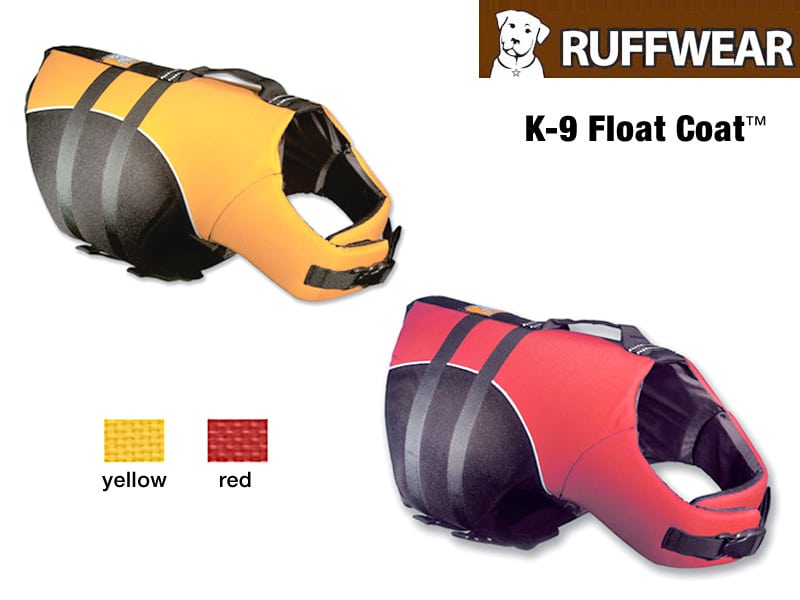 The padded neck support can be easily adjusted with its Velcro closure. And the low profile assistance handle helps you help your tripawd when additional support is needed.
Two strong girth straps keep your dog centered and in the coat. And high contrast color options provide superior visibility.
K-9 Float Coat Demonstration Video
Swimming is excellent exercise for three-legged dogs, especially those with knee or hip problems. With the Float Coat from Ruff Wear, your tripawd can enjoy swimming farther and longer, and you don't have to worry about his comfort or safety.
Keep your tripawd on the go – and his head above water – with the K-9 Float Coat, for the best in canine flotation and water safety!
Order yours today! Simply select the size that's right for your dog by taking a girth measurement around the widest part of the rib cage.
Your purchase price includes shipping to anywhere in the continental U.S. via ground delivery (3-5 transit days).

Additional shipping fees will apply for Alaska and Hawaii. Estimates to be provided upon receipt of order.

PLEASE NOTE: U.S Orders Only. No P.O. Boxes and No Military Addresses. Ruff Wear requires a physical delivery address and does not ship international orders outside the U.S. Visit ruffwear.com to find a store in your country.

Please provide your phone number upon checkout! It is required for prompt delivery.
When it's time to hit the trail again, don't forget the Ruff Wear Web Master harness for ultimate mobility assistance!
Why buy from Tripawds? Purchases made on this site help support our continuing efforts to raise awareness about canine cancer and amputation as a viable treatment option. Because we believe it is better to hop on three legs than to limp on four.
You will be redirected to PayPal for completion of purchase for security reasons. Products will be shipped directly from Ruff Wear in Bend, OR. Thank you!