The following post was generously written by Sasha, dog Mom to our dear beloved friend Lalla, who sadly passed away in June.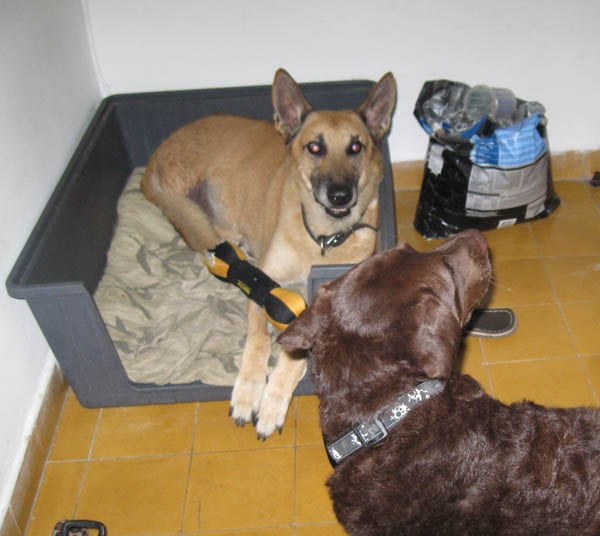 Yesterday marked a big event in the life of Troy, our new eighteen month old chocolate Labrador; he met Star, our hero Tripawd neighbor.
It was fascinating to watch this hyper-love bundle glue himself to Star's side as they walked together, and I am sure that Star imparted a lot of information (backed by affectionate "get off, you big lump" growls) in a way that I never could to our new boy.
Troy arrived a week ago, with the healing power of a dynamo powered Mack truck, embracing life with an attitude that Lalla had as well; in fact many people who meet Troy think he's Lalla's own son, a legacy I'm sure he bears with pride. He hears her name on a regular basis, and her story is marked in his environment.
I really had no idea when I was going to take a new dog on into my life; I was mourning, and still mourn for Lalla, but her joy and bravery vanquishes nearly every up and coming flood of tears. That's what it's like when you've had the privilege of living with a hero – you're inspired.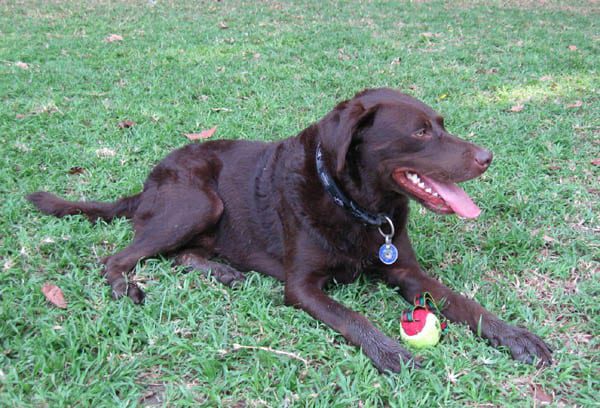 And then came Troy, at first a photograph in a recue agency posting, and then an immediate decision that this was the dog I wanted to be with. He greeted me with a big, goofy smile and eyes like shining stars. My days have been taken over by the energy of a young, happy dog who needs and enjoys lots of exercise and adventure keeps me as alert and energetic as he is.
Cesar Millan, the Dog Whisperer, very cleverly advises to let your new dog be just that – the new dog, and not to use your new dog to heal the wound of your loss.
Troy and I are discovering each other as new beings to one another every day, it's a complete miracle to both of us. Last night I walked Star as his pawrent, Gil walked Troy (who has generously offered to give Troy a few obedience classes), and Gil was overcome by walking a four-legged dog, while I found myself naturally falling into Star's Tripawd pace; but it's Star's pace that serves as a reminder to Troy and myself to seize the day – or as Lalla would say: "seize the wave".