The following story was generously written by Sasha, with much influence from her beloved Lalla, from the heavens above.

Rolling around with a dog on the floor is one of the best Fun things you can do; but it's not every day that you get to roll around on the floor with a dog who has saved dozens, maybe hundreds of lives during an illustrious 10 year military career, including one with the US forces in Iraq. Introducing Star, an absolute All Star Hero Tripawd.
I first met Star about three months ago, shortly before his diagnosis and surgery; he and his owner (and K9 unit handler) Gil, had just moved to our neighborhood. I was struck by his very regal bearing; he was also limping a bit, and Gil told me they had scheduled for a vet's appointment. I was looking forward to seeing them both again, and judging by the intense sniffing exchange, Lalla and Star seemed very keen to go on a date. Sadly, it wasn't to be, as Lalla passed away soon after.
But the day after she died, something very strange happened; a friend called me in the evening, and told me there was something I had to do: a fund raiser was being held that very same evening in a bar for chemotherapy treatments for a special army hero dog who had just undergone amputation of his rear right leg. I checked out the article, and it was Star, whom Lalla and I had met such a short while ago. A few days ago, I met Star and Gil again, and we met up so as to share his amazing story with you all.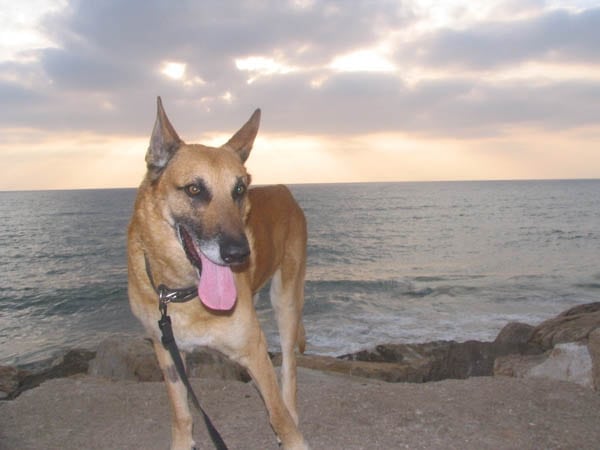 Star is an 11 year old Malinois (Belgian Shepherd), a breed which is a permanent member of K9 army, police and rescue forces worldwide. Since he was one year old, Star served in the Israeli IDF K9 unit, Oketz , mainly in search and rescue operations. For obvious reasons, there aren't any photos of him during his heroic feats, but as you can see, he's a very well decorated hero – he even saved Gil's life during an ambush!
Star's skills didn't go unnoticed by the US troops stationed in Iraq, and he teamed up with them for a year, during which he sustained a serious leg injury during a military operation.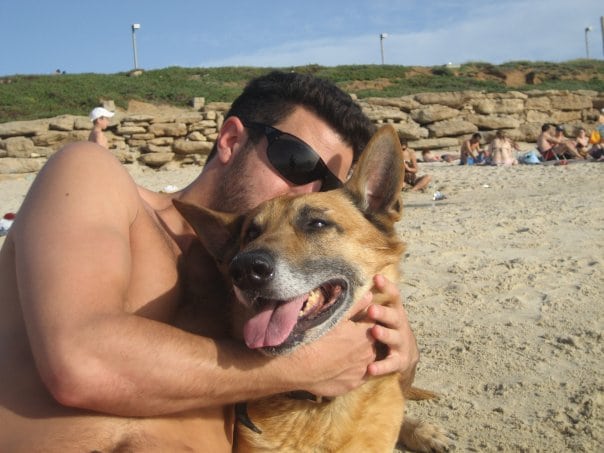 Star retired when he was ten years old, and went to live with Gil (age 26), with the prospect of a more than well deserved retirement. Star carried his leg injury well, and then Gil noticed that his limp was more pronounced.
Although the unit supports their retired dogs, they couldn't support the chemotherapy and Gil, determined to save the life of the dog who saved his life, didn't think twice: he held a fund raiser which was pretty successful, and Star is now completing his chemotherapy treatments and has responded very well; and judging by the way he's been playing with me and destroying nearly all the toys a friend and I brought him – he's doing very well.
He is going through all the creaks a new Tripawd is going through – his remaining rear knee is playing up a bit and he can't manage going up stairs, but I think that's a very small challenge for him. He's goofy, loving and very sprightly, and with Gil, his amazing partner by his side, I'm sure he'll be fine.
And in honor of my own Tripawd's heroic legacy, I'm going to help them as much as I can; after all, he has not only probably saved my life, he's put a smile back on my face.