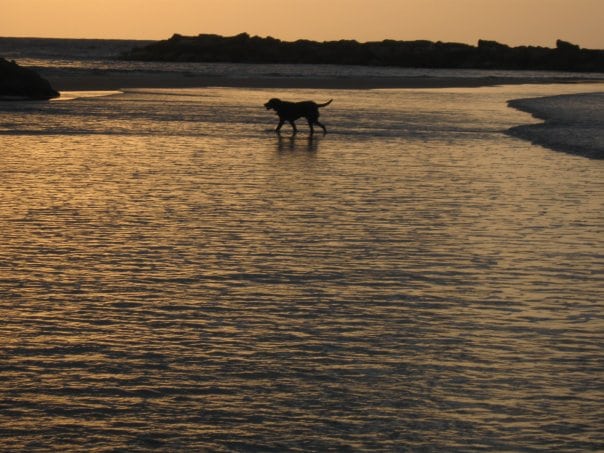 The following was contributed by our friend Sasha, on December 2nd.
There is special place on the beach facing our home which we affectionately named "Lalla's Lagoon."
It's a hi-rise path leading into the ocean from a breaker surrounded by small, mossy pools.
Dogs love walking on the path because they can run across it and jump free-style into the ocean.
Lalla's thing at her lagoon was to chase and swim after the migrating herons while Troy has discovered his true hunter/retriever call there and swims after the fish. The lagoon received it's "official" name after Lalla braved the waters to chase her first heron there only weeks after her amputation surgery, leading me to realize that the best therapy I could give her was never to relate to her as disabled, as she had no intention to relate to herself as such – a fact which she reaffirmed repeatedly (maybe doggedly would be the more appropriate word) over nearly two years before she left – again, on her own terms – on June 2, 2008.
This morning (December 2) marked 6 months since that date. Troy and I walked to her lagoon with a lock of her hair which I'd saved and let it free into the ocean, but not before we both kissed it with love from all her family, friends and fellow tripawds at Tripawds.com
Dearest, brave Lalla, even this morning someone asked where you are. What an impact you had on everyone. Even Troy refuses to sleep on anything except your old patchwork blanket. We let you go to the place you love just as you guided us.
Seize the Wave
If you'd like to share your memories, remembrances and stories about your Tripawd hero, here on the blog, contact us today.