The story of Bella is an inspiring one that will just have to wait, for it inspired a line of products that I just have to tell you about.
When we were contacted by the owner of Bella's Pain Relief Products, we offered to review the Hot-n-Cold Pain Relief Pack for tripawd lovers everywhere.
After finally receiving our new camera – long story – we are excited to present our review complete with demonstration video … and even more excited to announce that we have partnered with Bella's so you can now save 10% on every purchase.
Read on for the complete review and to learn how you can save on some great products just by using our "TRIPAWDS" coupon code!
The Hot-n-Cold Pain Relief Pack was developed for Bella, a three legged Great Dane who needed heat and cold applied to various parts of her body. After surgery on her front leg, a cold compress was used to help reduce swelling. For her hip problems, heat helped blood circulate to soothe that area.
When Bella moved around, however, the ice pack would fall. And she had a tendency to chew the heating pad. Thus was born the Hot-n-Cold Pain Relief Pack.
This innovative product can be used as a heating pad or cold compress on any part of your dog's body. And it won't fall off! It is safe, non-toxic, and it feels good. I know, we tried it …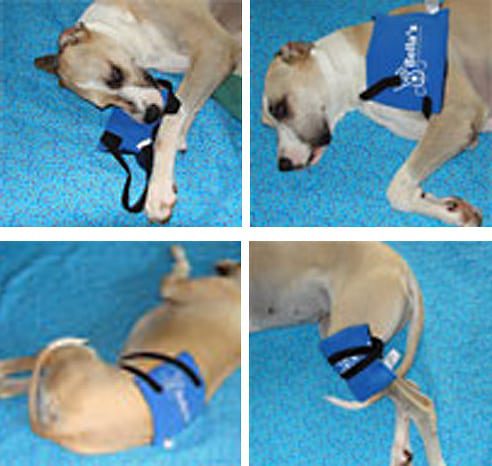 For new canine amputees, the pack can be used as a cold compress after surgery to reduce swelling, relieve pain and promote healing.
For conditions such as arthritis, hip dysplasia and aching joints, it serves as a safe heating pad. With elastic Velcro straps that attach anywhere on the pad, the Relief Pack can be attached to any part of your dogs body. I liked it on my hips.
The pack is easy to use and is totally non-toxic. You can apply this heating pad to your pet without worry that they may chew it and hurt themselves. It even works on humans too!
So, when should you use heat or cold to treat pain in your pet?
Since most people don't understand dog talk. I suggest following the advice of physiologists who practice sports medicine:
If there is swelling and pain use ice.
If there is no swelling, but stiffness is present use heat.
If this is an acute injury (within first 6 weeks) use ice.
When in doubt, use ice.
The Hot-n-Cold Pain Relief Pack is safe, with a totally non-toxic gel pouch that is 100% leak-proof. It was co-developed with a veterinarian and has been clinically proven to to speed your pet's recovery after orthopedic procedures. Bella packs are even used in a number of veterinary specialty hospitals during surgical post-op recovery.
Utilizing hot/cold compression the relief Pack accelerates healing for your pet by providing immediate pain relief for arthritis, joint & muscle pains, sprains & strains. Simply store it in the freezer for an instant cold pack, and convert it into a moist heat wrap in the microwave. Always be sure to heat the pack in its fabric cover to prevent damage to the gel pouch.
Bella's also carries a variety of other products to help you help your furry friend remain pain free. At BellasPainRelief.com, you will find great deals on pet stairs and ramps, mobility aides, vitamins and supplements, and much more.
Bella's Pain Relief Pack is no longer available. Please see: