When we reviewed the Hot/Cold Pain Relief Pack from Bella's Pain Relief, we discovered the namesake of this great pet products company was a great tripawd – Great Dane to be specific.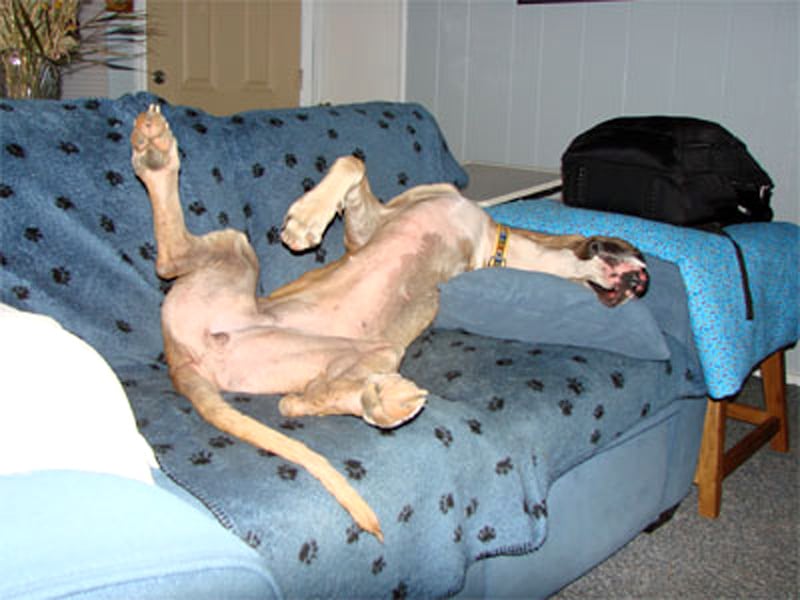 And when we read the amazing story of Bella and Hope, we knew we had to share it with our readers.
So we asked Ronnie from BellasPainRelief.com to tell us about these two incredible three-legged dogs. We hope you enjoy her touching tale as much as we do …
I adopted Bella as a baby from a shelter in Massachusetts. She was born with a stunted right forelimb. As she aged, she developed a number of orthopedic issues and I was always trying to rig up an ice bag or heating pack, since she was not very cooperative with lying still. This is how I came up with the idea for the Bella's Hot/Cold Pain Relief Pack. I knew there had to be a better way of doing things and the Bella pack allowed me to attach the pack to any area of Bella's body that I needed to apply ice or heat.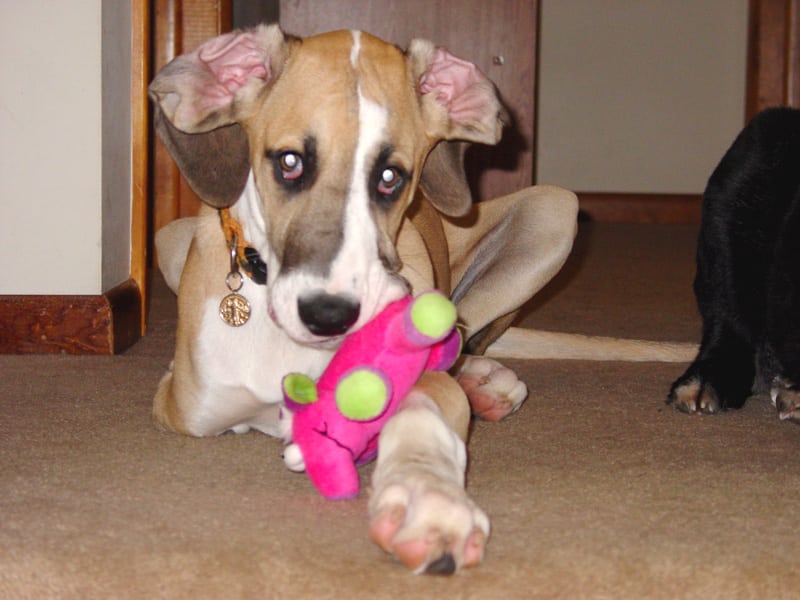 Bella was up & down, most of her very short life of 4 years. For the last 8 months of her life, she could no longer get up or walk on her own. I had a harness on her and was able to lift her weight off of her front end and her rear legs could help me stand her up. We would go out to the bathroom and I would work the front end of Bella and she worked the back end. As time went on, I would bring her outside using a cart I designed for her.
Even though she could not walk, she was still always full of life. I would tell her that I would carry her until the day that she no longer wanted to be carried. I never felt she was a burden. Her daytime bed was in the middle of our everyday life and she was never pushed off to a quiet corner somewhere. The other dogs would bring toys over to her and she was always happy to be engaged in a friendly tug of war. I knew this would happen even when I was at work, because I would come home and their Bella would be lying in the middle of the living room floor, with the squeaky toy that she was obviously not willing to let go of.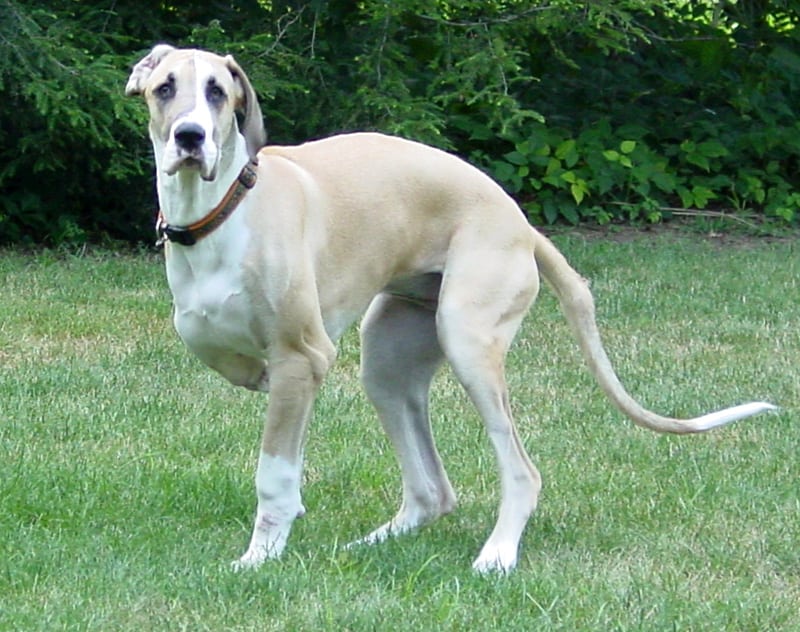 Then one day in August 2007, Bella no longer wanted to get up. The pain in her remaining leg was now too much for her. My orthopedic vet believed it was cancer, by the way the bone looked in her x-ray. I kept my promise to Bella and helped her cross over to Rainbow Bridge. I was devastated at losing my beloved Bella.
In September of that same year, much to my surprise, I came across another tripawd Great Dane, named "Hope". I truly believe that Bella brought her to me to help heal my broken heart. Hope had very similar markings to Bella, which in itself was amazing since Bella had a Fawn (beige) father and Merle (Black w/a little white) mother.
Not only were their markings similar, but Hope was also born with a deformed left front forelimb, which was amputated at an early age. Hope had come into the rescue as a result of a hording case down in Ft. Walton Beach Florida. I had learned that two sisters, who started out with the best intentions, just wound up over their heads with over 100 animals in their home.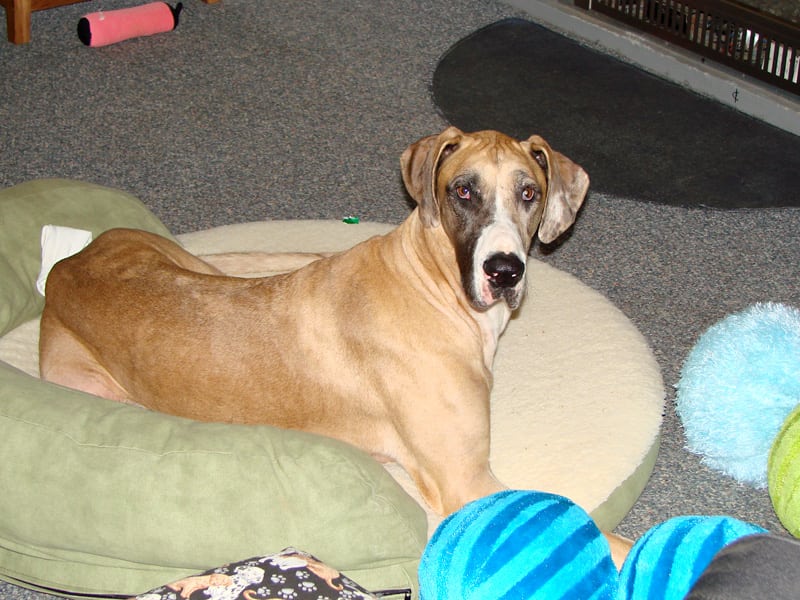 They had acquired Hope from a backyard breeder in the area. While at the breeder to look at puppies, they saw little Hope when she was a puppy, off to the side and inquired about her deformity. Well, much to their horror, the man tells them she was no good and throws her into a pile of burning leaves. The women scooped up Hope and ran off, even after being threatened by the man for "stealing" her.
Hope has some scars on her body where hair does not grow, but none of what has happened in her past stops her today. She runs & plays and does everything that her other four legged friends do. She is as silly as can be and I just can't believe that she gets cuter with each passing day. I can't walk past her with kissing her!
I received her vet paperwork when I flew down to Florida to drive her back to NJ. I contacted the vet to get the rest of her records sent over to Hope's new vet. I inquired about the women that originally had rescued Hope from that horrible man and it turns out they still use that vet. I asked the vet to relay a message to them that their beloved Hope was safe, very much loved and living in NJ.
Bella's Pain Relief Pack is no longer available. Please see: