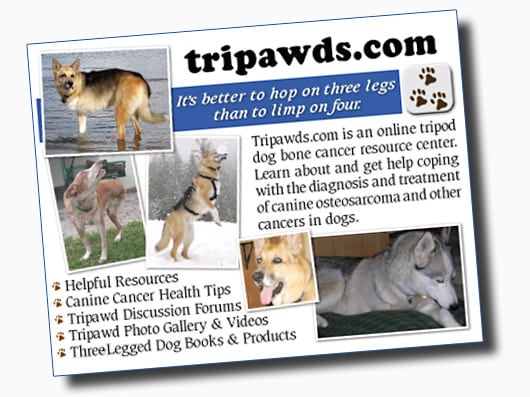 Tripawds, that is. The word, I mean.
Thanks to Tripawd Forum member Crystal Grange, we now have an easy way for you to help spread the word about canine cancer awareness and support tripawds everywhere!
Using the links below, you can download cards and fliers to print and distribute in your local area to let people know about this website.
My people ran a marketing and design firm for ten years before we hit the road to see the country last June. So they know Crystal did a great job producing these informative cards and hand-outs. And they have some suggestions for how you can use them to support all our efforts here at tripawds.com! You also might just find other three legged dogs in your area.
Carry the business cards with you. Give them to anyone who says "Poor baby," about your three legged hero. Post them on pet store and dog park bulletin boards.
Hand out the fliers. Ask pet stores and veterinarians if they will distribute them to patients. These will fit inexpensive brochure holders found at most office supply stores.
Mail the postcard. Address these cards and send them to rescue groups, friends and family or anyone else you can think of!
You will need the Adobe Reader to print the files. Better yet, just take them to your nearest locally owned copy shop – or Kinko's, Staples, Office Depot, etc. – and they'll know what to do. Just ask to print the desired file(s) double-sided on letter-size cover stock and trim as indicated above.
Thank you for your continued support. Together we can help show the world that it is better to hop on three legs than to limp on four.