The following post was generously written by our friend Sasha, who lives in Tel Aviv Israel with her tripawd gal Lalla.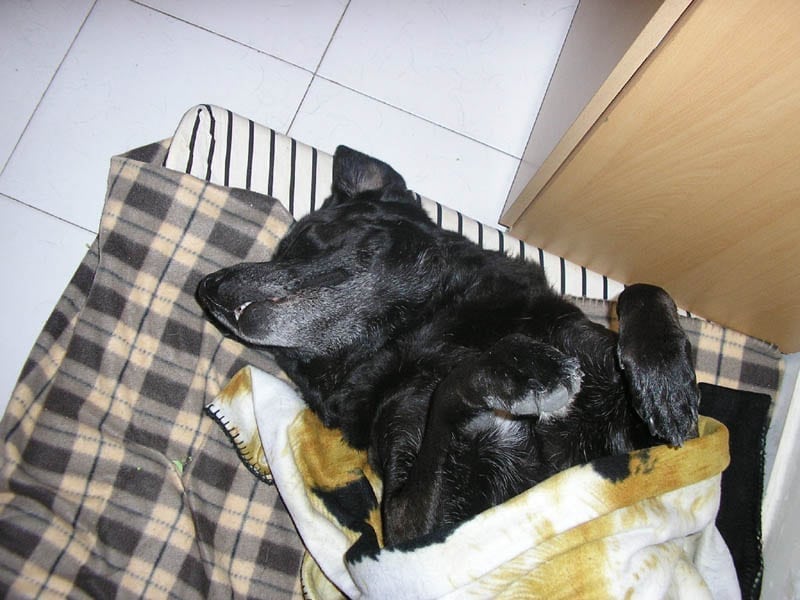 There's something to be said about dogs when they sleep: they stretch out, growl, yelp, drool, produce various aromatic emissions and even sleepwalk And there is, of course, the oft-repeated "rabbit chase" which some dog experts claim is actually a re-enactment of pushing mamma dog's mammalian protuberances to the max for the liquid known as milk. I for one, am going to stick to the "rabbit chase" theory and fact is, Tripawd humans are the real dog experts.
There's no animal on this planet (apart from myself on a Saturday morning) who loves sleeping in as much as a dog. Although most of them think otherwise, most dogs do not need a human bed; they need a firm, comfortable no-frills / no-bling pad, which to our benefit should be easy to keep clean, i.e.: can be thrown into the washing machine after being used as a specialized dining room.
But when you live with a Tripawd, you do have to make special orthopedic considerations, but those don't have to break your bank account.
Lalla (the Tripawd whose house I live in) and I have a real track record with beds since her amputation procedure eighteen months ago. To that decisive point in our lives, Lalla slept in a huge (she's 22″ at the shoulder with a mile high ego) plastic bassinet which was lined with 4 human size pillows. It became obvious after her surgery that I had to find a substitute as her shoulder was straining against the bassinet and besides, it was tensing from "compensation" – when the 3 spared limbs take on the impact pressure normally reserved for four.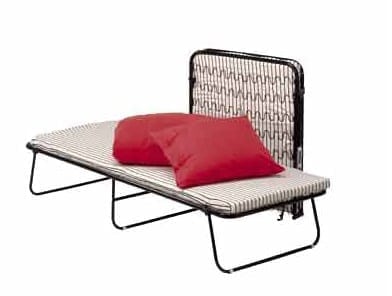 We went through a milieu of pad beds which I bought from our very resourceful pet shop, but even the pet shop owner and I agreed that they were either too lumpy and all were too big for the washing machine. I then remembered that a friend of mine who was head of a K9 search and rescue unit recommended using a baby cot foam mattress, which could be covered with stretch flannel sheets. Boy are those things expensive – anything between $80-$150; if you can afford it or have one stored in the attic, they are a great idea if your Tripawd can fit comfortably onto a 2-3 ft. long bed, but remember that Tripawds sleep full out and then some.
So after searching hi and low, it was Lalla who found a perfect solution after one of her million balls rolled under my bed. I won't bother to describe the size of the dust balls found in those dark regions ("oh, that isn't a tennis ball"), but I did find a folding guest bed bought a few years back in IKEA with – you got it – a perfect foam mattress, 1.5″ thick, 6.5′ long and with a removable swanky black and white striped cover. Out came the scissors and Lalla got an instant bed.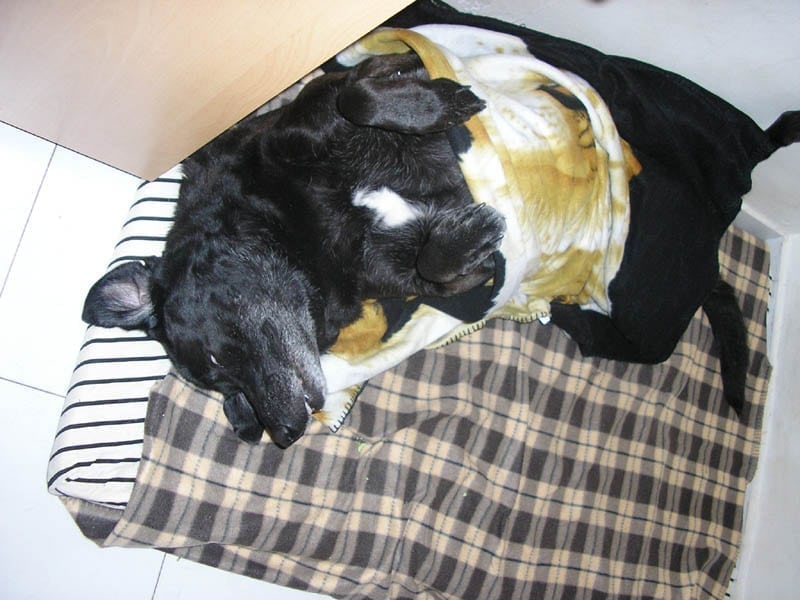 Lalla really loves her new bed, and we've already washed the cover a few times. It's firm, flat and has plenty of extra stretch space – ideal for a Tripawd. I bet most of you have one of those folding beds stored somewhere: all it takes is a pair of scissors to make a comfortable and "rabbit chase dreams" bed for your own Tripawd.
Oh yeah – the hidden human benefit is: no more drunk guests sleeping over after dinner.
– Written by Sasha Cooklin, Tel Aviv, Israel