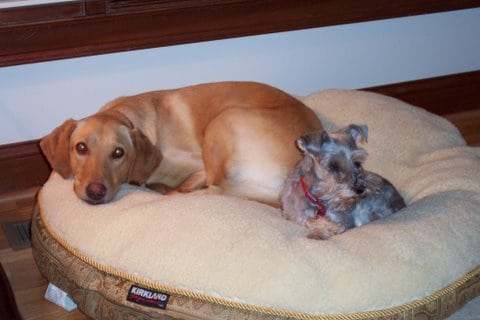 Pound puppies get an extra chance at life when a good person like you takes them home for a chance at another, better life.
And when a pound puppy has a physical challenge, yet still gets adopted, well that's extra special!
Our friend Beverly wrote to us, to tell us about her miracle Tripawd dog, Drake. Although he passed away recently, his beautiful life story is one that will leave a pawprint on your heart forever.
Here's Drake's story, in Janel's words:
"We got Drake from Central Indiana Lab Rescue (he really wasn't a lab however). They had a Lab that no one would adopt. Even though we already had two dogs, Sophie and Abby, we thought, "we can do this." So we took Drake in, and that was the best decision I have ever made in my life.
Drake was six months old and they think he was hit by a car. He had drug his mangled leg for days before someone picked him up. Poor Drake spent three weeks at Purdue University, had his leg removed and was neutered. He also got treated for kennel cough.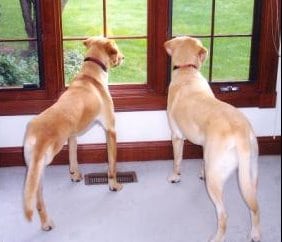 Drake was fostered by a vet tech in Lafayette Indiana. The day we went to see him, the poor lady was so sad, that I told her we did not need to take Drake from her. But she said this way she could help another dog.
We have an invisible fence system in our yard, and once Drake learned the boundaries, he never went out of the yard. However he could break out of any and all crates. He could open doors too, and friends and family started called him "Whodeenie" or "Tripod."
We have a big hole in the wall where Drake would jump down the stairs, to make the turn on the stairway, hit the wall and continue on down the steps.
About two weeks ago, I went out to work in the yard. I only had two dogs at my heels (Sophie and Gabby). I called for Drake, and the poor guy came to me, pulling his body with just his front legs. I had noticed that the last few days, he was laying around more than normal for him. I took him to the vet, and he had nothing left of his hip. The ball and socked more or less disintegrated. The hip over the last six years just worn out. Maybe it was because of the wreck or whatever happened to poor Drake when he was a puppy.
We lost him just over two weeks ago. Our other Lab is lost without him. Our one year old Schnoodle has finally stopped looking for him.
We miss Drake so much. I can only wish that everyone would live life as Drake did. He lived every day to its fullest, was happy every day and brought such joy to our home. Drake was loved by all."