Browse around here and you'll see that cats and dogs can do great on three legs. But over time, arthritis in Tripawds takes a toll. Even the most fit amputee dogs and cats will feel the effects of arthritis. Their altered gait and way of moving puts more stress on the body, which ramps up arthritis effects in Tripawds faster than in a four-legged animal.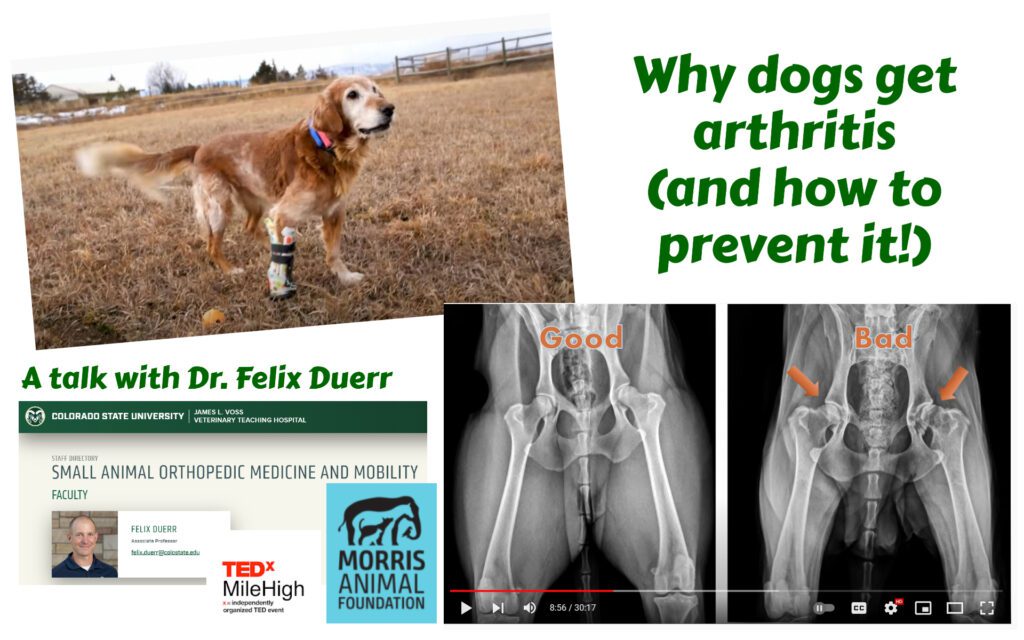 Arthritis effects is one reason we are such huge fans of prosthetics for dogs and cats (for the right candidates). Prosthetics keep a Tripawd's mobility as normal as possible, and reduce arthritis effects over time. However, you don't need an artificial leg on a Tripawd to do something about arthritis in your dog or cat.
Get the Facts on Arthritis in Tripawds and Other Animals
Today, our friend Dr. Felix Duerr from Colorado State University's Veterinary Teaching Hospital's Orthopedic Medicine and Mobility Team explains what we can do about arthritis in our dogs. This information is not just for dog parents. You'll see these lessons are applicable to all animals, including cats, and even humans! In this 30 minute chat, Dr. Duerr explains:
Why arthritis is a major problem in people, dogs, and other animals.
What is the caregiver placebo effect?
What arthritis in dogs looks like and how you can treat it.
It's incredible how similarly arthritis behaves in people and dogs! But people don't wait until their joints are as arthritic as a dog's joints become when we don't recognize and treat the disease sooner. "Dogs get euthanized more often because of mobility concerns, than cancer," Duerr explains. The dog arthritis research that he and his other orthopedic vet colleagues are doing around the world will benefit people, too.
Learn About Why Dogs Get Arthritis (and how to prevent it!)
You'll also see how a Tripawd named Alice inspired Duerr to focus his research on arthritis in Tripawds and quadpawds. When Alice met Duerr's team, she had arthritis in most of her joints. "She changed the trajectory of my professional career and inspired me to search for solutions, even if the problems seems insurmountable. Arthritis definitely falls into this category," he says.
As pet parents of three-legged animals, we have a responsibility to support research that helps alleviate about arthritis in Tripawds and other dogs. Not only does the condition hurt, it also has effects on someone's mental health too. Studies show that people with severe arthritis have more depression, a higher risk of committing suicide, and sleep disturbances from pain that cause mood impairments. We can extrapolate that the same holds true for pets.
Our dogs and cats cannot speak for themselves. So we must do something. Watch the videos, learn, and commit to doing all you can to help your Tripawd feel better now.
Can Stem Cell Therapy Help Dog Arthritis?
Many people in the Tripawds nation have asked about stem cell therapy. We considered it too when our Spokesdog Wyatt Ray experienced arthritis effects. In this video, Duerr says the latest research shows stem cell therapy isn't as effective as once believed.
"Unfortunately by now signs have shown that this treatment also does not offer the magic wand that we were hoping for. At least not for every patient. We're gonna have to keep on searching." — Dr. Felix Duerr, CSU Orthopedic Medicine and Mobility
Learn About Arthritis in Tripawds and Other Animals
We saw the effects of arthritis in amputee dogs firsthand, with our Wyatt Ray. As you can see, arthritis in his joints was not pretty, and he suffered even when we gave him the best pain management and rehabilitation therapy exercises.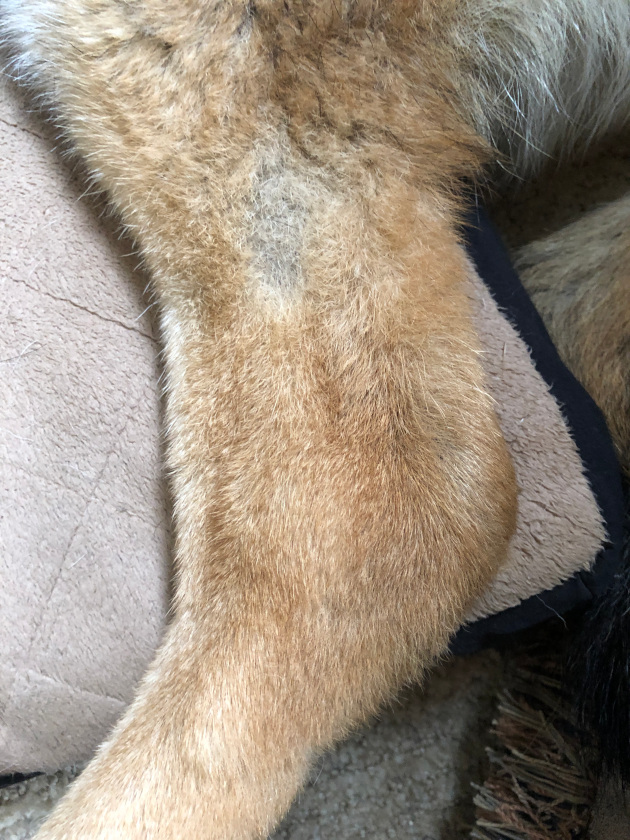 Look for Vet Med Arthritis Clinical Trials
More and more clinical trials for arthritis in Tripawds are happening every year. Look for them at veterinary teaching hospitals and ask your vet about any that might be happening near you. Here's two places you might be able to get started.
University of California at Davis: Evaluating a nutritional supplement for dogs with elbow dysplasia
Colorado State University Veterinary Teaching Hospital: Elbow injection trial
Colorado State University Veterinary Teaching Hospital: Joint supplement trial
Learn About Arthritis in Pets and How to Help
There are two great organizations for pet parents who want to help their pets avoid arthritis effects.
Tune in to Tripawd Talk Radio and meet Hannah Capon, a U.K. veterinarian raising awareness with her organization, Canine Arthritis Management.
And meet Dr. Kristin Kirkby Shaw, a U.S. orthopedic vet surgeon and canine arthritis management expert is also tackling this huge problem in pets. She is the founder of CARE: Canine Arthritis Resources and Education for pet parents and vets.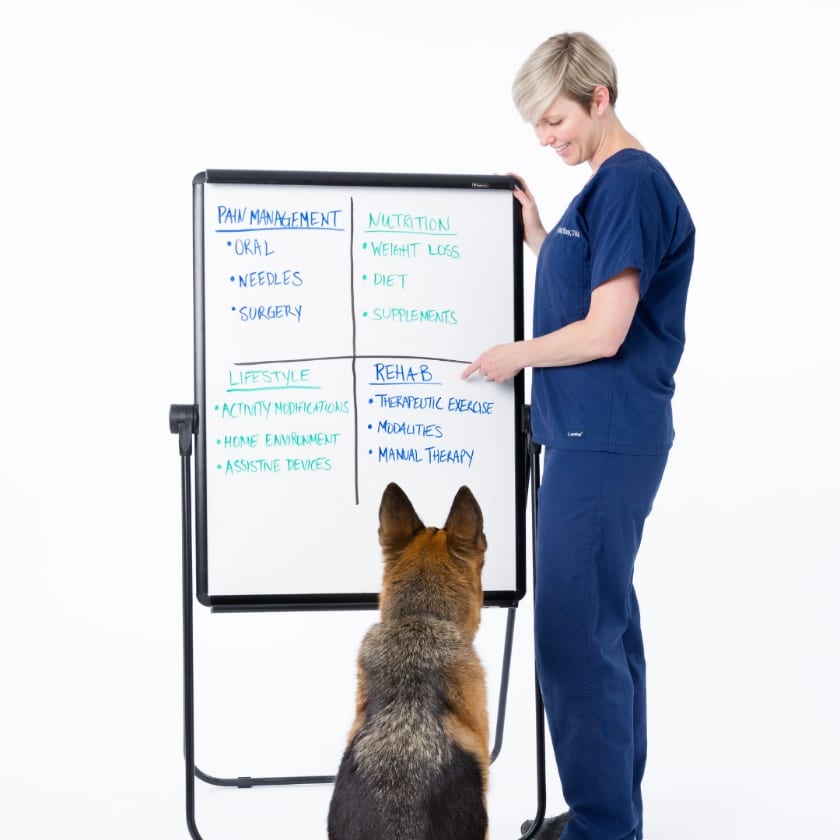 When you know how to spot and treat osteoarthritis signs in dogs and cats, you are making sure your Tripawd dog or cat has a great quality of life, without pain, for as long as possible.