September is Animal Pain Awareness Month. What a great time to learn how to manage arthritis in amputee dogs and cats!
Join us on Tripawd Talk Radio to learn about Tripawd arthritis prevention and management. Our guide is Dr. Kristin Kirkby Shaw, founder of CARE: Canine Arthritis Resources and Education for pet parents and vets alike.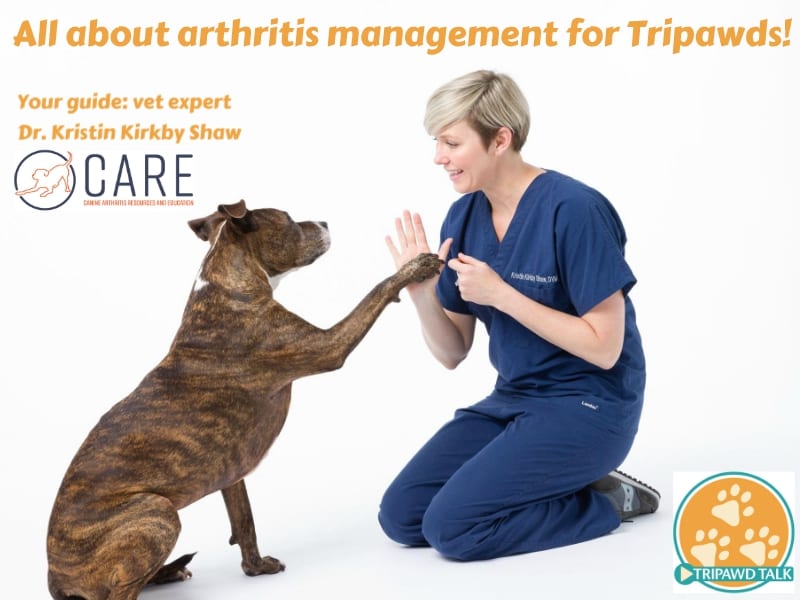 Dr. Kirkby Shaw is a real dynamo in the world of dog and cat orthopedics. For starters, she's a small animal surgeon and certified animal rehabilitation therapist. She practices at Animal Surgical & Orthopedic Clinic of Seattle and is the Medical Director of SOUND Veterinary Rehabilitation Center. As founder of CARE, Dr. Kirkby Shaw is dedicated to providing evidence-based information about managing osteoarthritis for dogs. She's also committed to starting a separate website for felines too!

In our 30 minute discussion below, you'll learn important facts about managing arthritis in amputee dogs and cats, like:
Can a dog or cat with arthritis be OK as a Tripawd? What if a pet is overweight before amputation?
According to Dr. Kirkby Shaw, a pet's weight condition is a bigger factor than an arthritis diagnosis.
Do Tripawds get arthritis more often?
Biomechanics change after an animal loses a leg. Those changes result in abnormal forces that put extra stress on joints. As a consequence, Tripawds are at greater risk of arthritis. Minimizing and managing that risk is crucial for a pet to enjoy a long, healthy and mobile life.
What are the best supplements for Tripawd dogs and cats?
Dr. Kirkby Shaw says there is no hard evidence that shows glucosamine or chondroitin supplements work to relieve arthritis pain. Instead, she recommends choosing evidence-based supplements like omega-3 fatty acids and green-lipped mussel. New research into eggshell membrane, boswellia and even CBD for pets shows promising arthritis management too.
As for medications, Dr. Kirkby Shaw highly recommends starting a Tripawd on a maintenance dose of Adequan as soon as possible.
What is safe activity for three-legged pets?
It's not so much about activity restriction for amputee dogs and cats, but about activity modification. Choose lower impact activities that don't put a lot of heavy force on the joints. When your dog just has to chase a ball or your cat wants to climb cabinets, manage the activity closely so they don't overdo it.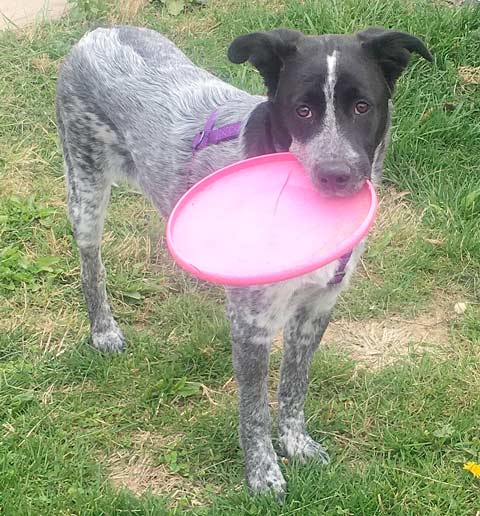 How can traction help Tripawds?
"Wood floors are not good for any dog," says Dr. Kirkby Shaw, especially for three-legged pets. "They slip and slide all over the place." Modify your Tripawd's home environment for safety. Add traction with no-slip rugs. Keep your pet's pawdicures up-to-date. Give regular nail trims and paw fur clipping to give good traction.
What does quality of life look like for arthritic amputee pets?
It takes teamwork to ensure that a Tripawd dog or cat enjoys a high quality life. As Tripawd Spree showed, arthritis happens in Tripawds, but life can still be great. Find a veterinarian who takes a special interest in arthritis management. Keep your pet's weight down. And manage their activity to ensure it's not hard on the joints. Add it all up and you can ensure a long, pain-free, enjoyable life together.
We know you'll love this conversation. Tune in to Tripawd Talk Radio below to listen. If you want to read our conversation instead, a transcript follows. Enjoy!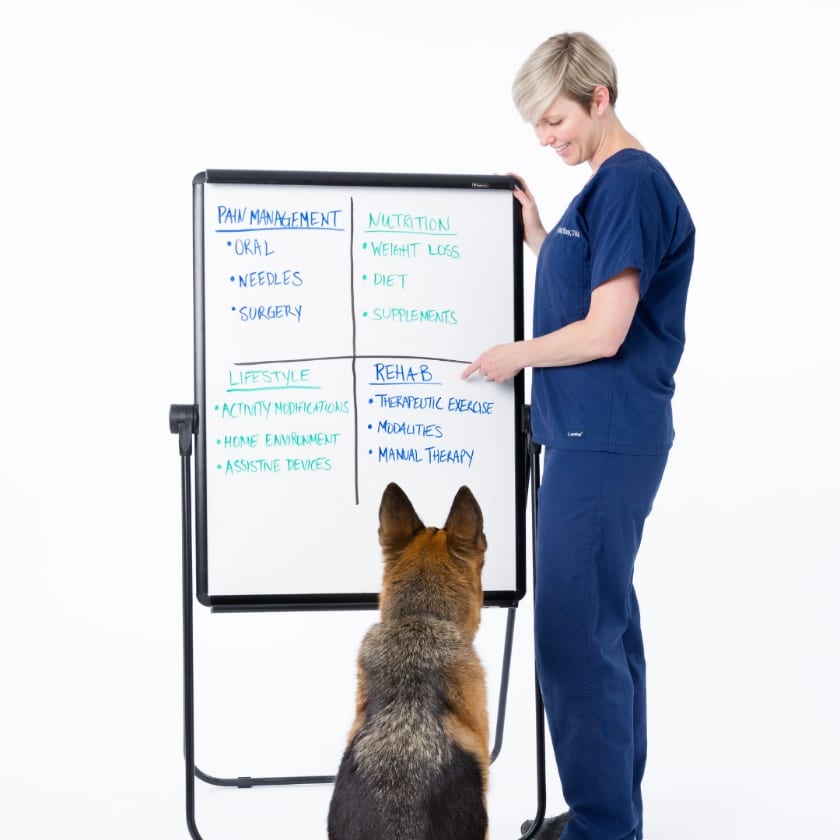 TRANSCRIPT: How to Prevent and Treat Arthritis in Tripawd Dogs and Cats
TRIPAWDS: Hi, Dr. Kirkby Shaw, thank you so much for being here.
DR. KIRKBY SHAW: Thank you so much for having me. It's great to be here.
TRIPAWDS: Oh, you bet. You bet. Well, we are excited to introduce you to the Tripawds Community and let everybody know what you are doing. Can you tell us a little bit about yourself and a little bit about your organization CARE?
DR. KIRKBY SHAW: Sure. I am a small animal surgeon and rehabilitation specialist. And I'll first start out by thanking you for what you do with the Tripawds' website. As a surgeon, I have directed many of my clients to your resource and so I find it invaluable and I know they do too. So thank you.
But my passion as a surgeon and a rehab specialist is always centered around arthritis management. And I started a website about a year ago now called Canine Arthritis Resources and Education at CanineArthritis.org and our acronym is CARE. And it's – I designed it to have two sides, a dog owner side and then a veterinarian side where the whole goal is to provide practical evidence-based resources for those caring for dogs and cats but mostly dogs with osteoarthritis and really trying to cut through some of the noise of the internet and provide a trusted site really similar to what you guys do with Tripawds, somewhere that veterinarians can direct their clients to go read about what the most important things are in osteoarthritis management and that dog owners can find that's going to have the most up-to-date and evidence-based resources.
TRIPAWDS: Well, thank you so much for that, the nice compliment about Tripawds because we do strive to give people factual information from authorities like you. And now, we have somebody to turn to for arthritis management. I know for years all of us have just been like, "Well, let's throw some glucosamine in our dog's dish and hope that helps." And it is a mystery to pet parents like me. It's just this thing, I know there's arthritis, there's osteoarthritis. If you ask me the difference, I probably couldn't tell you.
But that's why I'm so glad you're out there so that you can educate us because a lot of Tripawds members come to us with arthritis or they obviously develop it later on as the Tripawd ages. So I love what you are doing, the information there is so easy for people like me to understand.
Is a Dog or Cat with Arthritis a Candidate for Amputation?
And I want to ask you today specifically about Tripawd dogs and cats. A lot of people come to us before amputation and they ask, "Should I amputate? My vet says my dog has arthritis or my cat has arthritis. Is my cat or dog is still a good candidate? Can they lose a leg and still be okay?" If that happens to somebody, what's your best advice?
DR. KIRKBY SHAW: Yeah. I think it depends on a few things. The first one for me actually and this is a conversation I have a lot with clients is what's the reason for amputation. And if we are considering an amputation because of osteosarcoma or something that is significantly painful and the purpose of the amputation is to relieve pain, that's a significant consideration.
But if there's underlying arthritis and osteoarthritis, I'm going to use that term synonymously, we could get into the differences but it doesn't really matter in this case, if the dog or cat has arthritis, it really depends on which joint is affected and how well it's managed. So for example, a dog with arthritis of the shoulder or even hip dysplasia or hip arthritis, we have a lot of things that we can do and usually a really successful outcome with managing those joints with arthritis.
When it comes to the elbow, the wrist, the hock joint, those are a little bit tougher. And so I think a lot of things depend on which leg are we amputating. So if what we now from studies is that whether you're amputating the front of back leg, the contralateral or the opposite side front leg is going to start bearing the most of the weight.
So let's say a dog has really severe elbow arthritis and we are looking to do an amputation of the opposite front leg, there are a lot of considerations to be made there. So if that dog – if we are amputating because of an osteosarcoma and the dog is severely painful and barely using that leg to begin with, well, they are going to feel better by removing that source of pain with the amputation but you are going to have to do a lot of things to keep that other elbow pain under control.
What about overweight pets? Should you amputate?
One of the things that no matter what when we are dealing with arthritis management is making sure the dog is not overweight. So for me, it's often less about whether the dog has underlying joint disease, arthritis, and more about their body condition score. So not even their total weight but how lean they are versus if they are overweight.
TRIPAWDS: Wow! That is interesting because a lot of people do come to us with both issues. And so basically what you're saying is that a dog's weight is more of a factor in your approval of recommending amputation. That's a bigger issue than joint disease or arthritis.
DR. KIRKBY SHAW: Yes, because the two go hand in hand and not weight in general. So I've done amputations on Mastiffs, Great Danes, the large dogs out there. But as long as they are a lean body condition, those dogs are going to do much, much better than a poodle, a small dog that's overweight. And what we know about being overweight is that inflammation from fat essentially contributes to arthritis. So the most important thing for making sure a dog or cat stays healthy throughout their life is making sure that they are not overweight.
Now when it comes to deciding whether or not to amputate, if they are already overweight and we are dealing with arthritis, that's going to make a tougher scenario than if the dog is not overweight. It doesn't necessarily mean I wouldn't recommend the amputation. I think it's just a more important thing to consider than purely just the disease of arthritis.
Do Tripawds get arthritis more often?
TRIPAWDS: Okay. That explains it. Thank you for clarifying the difference between weight and body condition. I should have said it at the beginning. But yeah, we have seen really lean St. Bernards and Great Danes and they're really, really well on three. So as far as once the leg comes off, it's my understanding that a Tripawd is more prone to arthritis as they age. Can you tell us a little bit about that and what are some of the top issues facing dogs and cats as they age on three legs
DR. KIRKBY SHAW: Yeah. I think arthritis in dogs almost always develops secondary to an underlying disorder of the joint. So in dogs, unlike people and maybe unlike cats, dogs specifically develop a secondary arthritis. So it's not necessarily just wear and tear disease, there are abnormal forces on their joint.
Now, when we are talking about a Tripawd, automatically by having only three limbs, you now have abnormal forces on that joint. So those dogs certainly will be at a greater risk of developing arthritis.
Now if the dog also was born with hip dysplasia or elbow dysplasia or had a cranial cruciate ligament rupture in their life, those are the things that are much more often going to lead to the development of arthritis.
Cats are a little bit different in many, many ways. And we think that they probably do development more of this wear and tear arthritis that's similar to people that just as they age, the joints start to break down.
And again with three limbs, that is going to be more likely to happen especially again that front leg. So if you amputate a back left leg that front right leg is going to be the one to pay most attention to. If you amputate a front leg, it's going to be the opposite front leg that starts taking over most of the weight in the joint. And that's going to be the leg that from an arthritis standpoint is going to be most at risk.
How does living on three legs affect mobility?
TRIPAWDS: Okay. That makes a lot of sense. We tend to see a lot of front-keg amputee dogs and cats where the front the leg starts to bow out a little bit over time. Is that related to the arthritis having an impact on them?
DR. KIRKBY SHAW: I see that all the time too. My assumption is that it's due to the change in biomechanics. So normally, dogs bear 30% of their weight on each front leg and 20% on each back leg. Now, when you take away one front leg, they now start having to accommodate for a lot more of that body weight. And that bowing position is them just trying to redistribute their weight. And over time, some of the fat tissues, some of the ligaments and support structures may start to wear out and it now becomes a bit more of a deformity.
And I see that absolutely in the carpus or the wrist where dogs will take that front leg and they hold it more underneath their body, more towards the midline. And I definitely know when you talked about the bowing of the elbow and then they start to kind of collapsed down or break down at that wrist or carpus. And those ligaments that support the wrist or carpal joint, they can definitely starts to stretch out and weaken over time.
Now with that, arthritis is going to develop kind of secondary to that because we have abnormal support of that joint, the arthritis can develop secondary.
If you had a dog that already had say, elbow dysplasia or had had prior trauma to a joint, they're going to have an even greater effect of that increase body weight distribution on that leg.
How do we prevent arthritis in Tripawd dogs and cats?
TRIPAWDS: Okay. Okay. Thank you for explaining that. Now, what can we do to prevent arthritis in our Tripawd? Do we have to go see a therapist every week? Do we have to feed a special diet or supplements? What are some of your recommendations for preventing it? Let's say if we have young, healthy Tripawd that we just adopted, what would you recommend?
DR. KIRKBY SHAW: Yeah. So again, I often feel like a broken record saying this but it does come all down to weight management. That is the only thing out there that has ever been shown to change the progression of arthritis. If a dog has hip dysplasia or elbow dysplasia or has a cranial cruciate ligament rupture, well first of all, there's nothing at that point that you can do to prevent those developments. What you can do is prevent the severity of the secondary arthritis that comes with it. And so, weight management, most important.
Supplement-wise, there's really no evidence to support using glucosamine and chondroitin. I think honestly these days, if you find a supplement with those ingredients in it, it's more for marketing because people assume that it's going to be in there but there's really no research to support that those do anything.
What are the best supplements for amputee dogs and cats?
There are some other supplements out there though that do help for the inflammation, so omega-3 fatty acids, green-lipped mussel. Some new research now looking at things like eggshell membrane, boswellia, even CBD, those supplements can all have potentially joint-supporting effects.
I am a big proponent of Adequan, which is – it's not actually nutriceutical. It's labeled as a pharmaceutical. And that's the one that's given as a shot or an injection generally twice a week for 4 weeks and then potentially as a maintenance plan. But Adequan is actually the only kind of joint supplement at least in the US but has been FDA-approved as a disease modifying osteoarthritic drug, meaning that it can potentially slow down the breakdown of that cartilage and that progression of arthritis. So I recommend Adequan for just about every case I see that has a risk for arthritis.
DR. KIRKBY SHAW: I should definitely say that I am a consultant for a lot of different groups out there including the company that makes Adequan but I make – I get absolutely no kickback from saying that. I believe in their product which is why I'm a consultant for them.
TRIPAWDS: I wish I would have known that a long time ago because I have – I have always heard about it and I just started giving it to our dog, Wyatt. He is now 11 but we just started giving it to him last year after he was already diagnosed with really, really bad arthritis in his tarsus. And if somebody like you had told me that when he was younger, I would have been all over that. I always thought it was a treatment for a dog who was already pretty messed up. So that's really good to know.
DR. KIRKBY SHAW: It's a really common misconception and it's one that I talk about all the time that Adequan is going to actually be more effective the earlier you start it. It's not to say it's not going to still have some benefits in the end-stage joint or when we arthritis that has already set in but it's going to be more protective for the cartilage the earlier we start it.
I think we all want especially myself as a pet parent, we all want to give something to help support it. And I think all of the supplements I mentioned probably have something to them. But we also have to look at the dog's activity or cat's activity and pick and choose the right thing.
What is safe activity for three-legged pets?
So what I – I don't generally say activity restriction, it's activity modification. So a dog with three or four legs playing ball is a really, really high impact exercise or activity for them. So that puts a lot of stress, a lot of pressure on those joints. So it becomes a balance.
If you have a Labrador whose job in life is to chase a ball and play fetch, I've had Labradors my whole life so I'm one of these – I totally get it. But it sometimes becomes a little bit of tough love that we can only play so much more ball or maybe not even any because that's going to break down their joints even further.
Whereas things like swimming are going to be fantastic for maintaining range of motion, maintaining muscle mass and not putting a lot of force on those joints. Now, not every dog or cat loves to swim. So then looking for other exercise as just regular low-impact walks, gentle hikes on the trail, things like that that are not putting a lot of heavy force, not jumping down off of things that puts a lot of pressure on the front legs.
TRIPAWDS: So things like jumping on and off the bed or the couch?
DR. KIRKBY SHAW: Yeah. So I tell all of my clients, I'm going to tell you things from – that I'm somewhat obligated to say from the doctor's standpoint, but I'm a dog owner myself and so I know that it's not always possible to prevent your dog from jumping on and off the bed or the couch. But jumping off of the bed, jumping off of the couch, jumping out of the car is not good. It just puts a lot of impact on that one or two front legs. Jumping up is a little bit better because it actually use a lot more muscle and so it's a great strengthening for the back legs and it's typically a softer landing on to the couch or a bed or even into the car. So no, I don't recommend jumping down if it's all preventable.
The importance of traction for Tripawds.
TRIPAWDS: What about wood floors? What are your thoughts about that?
DR. KIRKBY SHAW: They are the worst. And so really that – and that brings up a great point because there are some really basic things, just your environmental modifications of your home that can be helpful so wood floors are not good for any dog. They slip and slide all over the place.
When my Lab, he is almost 5 now, but even as a puppy and he goes sliding around on areas that weren't covered by rugs, it would – I'd have to hold my breath. Dogs that are Tripawds and/or have arthritis, it becomes even harder for them to stand up. So area rug, carpet runner, yoga mat, anything that you can do to cover the hardwood floors or linoleum or tiles is going to be so beneficial.
Along the same line, making sure the dog's nails are trimmed. This becomes more important as dogs aged. Their nails just get longer and longer so making sure they stay nice and trimmed, that can help give them some traction to stand up.
And then even things like making sure the hair stays trimmed between toes, so Goldens, Aussies, those dogs with long feathers between their pads, making sure that those stay nice and trimmed to help give them support as they are trying to stand up on the ground.
TRIPAWDS: It's funny because a lot of people will say, "Oh, my dog handles the floors just fine." But I always wonder about that because it just seems to me like it would require a lot of work for them to move across a slippery floor. It's kind of like when wear socks and try to walk on slippery floors.
DR. KIRKBY SHAW: Yeah. I think it depends on whether they are already up and they have some momentum and some control or they are actually trying to stand on the slipper floor. But in general, I try and keep the floors covered as much as possible.
TRIPAWDS: Okay. Okay. That's a great tip. And you have lots of these kinds of tips at CARE too on your website.
Dr. Kristin Kirkby Shaw: Yes. Yes.
What does quality of life look like for arthritic amputee pets?
TRIPAWDS: Yeah, I love it. So these are some arthritis prevention tips that you have. Let's talk a little bit about what we can expect if our pet gets arthritis and what are we looking at as far as their quality of life and what we can expect to pay, because I know that since Wyatt has gotten older, his care treatment cost have gone way up. And Adequan is not cheap when you begin but over time it actually, it's not so bad, but the loading dose is expensive and all of these things kind of caught me by surprise over the last few years.
So can you tell us, let's say somebody doesn't manage their dog's weight very well, their Tripawd or their cat, and they gain all this weight and now they are having mobility issues. What does their future look like?
DR. KIRKBY SHAW: Yeah. I think a lot of – again, a lot of it does come back to the ability to lose weight. So from a cost standpoint, hopefully feeding less will save some money there. Really of course, it does depend on the size of the dog and what you're feeding because pet food is probably the large part of where our money goes potentially.
But yeah, I mean you're exactly right. Adequan is not cheap. And if we are talking about a giant breed dog, a Great Dane or a Bullmastiff or even a Labrador, it's usually a few hundred dollars the first month. But after that, for me, I generally try and get to a maintenance of about one dose a month, and that's going to be much more cost effective.
But my personal, in my own dogs and professionally my go-to for the base of pain management is going to be anti-inflammatory, a nonsteroidal anti-inflammatory as long as the dog doesn't have underlying kidney or liver issues. The majority of dogs are going to have extremely good results and benefit from being on an anti-inflammatory, potentially even daily.
And there are a lot of them out there. Some of the newer ones maybe a little bit safer and better tolerated than some of the older ones. But there are also generic versions of Rimadyl that can be more cost effective as well.
So yeah, I mean there is a cost component to it. And again, it's really going to depend on the size of the dog. The bigger the dogs, the more it's going to cost. The smaller the dogs, much, much more manageable.
Save the money on supplements, reach for evidence-based arthritis management instead.
But there's going to be pain relievers. I would recommend saving the money on the supplements because – and putting it towards, on the oral supplement that is, putting that towards things like Adequan or a joint specific diet that has high levels of omega-3s in it.
But pet parents should expect that what happens is, and this is not necessarily going to be true just because I think we can do a lot to avoid this, but generally as arthritis gets worst, the dog's mobility declines and they are not getting up to greet them at the door, they are not able to jump into the car, they are not wanting to go as far on a walk. And those are things that people should look for to suggest that maybe they've never been diagnosed with arthritis and now they are starting to show the symptoms or things are getting worst.
And then tracking their response to any therapy that they start by saying, "All right, now they actually are more willing to get up and greet me when I come home. They are able to walk a little bit farther because we've started this treatment."
TRIPAWDS: Yeah, and you do have some checklist available on your website. I know I've seen them and I'll make them available in the podcast links. But things to look for where we might suspect that our dog is experiencing some signs of arthritis. Do you have one for cats on there too or probably not, huh?
DR. KIRKBY SHAW: No, not yet. I've been getting a lot of request for cats and I promise the cat stuff is coming soon.
Arthritis management in pets is a team effort.
TRIPAWDS: Okay. Okay. So let's say we suspect that our pet has arthritis, is going to the vet and getting an anti-inflammatory enough? Should we be pursuing other kinds of treatments? Who are the types of people that we would look for to help manage this condition?
DR. KIRKBY SHAW: Well, I would say absolutely starting with your primary vet and probably starting with an anti-inflammatory is going to be the first step. Talking to your vet about how much food, how many calories the dog or cat should be getting, and what type of food they should be on, that absolutely should be in the realm of the general practitioner.
Now, there are going to be some vets that really enjoy managing arthritis and others that are like, "No, that's just not my thing," so finding a vet that does enjoy kind of the comprehensive and multimodal approach. And if that vet is not available to you, the next step I would say is actually a rehabilitation veterinarian because pain management is a huge part of what rehab vets do. So they can talk about not only the pharmaceutical side but also the exercise side and potentially things like laser therapy and post-electromagnetic field where we are starting to get some researchers report those modalities.
TRIPAWDS: And everybody out there, don't forget the Tripawds Foundation will actually pay for your first consultation with a veterinary rehabilitation therapist.We will up to $200 for the first visit to anybody who follows the application guidelines and sees a CCRT or CCRP practitioner.
How do you maintain quality of life after an arthritis diagnosis?
DR. KIRKBY SHAW: I think one of the biggest ones is just keeping the dog or cat active. And we talked earlier about what's good exercise and bad exercise is, so not playing ball, not doing the high-impact stuff but just going for daily walks. Keeping them engaged in the family and the community. So if it gets to the point and I'm actually at this point with my 13-year-old dog. I carry her in a little backpack – front pack thing. She is a 13-year-old French Bulldog and has hip arthritis and she can't make it as far as the Lab can. So when we go for walks, she starts off for a little bit. But then I'm carrying her. And just keeping her engaged and part of our family is important.
So if it's in a stroller, don't be ashamed. That's okay and it does help manage the dog's quality of life. In the house, making sure that they have comfortable beds that are easy to get in and out of. MMaking sure the beds are not right on the slick floors. Ideally, the bed is on a carpet. So when they go to get out of bed, it's an easy transition for them.
I had a client once that showed me a video of her home where the dog's bed was right up against the stairs. It made it really difficult for the dog to get out of the bed because it was. They needed to up rather than down.
So taking a close look at the home environment and making it as easy and adaptable for them to get around.
TRIPAWDS: Oh, I love those tips. The stairs, that one is interesting. I never would have thought of that being difficult. But yeah, I can see your point.
So thank you. Thank you so much for all of this. This is like a crash course in canine arthritis. And I would love to have you back at some point. Then we can dive into some more specific topics. Thank you so much for being here.
DR. KIRKBY SHAW: Oh, you're so welcome. Again, thank you so much for what you guys do.
TRIPAWDS: Oh, you bet. There you have it. Yet another credible expert veterinarian emphasizing the important of weight management to help keep not just Tripawds but all pets healthy, strong, and pain-free.
Check out the many helpful resources to prevent and treat arthritis in your dog at CanineArthritis.org. Find many more articles, video interviews, and podcast episodes with orthopedic, rehab, and nutrition experts at Tripawds.com.
[End of transcript]