The effects of osteoarthritis in Tripawds is something every one of us might deal with if our three-legged cat or dog lives to a ripe old age. Osteoarthritis happens to the best — even the amazing Spree, an ideal example of a lifetime of Tripawd health and fitness.
In Memory of Spree, the Tripawd Role Model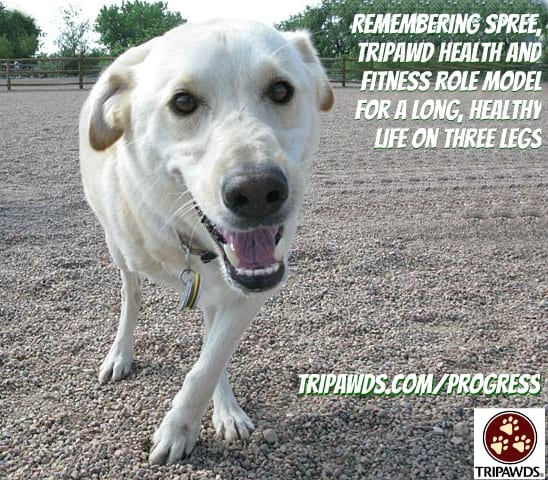 In another era, the tiny puppy who became known as Spree would have been doomed when she was born with a malformed limb that needed amputation. Lucky for her, she landed on the doorstep of Connie Fredman's Canine Health Resort in Fort Collins, Colorado. It was love at first sight and thanks to her mom's dedication, Spree grew up to enjoy the dream life of a Tripawd.
Today, we are sad to report that ten year-old Spree has gone to the Rainbow Bridge. She passed from organ failure, unrelated to her life on three legs.
Spree thrived up until the end as Tripawd Queen of the medical boarding facility run by Connie. During her lifetime, the health care Spree got was what every Tripawd dog or cat should have during their life:
Spree's outstanding veterinary team helped her through numerous issues that would have taken down a less hearty Tripawd.
Growing up, she faced multiple remaining leg surgeries, including a TPLO and a bi-lateral femoral head ostectomy (FHO) surgery on both hips. At age eight, she fractured her remaining rear leg when the old metal TPLO implant caused the bone to turn necrotic.
Even fit Tripawds suffer from the effects of osteoarthritis in three-legged animals
This remarkable Tripawd recovered from each health challenge because of the diligence of her mom and veterinary caregivers. Her team left no stone unturned to help Spree be as healthy and strong as possible for a Tripawd.
But despite her top-notch care, she still suffered from the effects of osteoarthritis in Tripawd animals. The painful condition ravaged her bones.
So in an amazingly kind gesture when Spree died, Connie is allowing veterinarians studying in private practice and at the Orthopedic Medicine and Mobility team at Colorado State University's Veterinary Teaching Hospital to study Spree's most arthritic leg bones.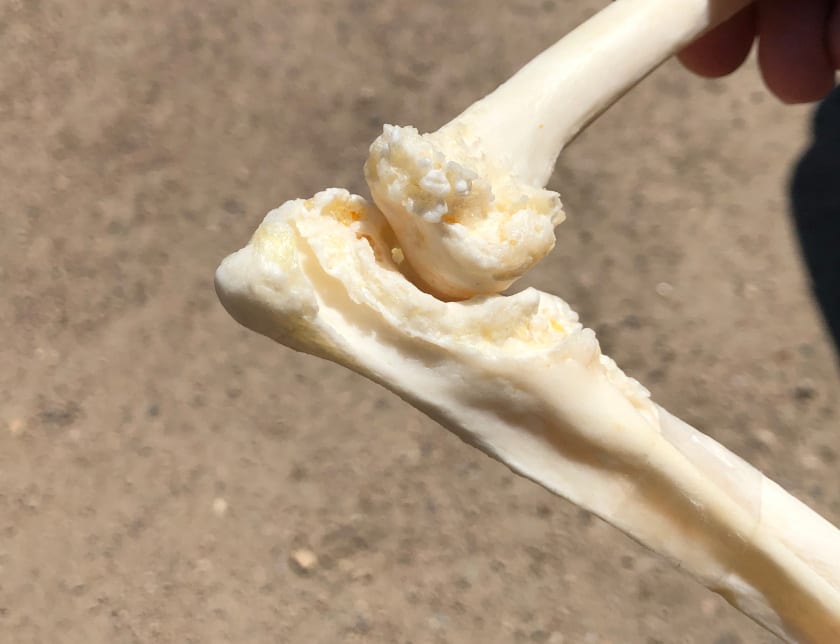 "I want them to be used as a teaching tool," Connie told us. "Nobody really knows what this (osteoarthritis) looks like in a three legged dog. Now they can."
We were fortunate enough to see Spree's leg bones in person. Words cannot describe the shock of seeing how osteoarthritis created such awful bone abnormalities. Normal bones have a smooth surface, Spree's clearly didn't.
Imagine, trying to live your life as a Tripawd dog with bones that look like this!
If what we see here is the end result of the best example of Tripawd health and fitness, what does a bad example look like? A lot worse, we imagine.
Help Your Tripawd Beat Osteoarthritis
Osteoarthritis pain is the biggest issue any of our Tripawds will face. The longer we help our three-legged heroes live to a ripe old age, the worse this chronic condition gets — even with the very best care.
Thankfully, there is lots we can do to ease the pain of osteoarthritis in Tripawd dogs and cats. If you haven't already, please check out our e-books for Tripawd cats and dogs.
These tools include the best Tripawd health tips from our Tripawds Nutrition and Tripawds Gear blogs, and so much more.
And don't forget to take advantage of the Tripawds the Maggie Moo Fund for Tripawd Rehabilitation Therapy.

Getting educated from a professional therapist is the best way you can learn what your special three-legged hero needs to live a long, pain-free life. We hope you will do it for your Tripawd, so that your dog or cat can live a great life just like Spree did.
The Tripawds Foundation looks forward to seeing your application!
Recommended Reading
How to Recognize and Manage Arthritis in Tripawd Dogs and Cats