Every Tripawd has unique gifts to share with the world. Today for Tripawd Tuesday, we're shining a spotlight on the special talents of Rookie the Painting Amputee GSD!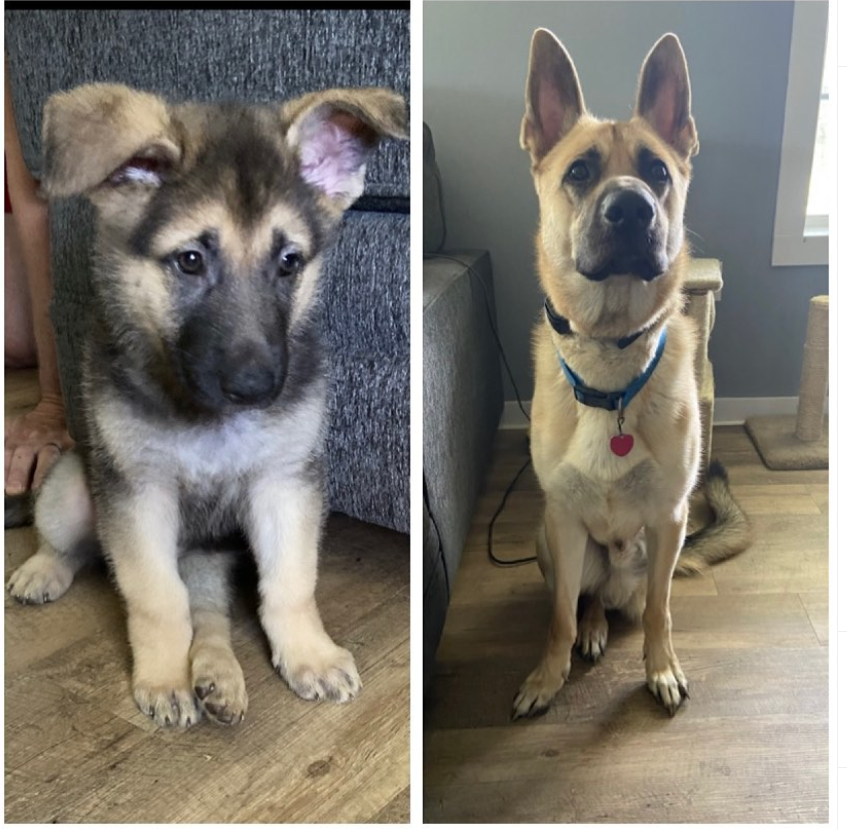 Last year's Tripawds Foundation Dog Art Auction was such a big success we are doing it again this year. And Rookie is part of the fun!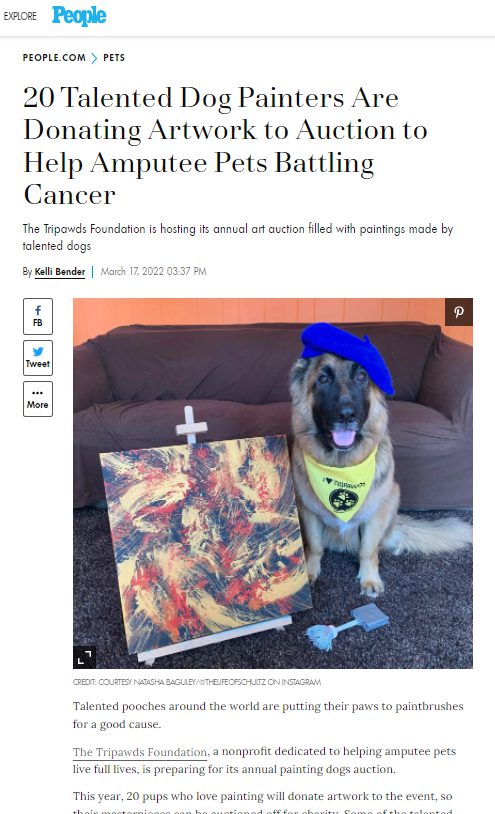 Right now Rookie the painting amputee GSD is practicing his painting skills. He's gifting a one-of-a-kind piece of art to the event! Proceeds raised go to fund the Kaiserin Pet Cancer Care Package. This program sends helpful, fun, and tasty gifts to two Tripawds each month. We are so grateful that Rookie is representing the 3-legged artists of the world! Here's his backstory that she shared with us:
Meet Rookie the Painting Amputee GSD
I live in Terry Mississippi. And I lost my leg because my mom stepped on me the day I was born. Unfortunately I came from a backyard breeder and he never had it checked. He gave me away at 7 weeks because he couldn't sell me.
My foster dad took me home and posted my picture on fb and someone tagged my mom in the post after another friend shared it. Mom and dad hoped to be able to save my leg but my vet said there was too much damage. So I have been a #tripawd since I was 9 weeks old.
Mom says I'm stubborn, pigheaded and strong willed but also tells me I'm the sweetest, most loyal and protective boy too.
I've been giving mom a hard time with painting but she says I'm still doing great.
Watch for Rookie's debut in the 2022 Tripawds Foundation Dog Art Auction! And follow Rookie on Instagram.
Did you enjoy today's Tripawd story? Each Tuesday we celebrate amputee pets from around the world. Reach out to us for a chance to be "Tripawd of the Week." Just share your story in a few words and you're in!
Whether you are a bonafide registered Tripawds member, and/or part of our Facebook, Twitter and Instagram communities, we want to tell the world about your three-legged cat or dog.
Send Your Tripawd Love Story in 3 easy steps:
In a short paragraph or two (or longer if you'd like!), describe your three-legged hero's story. Share a photo, video or both.
Got a Tripawds Forum topic and/or Tripawds blog that you started? Be sure to include that link too! Of course let us know any social media handles that feature your Tripawd.
Then send your story to us via email, Facebook Messenger, or direct message us on Twitter or Instagram @TripawdsCommunity.
We try to publish a new Tripawd story each week. It's time for yours to get featured!