Earlier this year Tripawds Spokesdog Wyatt Ray had a wellness check. When the veterinarian referred to him as "geriatric," we were stunned. From the outside our crazy dog appears anything but old. But inside it's a different story. Arthritis is slowing him down, so today we want to share our experience with aging and the senior Tripawd dog. Here's Wyatt's story, so far.
Our Senior Tripawd Dog is Getting Older. Now What?
Veterinarians tell us that all Tripawds, dog or cat, are prone to arthritis at an early age. We have always worked extra hard to prevent arthritis in Wyatt's body by following the advice in "Loving Life on Three Legs."
we keep him extra slim
make sure he gets the right kind of exercise for a Tripawd
and provide good joint support
Despite our vigilance, Wyatt started slowing down in 2017, at age nine. As we reported in "Wyatt's Time for Tripawd Rehab Therapy at Colorado State, Part 1, Wyatt was diagnosed with hip dysplasia, muscle soreness in his shoulders and hip pain. The CSU rehab therapy team prescribed Tripawd friendly exercises, which we regularly did for nearly a year.
Getting a Diagnosis at Colorado State
The exercises helped with his stamina, strength and endurance. But then came Wyatt's sky diving stunt. In July of this year, during one of the few times we allowed him to run off-leash in the woods, he jumped about 20-feet down a riverbank in Alaska. He was not injured, but was clearly hurting from the experience.
Since he was mobile, eating and otherwise as normal as he gets, we consulted long-distance with the CSU sports medicine team to manage his pain until we could return for an evaluation. Based on recent lab work, he was prescribed:
Wyatt was told by the rehab team to "couch surf and watch Netflix" until his orthopedic exam. Preventing boredom with food puzzles was key. Wyatt was going crazy without exercise. We feared he had a torn cruciate ligament like Frankie.
When we finally arrived in Colorado, he underwent a series of all-day tests in the CSU orthopedics department, including a "drawer test" to check for a torn cruciate ligament. During the evaluation we learned that assessing a Tripawd for gait impairment and pain issues is tricky.
"I wish he had another rear leg so we could compare the two!" — Wyatt's awesome sports medicine veterinarian, Dr. Theresa Wendland.
Getting a baseline feel for the source of pain levels in a highly anxious, active Tripawd dog like Wyatt is difficult at best. He had three different CSU doctors examining him and finally, after the all-day assessment, Dr. Wendland explained that the team believed the source of Wyatt's pain was coming from his tarsus joint.
Diagnosis: Left chronic mild superficial digital flexor tendinopathy with enthesopathy of the
calcaneus and chronic calcaneal bursitis. Osteoarthritis of the left tarsocrural and proximal intertarsal joints
Our worst fears were not realized. The sky diving stunt didn't do any real damage, and he did not need a cruciate repair surgery.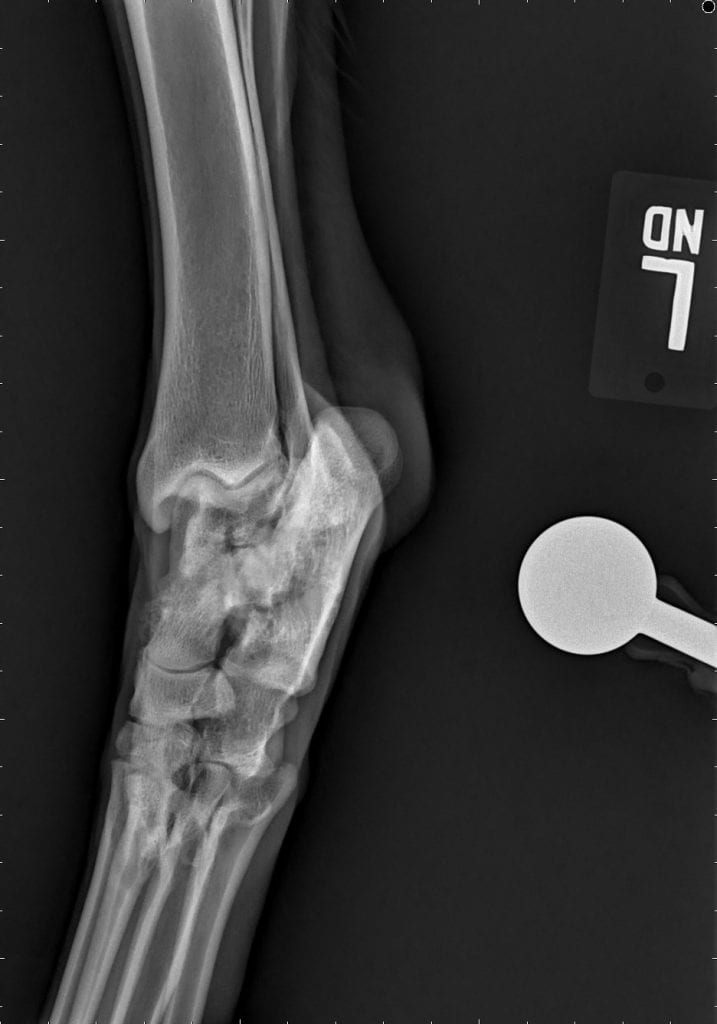 The good news? He had arthritis and bursitis in the tarsus joint of his remaining limb, and a worsening case of hip dysplasia.
The bad news? The arthritis can be managed, but not cured.
The Treatment for Wyatt's Tarsus Arthritis and Bursitis: Triamcinolone and Hyaluronic Acid
To alleviate his major source of pain in the tarsus, and lubricate the joint, Wyatt went under anesthesia for a steroid injection called "triamcinolone," which was put right into his tarsus joint. Ouch! This kind of steroid does not affect the immune system the way others like Prednisone causes side effects in the body.
The injection was combined with a joint lubricant, hyaluronic acid, to help reduce inflammation and decrease pain.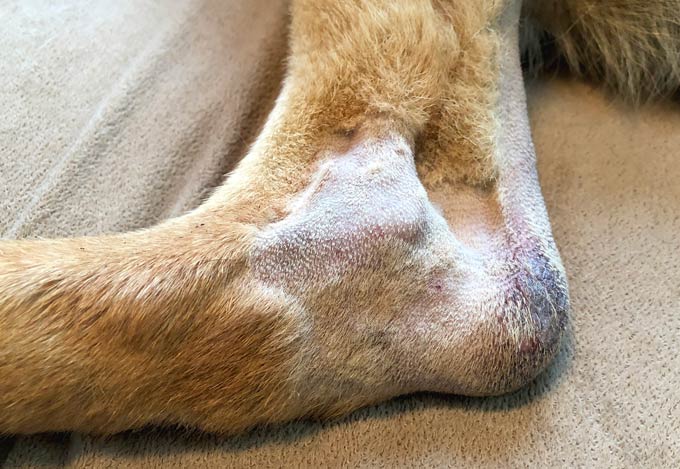 Like anything, this arthritis therapy doesn't work for all dogs. but when it does, the triamcinolone and hyaluronic acid injection shows results within three weeks after a period of strict bed rest.
Three weeks later, we could see that the procedure worked. Wyatt is definitely happier and feeling good again. He's not acting like a puppy but he's definitely doing better than a month ago.
Managing Canine Arthritis with Supplements and Exercise
Before leaving CSU, Dr. Wendland suggested options for managing Wyatt's arthritis. In next week's news blog, we'll share about the pain medication, therapy and supplements she prescribed.