Are you thinking of finding a new veterinarian? Don't wait for a health crisis. There's no better time to research new providers. Start by visiting AAHA-accredited clinics during the annual #AAHADay celebration!
What Makes AAHA Clinics So Great
Tripawds Spokesdog Wyatt Ray has spent his whole life traveling with us in his big dog house on wheels (our RV). And when he needs a dogtor, there's just one way we know we are getting the best vet care no matter where we roam: we only choose practices accredited by the American Animal Hospital Association (AAHA).
Did you know that any veterinarian can hang a sign on an office door and open the doors for business, without regularly meeting any kind of standards set by veterinary organizations? It's true! Human hospitals must meet certain standards in order to receive Medicare funding, but veterinary practices are not held to the same requirements.
The American Animal Hospital Association is the only organization to accredit companion animal veterinary hospitals in the US and Canada.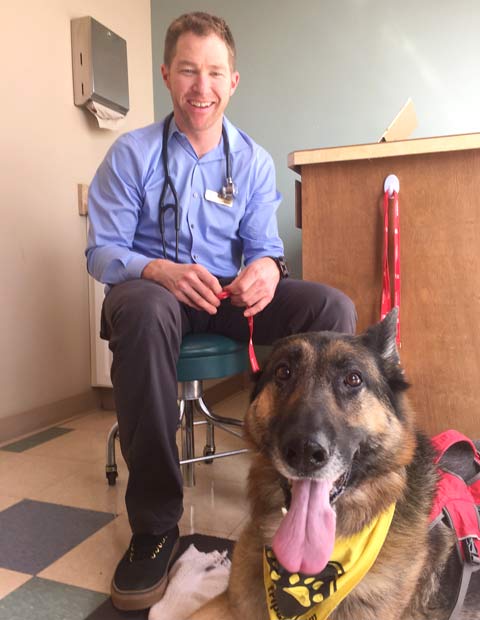 In nine years of seeking AAHA-accredited clinics for Wyatt Ray, we have never been disappointed with our chosen provider, even if we had to drive more to get there. From Cumming Veterinary Clinic in Georgia, to Alpine Veterinary Clinic in Bend, Oregon, we have always been 100% satisfied with every visit.
Can you say that about the veterinary practices you've chosen for your pets through the years? If not, now is the time to consider an AAHA-accredited animal hospital.
AAHA Accreditation Guarantees Excellence
First things first: if a veterinary practice isn't accredited, that doesn't necessarily mean they are a bad clinic. Not at all. "It does mean they've not been measured by AAHA's roughly 900 accreditation standards," explains Scott Smith in his article, AAHA: The League of Champions.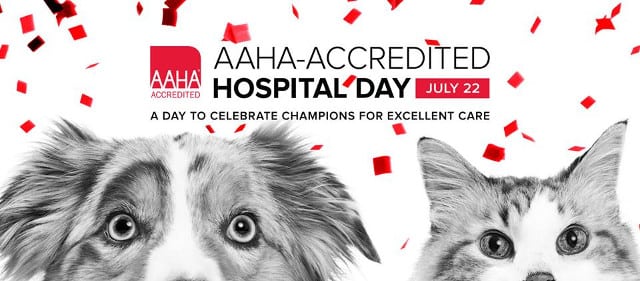 "Some veterinary practices think good enough is good enough. And that's fine. But as AAHA's President-elect, Dr. Darren Taul says, 'It also raises the question of how much more successful would they be if they truly reached for their full potential by obtaining accreditation,'" writes Smith.
When a veterinary practice is AAHA-accredited, you know they are meeting the highest levels of care in important areas such as:
emergency services
pain management
contagious diseases
surgery and anesthesia
radiology services
pathology services
nursing care
diagnostic and pharmacy
dentistry
examination facilities
pet medical records
medical library
housekeeping and maintenance
and more!
AAHA sends consultants to AAHA-accredited pet hospitals every three years to evaluate hospitals on their adherence to the AAHA Standards of Accreditation. This is how you can rest easy knowing that your AAHA-accredited animal hospital is always practicing the state-of-the-art care and services for their patients.
Don't Wait for a Pet Health Crisis: Explore Your Nearest AAHA Clinic Today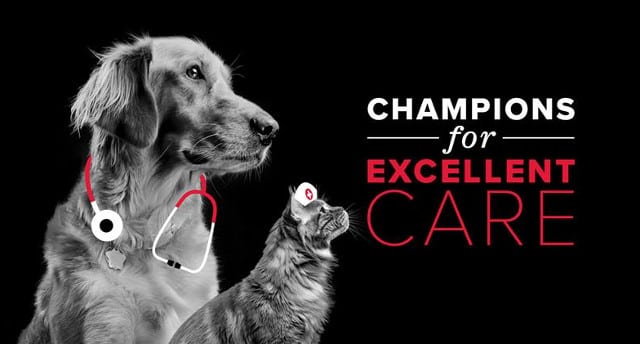 This Sunday is officially #AAHADay 2018, and your nearest AAHA-accredited clinics are holding celebrations all month long. If you're thinking of looking for a new veterinarian for your Tripawd, this is the best time to explore your options.
AAHA started in 1933 and to this day it is the only institution that accredits companion veterinary hospitals in the U.S. and Canada. The organization continues to thrive because its members know that our pets deserve nothing less than the very best veterinary care. To learn more about AAHA, check out AAHA – The League of Champions then hop on over to the AAHA Pet Owners website to find your local accredited clinic today.