Last week you learned that even fit Tripawds may experience joint stress and muscle aches if we don't stay on top of their changing needs as they age. Today we will show you the Tripawd rehab therapy exercises prescribed for our own Wyatt Ray, who has been slowing down lately.
See Part 1 of this series, Wyatt's Tripawd Rehab Therapy
Wyatt's Tripawd Rehab Therapy Exercises Build Strength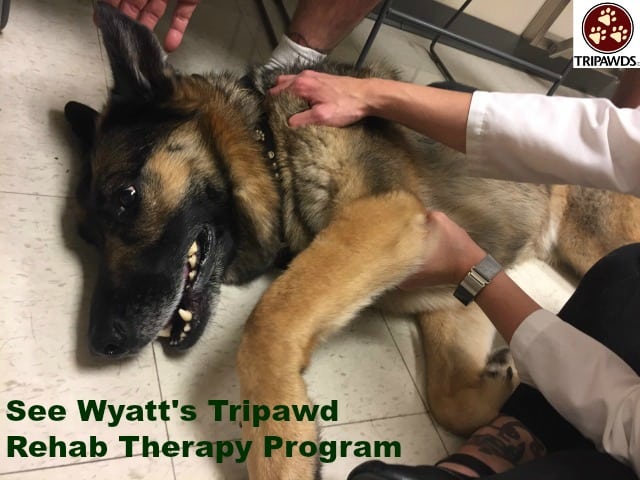 The Colorado State Small Animal Orthopedic experts explained that Wyatt's reluctance to exercise is because of "muscular compensation and pain associated with Wyatt's adaptive tripod gait." To help him get back to optimal fitness, here's what they prescribed:
Pain Management
Methocarbamol, a muscle relaxant.
Rimadyl, a non-steroidal anti-inflammatory pain reliever.
Omega 3 Fish Oil with a total of 4,300 mg of EPA and DHA omega-3 fatty acids. "The concentration of EPA and DHA can be found on the back label of most products. This is different than the total concentration of omega-3 fatty acids. We recommend using a veterinary product to avoid dangerous additives such as xylitol or vitamin D3." The CSU vets stand behind Nutramax Welactin, "since it is a well controlled veterinary product that is in an easy to administer liquid formulation."
The Exercises
Wyatt was seen by the CSU Sports Medicine and Rehab Therapy team led by therapist Laura Southworth and Sasha Foster, MSPT, CCRT. They prescribed three challenging exercises and massage to help Wyatt strengthen his weaker muscles. All three are to be done twice daily for four weeks. Here's what they look like:
Resistance Band Walks
Look at the video below and you'll see the yellow resistance band Wyatt is wearing. That is human exercise gear that can also work for dogs. It strengthens his weaker muscles.
He wears the band twice daily on his usual walks. He's not a fan of working out while checking pee-mail but he's tolerating walks of about 7 minutes while wearing it.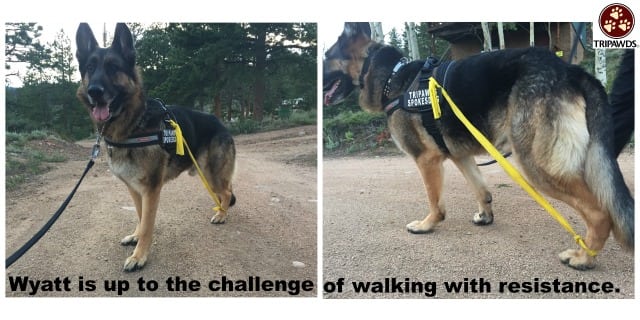 His therapist says this exercise is a real challenge for most dogs.
Core Stability Exercise
In this exercise we are putting Wyatt's back paws onto the Balance Disc.
The goal is to get him to stand with a straight back and hips for 3 seconds at a time. We are doing five repetitions per session.
Hind Limb Weight Bearing
Wyatt loves this exercise. In this we take a treat or toy and place it just above his head.
Then we lure Wyatt into placing his front paws on a 6-8″ tall box for 30 seconds at a time. He does five repetitions, twice daily.
Skin Rolling
Dogs who enjoy massage will love this technique to break up muscle tension, soft tissue knots and muscle spasms.
Therapist Laura recommends five minutes at a time. Wyatt has never been a massage fan, but we think he's learning to enjoy this technique. Our sessions are getting longer each day.
The exercises seem to be helping Wyatt feel better and in two weeks we will know if they are working. We promise to keep you updated but meanwhile, please remember that all Tripawds can benefit from the professional guidance of a licensed rehab therapy provider. Even if you don't think your Tripawd 'neeeds' it, we guarantee you will learn tips to help your three-legged hero live a better, pain-free life.
Stay tuned for updates and don't forget: we are not vets, so don't try these exercises at home until you talk with your vet team.
See Part 1 of this series, Wyatt's Tripawd Rehab Therapy
Recommended Reading
Get Your Tripawd Fit, on Us! Receive $200 toward your first veterinary rehab consultation!
Learn Rehab and Fitness Tips for Tripawd Cats and Dogs
Loving Life on Three Legs, a Tripawd canine fitness and conditioning guidebook