Tripawd rehab therapy isn't just for new amputee dogs and cats. It's beneficial for all Tripawds, no matter what stage of life they're in. Take Tripawds Spokespup Wyatt Ray.
Tripawd Wyatt Says "Ouch, that Hurts!"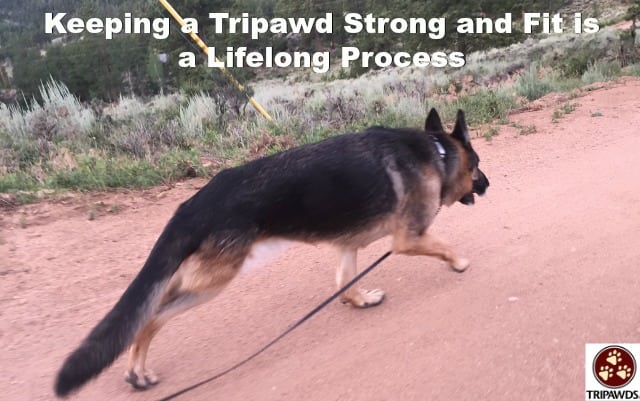 Wyatt is eight years old and has lived life on three legs since he was a mischievous eight month old puppy. He has enjoyed all the benefits of what we have learned about Tripawd health, safety and fitness since Spirit Jerry was our pack leader.
For instance, we keep him slim, exercise with him daily and always make sure he gets an annual wellness exam.
Which is why we were shocked when Wyatt began slowing down this summer.
His reluctance to exercise was obvious when we returned to the Colorado mountains. At 8,700-feet elevation, everything here is a sharp uphill or steep downhill. The terrain is a good workout for any dog but it's especially tough for Tripawds. Wyatt used to handle his walks like a champ, but when he began refusing to walk as far as usual, we knew something was wrong.
You can see in this video he's not very energetic on his morning walk. He even sits down part-ways, which was a real sign that he hurt.
Like all cat and dog pain indicators, his were subtle and random. But we didn't want to wait until they were totally obvious. Because when an animal shows they hurt, that's when the pain is really bad!
So we took Wyatt to see the Tripawd rehab therapy experts at Colorado State University. Of course they had answers.
The Toll of a Tripawd's Life on Three Legs
What a lucky dawg. Wyatt was evaluated by the Colorado State Small Animal Orthopedic experts. His team included orthopedic vets Dr. Theresa Wendland and Dr. Felix Duerr, leaders of the CSU Tripawd Prosthetic Study.
Here's what they had to say about Wyatt's pain indicators:
Orthopedic exam revealed muscle soreness most notable in the left hip flexors and in the caudal shoulder musculature. These findings are most consistent with muscular compensation and pain associated with Wyatt's adaptive tripod gait.

Discomfort from previously diagnosed hip dysplasia cannot be ruled out as a cause of mild restriction to full hip range of motion.
What a shock to learn that even when you do as much as you can to keep your Tripawd fit and strong, that compromised three-legged gait still takes a serious toll on their body.
Wyatt's pain issues would be much worse if he was not fit. Our exercise efforts with him have minimized the toll that life on three legs takes, but it's still not enough. We regret that we didn't check in with CSU's rehab team on an annual basis. That's going to change.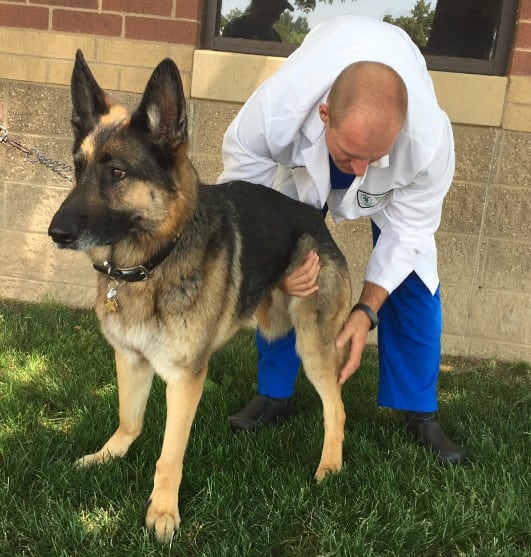 In addition to rehabilitation therapy and pain management prescription drugs, the CSU ortho vets recommended a full set of x-rays for Wyatt:
". . . it would be beneficial to perform repeat radiographs of the hips to track progression of degenerative changes secondary to hip dysplasia and to establish a new "baseline" for Wyatt.
After his orthopedic evaluation, it was time for Wyatt's Tripawd rehab therapy. At his first appointment he went under the care of the CSU Sports Medicine and Rehab Therapy team with therapist Laura Southworth and Sasha Foster, MSPT, CCRT, author of the renowned book "
The Healthy Way to Stretch Your Dog: A Physical Therapy Approach."
In one session, Laura and Sasha taught us new exercises that will help strengthen Wyatt's body in ways to help minimize and hopefully prevent more pain in the future. Stay tuned for Part II of Wyatt's Tripawd Rehab Therapy experience. You'll see videos of Wyatt getting his new workout and learn tips to help your Tripawd avoid pain in their daily life.
Recommended Reading
Get Your Tripawd Fit, on Us! Receive $200 toward your first veterinary rehab consultation!
Learn Rehab and Fitness Tips for Tripawd Cats and Dogs
Loving Life on Three Legs, a Tripawd canine fitness and conditioning guidebook