Artificial limbs for amputee dogs have come a long way in the last few years. New pet prosthetic designs are everywhere and it seems not a day goes by when we don't hear about a homemade 3D prosthetic device. Despite these advances, important questions about pet prosthetics are still unanswered. A new Tripawd prosthetics study at Colorado State University is currently recruiting partial amputee dogs to get the answers.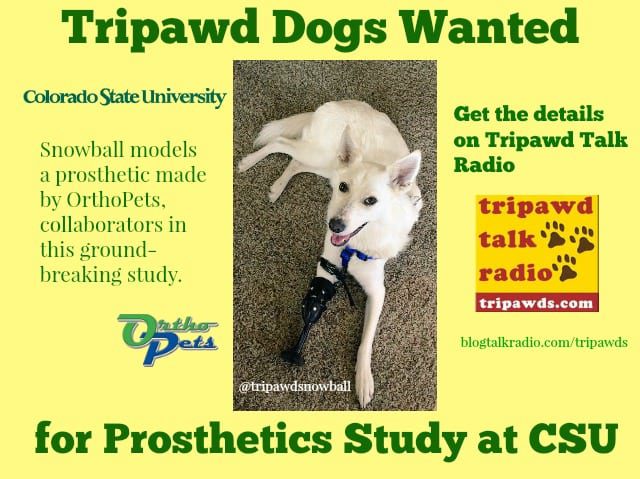 A groundbreaking clinical trial is underway in Fort Collins, Colorado. Called the "Evaluation of Partial Amputation in Dogs" clinical trial, this study is being led by Dr. Felix Duerr, DMV ACVS Diplomate, ACVSMR, who oversees the Small Animal Sports Medicine and Rehabilitation program at CSU. Dr. Duerr and his team are actively seeking five more partial amputee Tripawd dogs to fill the remaining slots in the study. In this episode of Tripawd Talk Radio, he shares details for anyone interested in enrolling.
Download the episode below. We apologize in advance for the poor sound quality and 15 seconds of silence before the show begins. It was a bad technology day at Tripawds headquarters!
Facts About the Tripawd Prosthetics Study at CSU
Here's what Dr. Duerr shares in the podcast. His study is gathering pilot data to get preliminary answers to questions such as:
To which level can surgeons amputate a leg and successfully attach a prosthetic?
What amount of time and rehab therapy is required for adapting to a device?
How do younger dogs adapt to prosthetics when compared to older dogs?
What kinds of breeds are more successful at adapting to prosthetics?
"This is not a simple task and a huge learning curve for veterinary medicine," says Dr. Duerr. To get the answers, his research team is examining many different aspects about canine prosthetics. "Our goal is to get pilot data and then to expand to a larger study to prove the concept that prosthetics can work in dogs," he explains. In a collaboration with OrthoPets, the world's leading pet prosthetics designer, Dr. Duerr and his team are creating totally custom prosthetics for Tripawd dogs. Each participant will wear a "doggie FitBit" type of device around the collar and on the prosthetic in order to track progress and important scientific data about the device's impact on the body.
Whether a dog is a front or rear leg amputee, as long as the amputee has a degree of stump remaining he or she will be considered for the study. In exchange for participating, the dog will receive the custom prosthetic device and a series of tailored canine rehabilitation therapy sessions to help adapt to the device.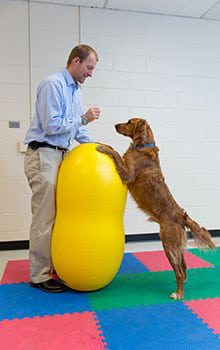 Dogs must have a life expectancy of at least a year, but even dogs with osteosarcoma can participate if they are or have gone through chemotherapy, which statistically boosts longevity to one year. Also, because the study requires many visits to CSU's Fort Collins campus, it is preferable for pet parents to live within a reasonable driving distance to the university.
Amputation costs will need to be paid for by the pet parent, but the study will "however, all additional and subsequent costs related to the study will be covered by the research fund. Additional costs covered by the study include the extra cost of the partial amputation surgery, the prosthetic device, and all rechecks and aftercare associated with the prosthetic device for the duration of the study," states the CSU clinical trial report.
When it comes to pet prosthetics, the one thing veterinarians like Dr. Duerr and pros like OrthoPets know for certain is that the more stump that's left on an amputee, the better the odds of success. The facts from this study will serve as a stepping stone to eventually provide hard data to pet parents who want to know if a prosthetic is a feasible option before a partial amputation is performed.