Memorial Day Weekend is perfect for road trips with our Tripawd pals. Why not pack your bags and head to Richmond, Virginia for the biggest East Coast Tripawds gathering ever!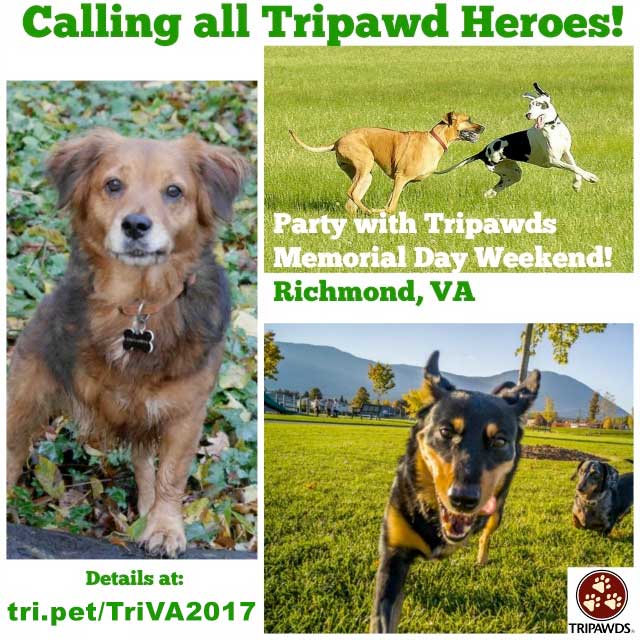 Start planning now to join Tripawds community members from as far away as Germany, England and all over the U.S. Everyone is meeting up for a great time over Saturday and Sunday in Richmond. Here's the scoop:
Location: Rockwood Dog Park. 3401 Courthouse Rd, Richmond Va 23236
Dates: Saturday May 27 AND Sunday May 28 3:00- 8:00 PM
If You Go: Please RSVP with THIS SURVEY to let pawty planners know you're coming.
What to Bring: Water for dogs and people. Any snacks you may want. Pictures if your dog is an Angel or memento you would want to place on the Tripawds memorial table.
Cost: Donations of at least $5 for the picnic shelter fee.
Traveling? The are multiple pet friendly hotels in the vicinity (Richmond/Chesterfield County).
Join the Tripawds Party Discussion
Get in on the party planning. Tripawds members are actively discussing fun things to do for the entire weekend, travel tips, rooming matches and more. Visit the Tripawds Virginia Party Discussion Topic and chime in to see all the fun everyone will have!
Hope to see you there!