If you've been through the pet amputation recovery and care ordeal you remember when your vet gave you the shocking news. Perhaps your vet even seemed a bit too casual about the recommendation to amputate your dog or cat's limb. If so you'll have to forgive them. The reason that folks in the vet community can seem so nonchalant about the situation is they see it all the time! When we attended the 2017 Western Veterinary Conference we turned to them to get the best tips for life on three legs. Here's what they had to say:
The Best Pet Amputation
Recovery and Care Tips from Vets
The Top Tips for Three Legged Pets shared by vets include:
Believe your vet when they say animals do fine on three.
Follow post-op instructions and medication dosages.
Minimize activity during recuperation.
Use extreme care on stairs during and after recovery.
Make sure your pet gets enough pain control.
Tell your vet how your animal is responding to pain medication.
Don't pamper your Tripawd too much but make her comfortable and safe.
Get your Tripawd cat or dog into a rehab therapy program with a certified practitioner.
Consider laser therapy before and after amputation surgery.
Keep your Tripawd lean and carefully manage weight to avoid problems.
Have good traction and non-slip surfaces to avoid injuries.
Preserve your Tripawds joints with quality joint supplements.
Don't feel sorry for them.
Practice patience. Remember that every day recovery gets better.
Have a pawsitive attitude.
Don't give up. They will get through it and YOU will get through it.
Remember they'll recover and have a second lease on life!
We heard many tips from the veterinary community at #WVC2017. But the number one, most repeated tip for prents of three-legged dogs and cats that we heard again and again was:
Keep your Tripawd Slim!
Want to learn how? Listen to our interview with pet obesity expert Dr. Ernie Ward:
Weight Loss Ideas for Pets on Three (and Four) Legs
If you have a three-legged canine and you haven't done so already, download a copy of our e-books, Three Legs & a Spare and Loving Life on Three Legs for even more great tips for amputee dogs.
Want More Helpful Tips?
Download Tripawds e-books for fast answers answers to common concerns about pet amputation recovery and care. Save time spent searching the blogs and forums with direct links to more videos, helpful information, and professional tips.
$3 OFF All Tripawds E-books with Coupon Code: WVC2017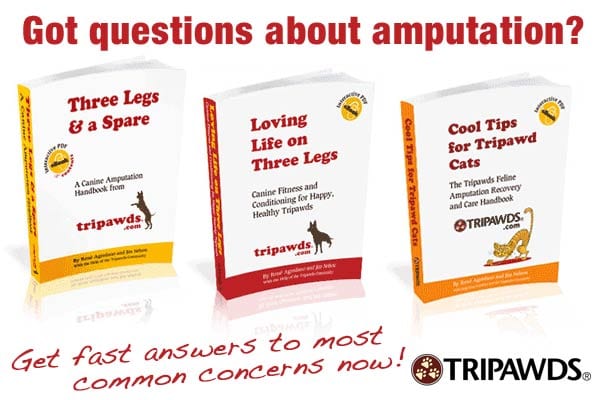 Don't miss more great tips from #WVC2017!