Last week we told you about Wyatt Ray's latest diagnosis of tendinopathy, and the minor procedure he underwent to alleviate the pain. This week, we want to share his veterinary team's tips to manage Tripawd arthritis with nutrition, exercise and supplements.
Best Tips to Manage Tripawd Arthritis with Supplements, Exercise and Pain Management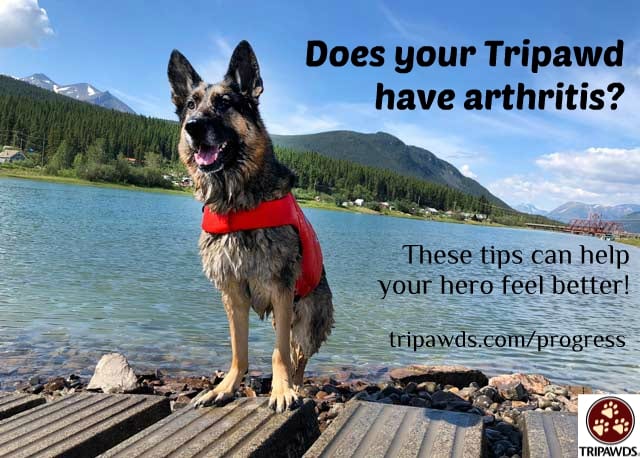 The good news is that just because your Tripawd has arthritis, which is not curable, that doesn't mean their fun is over. Quite the contrary, you want to keep your Tripawd moving to reduce arthritis pain. You'll need to re-learn which exercises are helpful and which ones can hurt, but you and your vet can come up with a game plan to manage arthritis in Tripawds and help yours feel better. Check out these tips, then discuss them with your vet.
First, Keep Your Tripawd Slim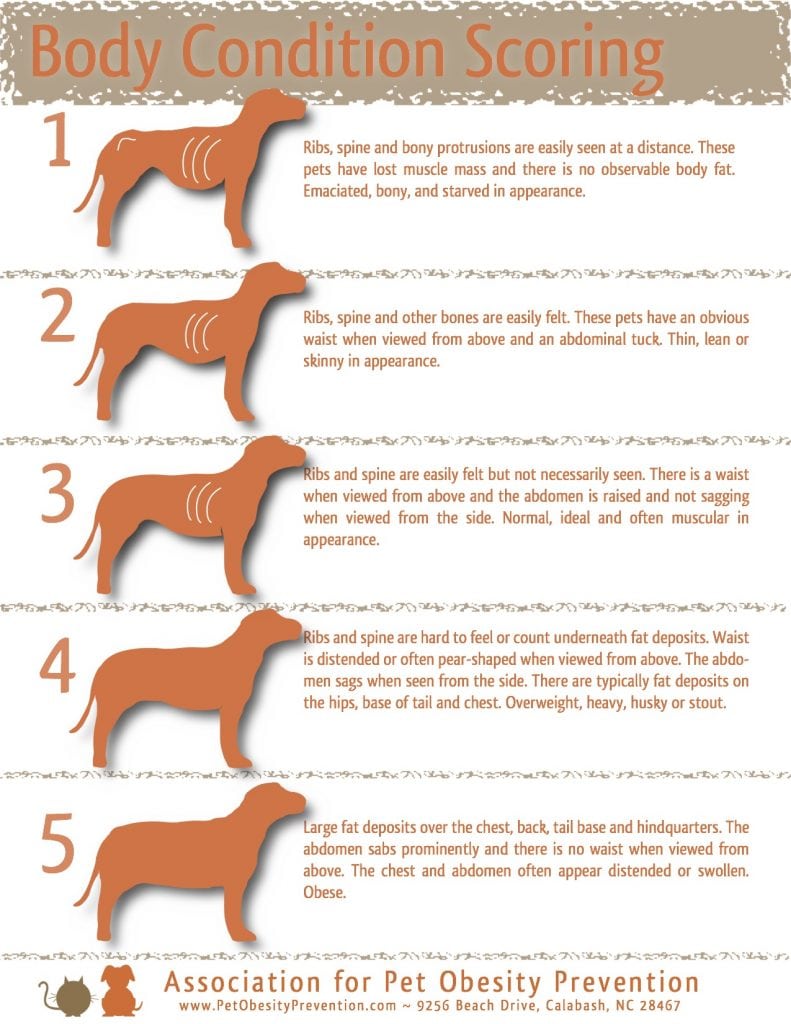 Being overweight, even by a pound or two, makes a Tripawd's life harder than it needs to be. This is especially true when a pet has osteoarthritis. Being overweight causes extra pressure on joints, which causes inflammation and pain.
If your Tripawd has been diagnosed with arthritis, help your pet maintain a lean body condition.
Learn how to help your Tripawd stay slim with our Tripawds Nutrition and Weight Loss tips.
Next, Help Your Tripawd Get Proper Exercise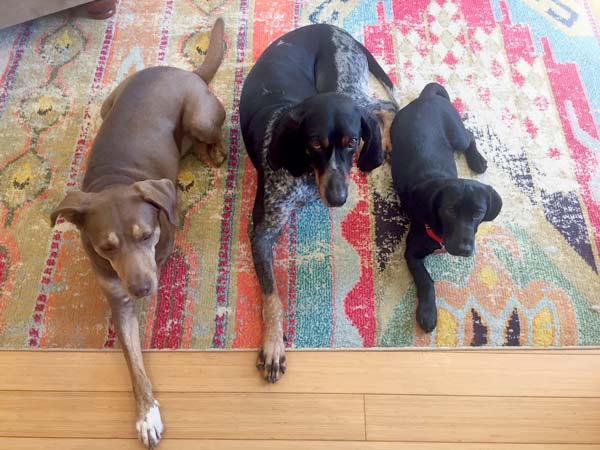 Arthritis doesn't excuse a cat, dog or human from participating in daily exercise. Studies prove that regular, gentle movement helps alleviate arthritis pain, while sitting on the couch makes it worse.
You can work with an animal rehabilitation therapist to develop a safe exercise Tripawd exercise program that strengthens muscles and protects your pet's joints from further deterioration. Wyatt has been prescribed a series of exercises, which we'll show you in a future post. According to Wyatt's vet team:
The goal is to adopt a lifestyle of regular but MODERATED activity, avoiding intermittent "extremes" of exercise, and activities to which your dog is not conditioned or does not tolerate. We want to keep them active with strong muscles.
Also Include Joint Health Supplements and Consider Regular Pain Medication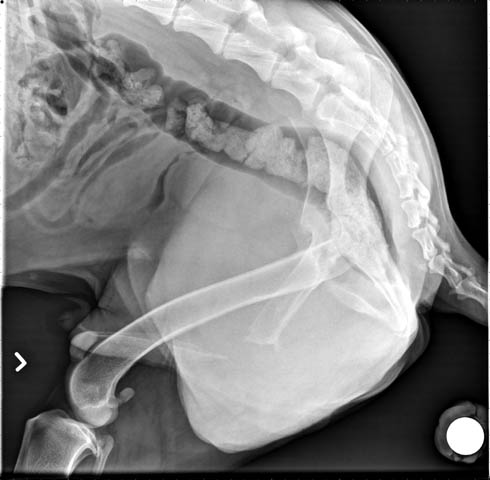 Protect your Tripawd's joints with a trusted, well-studied daily joint supplement for pets, such as glucosamine/chondroitin sulfate (Dasuquin/Cosequin), UC-II®(Undenatured Collagen) and also include omega-3 fatty acids too (Welactin). Many reputable studies show that these supplements can help maintain joint health.
If your dog or cat shows pain signals despite these efforts, daily pain medications should also be considered. One of the most helpful things you can do is find a veterinary pain management specialist who can help you determine which pain medications will work best.
And Consider These Veterinary Pain Management Procedures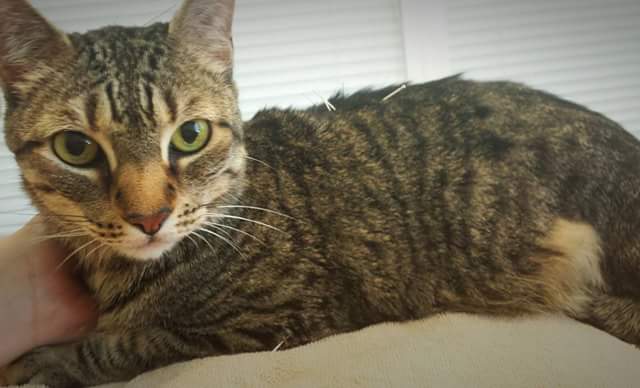 If after taking these steps, your pet is still hurting, you have more options to manage arthritis pain. Talk to your veterinarian to discuss these other arthritis pain management therapies (which are especially helpful for injured Tripawds who are not good candidates for surgery on a remaining limb).
Adqeuan injections: Safer than a NSAID and made from cow tracheas, Adequan® is an injectible solution that helps cats and dogs suffering from degenerative joint disease. Veterinarians love Adequan because it provides anti-inflammatory properties that slow down damage to the cartilage, promotes joint repair and creates more lubrication between joints. It's only available by a prescription, but once your vet shows you how to administer it, many pet parents give Adequan at home. If you do give it at home, ask your family vet for a separate prescription for the injection needles, then have it filled at your favorite pet pharmacy. According to Sassy's Mom Michelle, you can save a significant amount of money that way.
Corticosteroid injections: As we told you last week, Wyatt received a steroid (triamcinolone) injection combined with a joint lubricant (hyaluronic acid) in his tarsus joint. The purpose was to provide immediate pain relief for the acute pain he was experiencing. It worked, and should provide pain relief for three to six months.
We knew about the risks of corticosteroids in pets, and his veterinarian reassured us that when used properly (about twice yearly), this type of steroid does the job locally at the source of pain, and does not have an effect throughout the body the way a steroid like prednisone does. She also told us:
A corticosteroid injection can help reduce inflammation inside of a joint and decrease pain. Pain relief may last anywhere from a couple weeks to many months. This can be very helpful if a patient is struggling with physical therapy and recommended daily exercise aimed at building muscle and stabilizing the joint.
Your pet will need to be sedated for the procedure, which costs about $240-$330. Most veterinarians can do this procedure.
Other alternatives to corticosteroids that some, but not all veterinarians use to treat arthritis in Tripawds and related pain in pets and horses include regenerative medicine such as: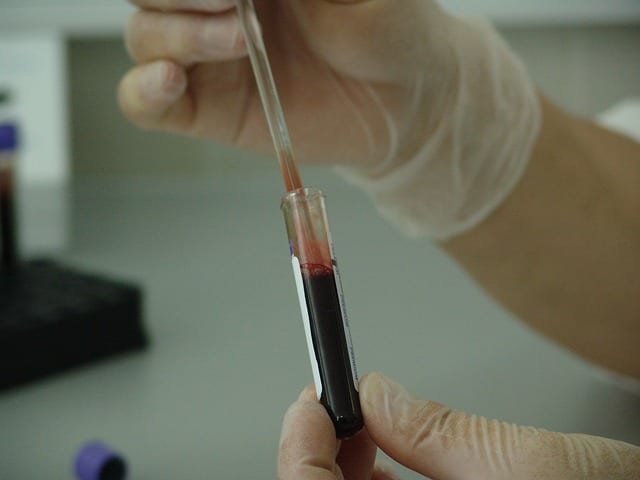 Platelet Rich Plasma therapy (PRP): This is known as "regenerative medicine,†and is another way to treat pain of osteoarthritis in dogs (as well as manage cranial cruciate ligament ruptures). Essentially, what Platelet Rich Plasma therapy does is it takes a patient's own blood, spins it in a centrifuge then collects a portion rich in platelets (blood cells involved in clotting), as well as growth factors that may decrease inflammation in a joint. The blood gets re-injected into the body either at the injury site, or intravenously.
PRP has existed since the 1970s in human medicine. Studies are limited but promising. It's less expensive than stem cell therapy, but each treatment still costs approximately $400-$600.
Interleukin-1 Receptor Antagonist Protein (IRAP): This is another type of regenerative medicine that also takes a patient's own blood then processes it to grow and extract inflammatory mediators produced by the body. IRAP is used in the equine community but not as often in small animal medicine.
"It works by blocking interleukin-1, which is the major cytokine involved in the destruction of articular cartilage during the degenerative processes of osteoarthritis—one of the leading causes of lameness and loss of use in equine athletes. In-vitro and early clinical studies using IRAP show a decrease in the amount of joint inflammation and cartilage destruction seen in osteoarthritis.†– Cummings Veterinary Medical Center at Tufts University
IRAP effects can last anywhere from six to 12 months. It's considered experimental in dogs, but promising results have many veterinarians applying the therapy to their patients. The cost: about $1100-1500 for a full course of treatment.
Stem cell therapy: The jury is still out on stem cell therapy in veterinary medicine, but many private practices and teaching hospital utilize it for patients. Here's a brief explanation of how it works:
"Stem cell treatment is a form of regenerative therapy that involves using the body's own "base†cell to differentiate into other cells. Animal Medical Center uses this treatment in horses and dogs with joint or soft tissue injuries (tendon/ligament) to facilitate tissue healing and limit scar tissue formation during the process. The procedure involves taking the patients adipose tissue, or fat, from a small surgical incision. The tissue is sent away to be processed and is returned in 48 hours. Then, the adipose tissue-derived stem cells are injected into an injured area.â€
Official studies show that stem cell therapy's benefit can take several weeks to take effect, and the results can last as long as six months, possibly more. The majority of stem cell therapy results you'll read about today are derived mostly from anecdotal evidence. Should you decide to give it a try, stem cell therapy will set you back at least $2,000 and possibly more.
Acupuncture: Formerly the "wu-wu" medicine of the medical world, acupuncture is more widely respected and practiced than ever before. Many traditional veterinary practices are now applying it to integrative medicine therapies for dogs and cats with pain management needs.
You'll find a complete explanation of how acupuncture works in pets, by hopping over to our Tripawd Talk Radio discussion with veterinary acupuncturist Dr. Nell Ostermeier, DVM, CVA (IVAS) a Certified Veterinary Acupuncturist and co-owner of Lombard Animal Hospital in Portland, Oregon. Meanwhile, according to Wyatt's vet:
"Acupuncture may help provide some relief from arthritis pain. The research to support the effects of acupuncture in treating arthritis pain is limited and conflicting, but many owners and veterinarians feel that they see improvement with the use of acupuncture when combined with other methods of arthritis management.
There are many ways to manage arthritis in Tripawds, these are just a few that were presented to us when Wyatt Ray got treated at Colorado State University recently. Since every Tripawd has a different health history, there is no one-size-fits all approach. If you suspect your hero is hurting, talk to your vet and consider another opinion too. Getting informed about all your options is the best way to help your three-legged dog or cat live a long, healthy and pain-free life on three legs.