Caring for a senior Tripawd is an honor. Watching how a dog or cat tackles the challenges of aging on three paws can give you a whole new sense of the phrase "age is just a number." Take Cotee, for instance. This handsome rescue pup who lost his leg at age four is now a spry 15 years young! Today for Tripawd Tuesday we are spotlighting what it's taken to keep him that way.
Age is Just a Number to Cotee the Senior Tripawd
When you adopt a young Tripawd, it's hard to imagine that some day their face will be graced with gray whiskers. But if we're lucky enough to see our hero into old age, caring for their needs is an honor and a privilege. A senior Tripawd's lessons about resilience in the face of adversity become even more apparent as the body ages.
Eleven years ago Colorado veterinarian Dr. Elena Contreras, DVM MS probably never imagined what Cotee would be like as a fifteen year old dog. And when we met him last month in Colorado, we would never guess that the quiet, confident dog isn't much different than the day she adopted him while working at Rolling Dog Farm in Montana.
Cotee has been at Dr. Contreras side long before she joined the veterinary field. In fact, he and his Tripawd sibling Torpedo introduced her to the world of Tripawd parenting! As the author of recently published "Postamputation Orthopedic Surgery in Canine Amputees Study," Dr. Contreras has gained a keen understanding of caring for a three-legged dog.
How Cotee Stays Strong and Healthy at Age 15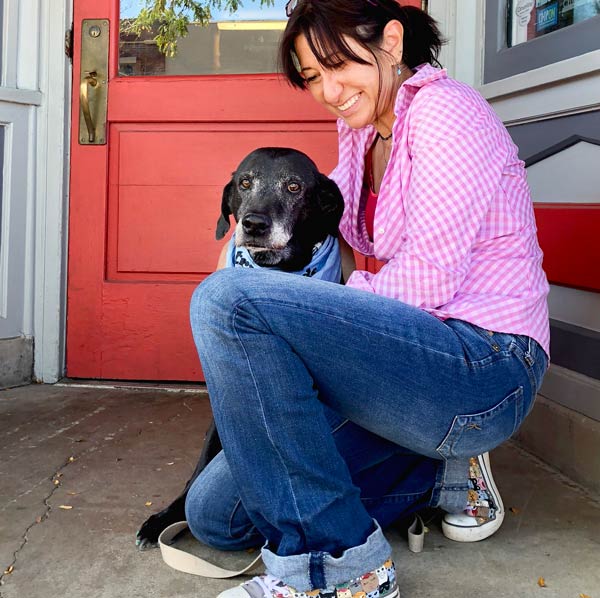 Today this super senior Tripawd is healthy and happy. But life hasn't always been so easy for him. Cotee lost his leg to a car accident before he was rescued. Later over his lifetime he found himself in the vet clinic being treated for conditions like:
a transmissable venereal tumor that needed chemotherapy
a gallbladder condition that required removal of the organ
salmonellosis that caused him to go septic
and bacterial pancreatitis!
He's also had mobility challenges similar to diskospondylitis, a bacterial or fungal infection of the disks between the vertebrae in the spine. There were times when Dr. Contreras thought Cotee would lose his mobility completely, but he overcame that challenge too!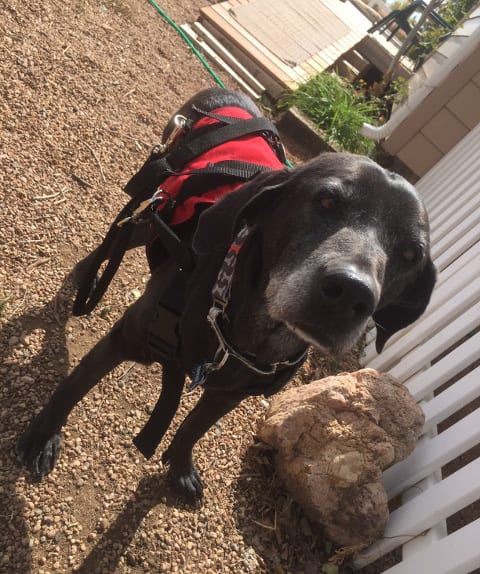 Throughout all of his illnesses, Cotee has stayed strong and bounced back. What's his secret? Dr. Contreras explains:
He stays slim by eating a low fat diet of Royal Canin GT prescription kibble, which he eats in small meals throughout the day.
He also takes a variety of supplements including:
Omega 3 fish oil
Flexodin Advanced with UC-II® Undenatured Collagen
"SeniLife" for cognition support
Denamarin for liver support
Ursodiol for issues related to his gallbladder challenges
B-12
A senior dog multivitamin
As we described in last week's blog post about "Managing Tripawd Arthritis," Cotee is like most senior Tripawd dogs and requires regular pain management for good mobility. His regimen looks like this:
And with the help of his Custom Pet Support Suit, Cotee is getting out into the world and preparing for another snowy Colorado winter!
What a joy to see this handsome fella enjoying his golden years. If you have a senior three-legged hero of your own, write to us and share your story for Tripawd Tuesday!
Read All Tripawd Tuesday Stories
Your Pet Can Star in Tripawd Tuesday
Each Tuesday, Tripawd dogs, cats and other critters from around the world can enter for a chance to be "Tripawd of the Week." Just share your Tripawd's story and you're entered to win! On every Tuesday of the week, tell us about your three-legged hero. Just follow these easy steps:
In a short paragraph or two (or longer if you'd like!), describe your three-legged hero's story.
Include photos or links to videos already uploaded to YouTube.
Include a link to your Tripawds Forum topic and/or Tripawds blog, social media handles, etc.

Email your story and photos

to us.
All entries must be received by Saturday at 11:59 pm. One Tripawd story will be selected at random to be featured the following Tuesday.